A man enters a warehouse and immediately begins to dance. Standing framed within a doorway, Dan Martin's movements are immediately arresting, as he twists his torso and limbs, and the notes from a piano pour over him – like water, like light.
No Idea Complete is elegant film that brings together a harmony of music, dance and location. Our focus is on three exceptional dancers who each bring their own blend of experience and talent to scenes they embody as solitary beings, their only company the shifting sounds that bleed in and out, adding texture and atmosphere. Jo Butler's original piano composition weaves around the dancers, whose feet and hands add occasional percussion.
To me it felt like a haunting, with Dan Martin, Luke Antysz and Sara Mather playing the role of the ghosts. These are the people who have been here before, who have left an impression of themselves on the air – I almost expected incomers to walk through them, none the wiser.
No Idea Complete is a title open to interpretation, but I like the idea that it is an allusion to each life that passes through a space. It is a rare person who finishes living before moving on. In a sense, we are all destined to become ghosts.
In one brief sequence, Sara appears on a staircase executing stunningly exquisite ballet moves, her expression contemplative.
Dan brings a different speed to the mix, at times angst-ridden, at others content. Luke is perhaps the most ethereal, glimpsed fleetingly as he springs, cavorts, spins, then disappears.
The setting at Paintworks Bristol itself has a distinct presence, as the dancers appear framed by brickwork, wood and metal, within sweeping spaces or in silhouette.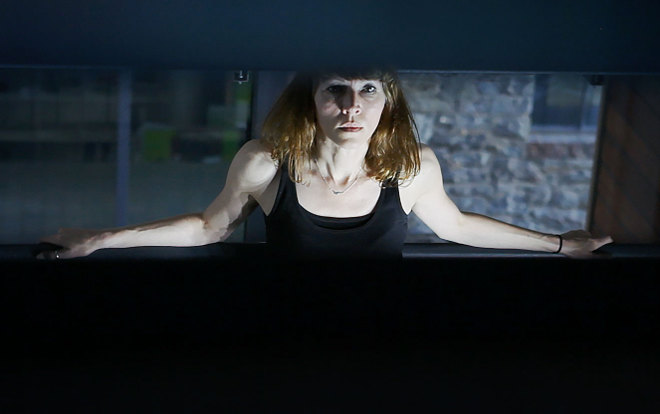 The power of the three individuals, each self-contained within their own space, is a phenomenal thing, building quietly with the music to a silent crescendo whereby each holds the camera's gaze in a moment of stillness that is utterly compelling.
Director: Grant Pollard (Films Gb)
Producer: Polly Crockett Robertson (3rd Stage Dance).
The premiere of No Idea Complete was on Sunday, 13th March 2016 at 6pm on Big Screen Bristol, Millennium Square. During 2016, it will be screened in London, Paris, Seville, Cadiz, New York and Nashville. Find details of future events at 3rdstagedance.com.
Are you an artist or do you know an artist who would like to be showcased on SkyLightRain.com? Get in touch at judydarley (at) iCloud.com. I'm also happy to receive reviews of books, exhibitions, theatre and film. To submit or suggest a review, please send an email to judydarley (at) iCloud.com.