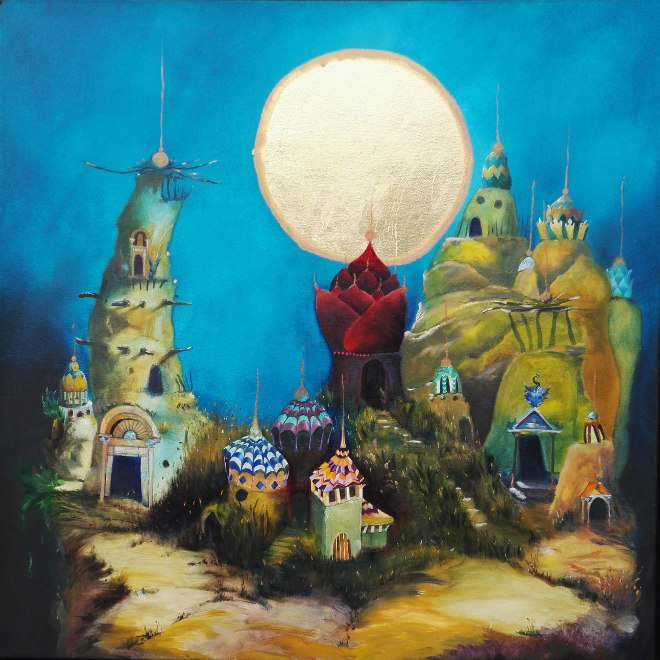 Through the eyes of artist Abeer Elkhateb, the world assumes a majestic splendour. With Fantastical turreted cities beneath fabulous skies, the scenes look like glimpses from exotic fairytales, a dramatic contrast to his ultra-realistic bronzes of entwined figures.
This contrast of styles takes me by surprise, but talking to Abeer Elkhateb makes it clear that there's always been a touch of the rebellious about his art.
"As far as I remember I was about 10 years old. For no reason at school, I was just painting and painting and painting," he says. "It got me into a lot of trouble at that time and it sent me to jail at a later age."
When he was 16, Abeer's uncle Abdallah Alkhateb (a PhD Historian and artist) took me under his wing in a way and opened his massive library to my eyes, which allowed me to be introduced academically to the art and art history."
Following that, Abeer says, art became a way of life,  "or I can say it is my life."
Abeer has developed a very particular way of working.
"Every five years I take a new path and start building everything around it," he says. "The last project I worked on was based on reverse-ism. I took some well known physical laws like gravity, perspective, fundamental construction and turned them upside-downs, inside-out."
Observation and imagination both play vital roles in this process.
"I love Albert Einstein's statement that logic takes you from A to Z, but imagination takes you anywhere," he says. "In many case I've wondered about the borders between reality and imagination, wondering if my imagination created the world I'm in or if the observed world by me created my imagination. Do thoughts really become reality?"
Abeer mentions painting places he'd thought were dreamt up in his imagination, but then later coming across those locations in the real world.  "I also have ongoing dreams – when they come they just continue where they stopped the previous time, as if a different dimension of me lives in a different world. I use those dreams as one of the sources of my artwork."
As a result, many of his enchanting scenes are re-envisions of real places, such as St Michael's Mount in France, Port Isaac in Cornwall and various parts of Germany.
Transforming a nebulous idea into a work of art is part of the excitement.
"I love it when a new idea is about to come up," he says. "First thing is drawing or outlining the idea and if I need to perform and film the performed concept, I do."
Once this is done, he can concentrate on painting or sculpting, according to the form of expression that feels right. "Basically I let the idea grows organically. Many of my recent works are in 2D and 3D alike."
Abeer has  been experimenting with materials since the seventies, "from scrap material  found in the streets, metal, wood, clay, wax, plaster and bronze on the sculpted production and oil colour, watercolour, ceramics, textile, etchings and mosaics. I think what I want to say is material and skills are always working side by side and when they don't, I feel that I'm being challenged and that is exciting because it pushes me into the unknown territory. At that stage I feel there is something to explore. So, I don't really prefer particular materials – it's the concept that informs me."
Abeer can't imagine his life without art. "I came to England from the war zone in Baghdad," he says of his struggles to survive as a man and an artist. "I've failed in so many things in my life as well as succeeding in many others; I've had my ups and downs, been crushed and stood up again," he says. "But even at the craziest times, paper and pen were always somewhere beside me, either in my pockets or in my bag. Paper and pen act as a reminder to myself that I am an artist. Recording experiences helps me see how every day, every experience, every breath is important. That is love itself."
Abeer Elkhateb's Imagined Worlds is on at Skylark Galleries 2, Unit 1.09, First Floor Riverside, Oxo Tower Wharf, London until 19th February 2017. Find out more here abeerelkhateb.wordpress.com and www.skylarkgalleries.com.
Are you an artist or do you know an artist who would like to be showcased on SkyLightRain.com? Get in touch at judydarley (at) iCloud.com. I'm also happy to receive reviews of books, exhibitions, theatre and film. To submit or suggest a review, please send an email to judydarley (at) iCloud.com.