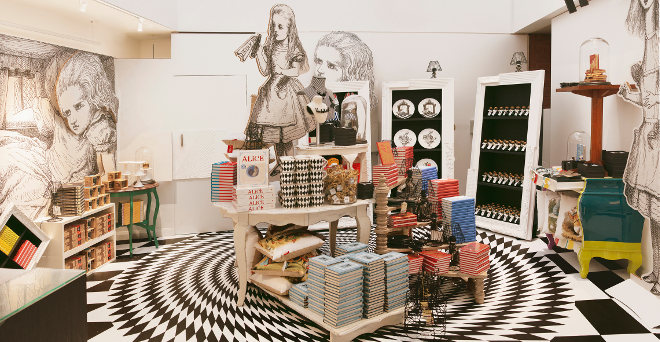 Everyone knows the story of Alice, who fell down a rabbit hole and discovered a strange land crammed with kooky characters and potential for mishaps.
This winter at the British Library a special exhibition and pop-up shop marks the 150th anniversary of the publication of Lewis Carroll's Alice's Adventures in Wonderland. The exhibition opens on 20th November 2015.
Exhibits on show include Carroll's original manuscript, along with exquisite illustrations by the likes of Salvador Dali, Mervyn Peake, Arthur Rackham, Ralph Steadman, Leonard Weisgard, and others, including Carroll himself.
Carroll's rollicking story has entranced readers, artists and other creatives for decades, and understandably so, with so many fantastical creatures and curious situations to contend with! From the baby who becomes a pig to the Cheshire Chat who becomes a smile, not to mention the Mad Hatter and his guests, these are figures that have become embedded in our cultural identity.
As part of the celebrations, part of the British Library has transformed into a whimsical space, with Arantxa Garcia (described rather fabulously as a visual merchandiser), using larger than life illustrations from the original Alice in Wonderland book to capture a sense of the bizarre and boundless possibilities that eke from the pages. "Alice shrinks and grows around the shop space amongst tables piled high with teatime themed treats and wondrous gifts."
To draw even more originality into this space, the British Library teamed up with Etsy for a competition inviting contemporary designers to create wares inspired by  Alice's 150th birthday. The winning designs were chosen by a panel of both representatives from Etsy and the British Library as well as independent judges Emma Mawston, Head of Design Interiors at Liberty, and designer Michelle Mason.
The shop and exhibition combine to become an immersive journey into the imaginative whirrings spilling out from Carroll's tale – dip in a toe and you may find yourself inspired to create something new, and decidedly eccentric, of your own.
Find full details of the Alice In Wonderland exhibition (on until 17 Apr 2016) and pop-up shop (open until 31 January 2016) at www.bl.uk/events/alice-in-wonderland-exhibition.