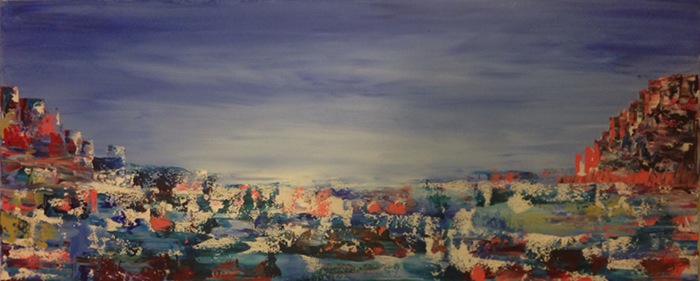 Welcome to 2015! How are you feeling today? In case you're still a bit groggy after your New Year's Eve shenanigans I thought it would be good to start the day, indeed the year, with some of Amy Vans' colour-saturated paintings.
I encountered Amy's artwork in a basement flat on an art trail and was blown away by their dazzling intensity.
The one shown at the top of this post – Bristol View – immediately caught my eye, but Amy's initial ideas took root far further afield, when she was journeying across the world.
"My travels took me to Melbourne where I met Mirabela Varga, an emerging Australian Artist who inspired me with her free style and use of colour," Amy says. "I then worked as studio assistant for Mirabela in Barcelona whilst she was exhibiting. Working with Mirabela provided me with a fantastic source of knowledge and learning both technically and creatively."
After a year soaking up Mirabela's influence, Amy returned to England where she set to work, allowing her own style to evolve.
"I've broken free into new forms of expression," she enthuses. "I work very spontaneously, regularly changing my palette and experimenting with different processes."
Much of Amy's work "reflects the different countries I have been to and the people I have met.  Most notably, living in Barcelona amongst the vibrant art scene, and the intensities and richness of India, fuelled my passion for colour. Over the years my process has evolved but the thing that has stayed consistent is my strong use of colour."
The brightness of Gaudi's work had a big impact on Amy's work during her year in Barcelona. "For instance, My painting 'City by the Sea' (shown below) was one of my first pieces and portrays the captivating energy of Gaudi's colours."
Amy admits to "having always been slightly nocturnal" which she says has had an impact on her pieces – "a lot of my work tends to offer an impression of the lights of city streets at night."
Back at home in England, Amy is influenced by the music she immerses herself in. "I tend to paint only to familiar music, feeling most comfortable in my studio listening to bands such as Portishead and Massive Attack."
When painting, Amy is enviably absorbed in what she's creating. "I'm wholly focused on the image I am creating and where the next swipe of the palette knife is going to take me," she says. "I enjoy the technical side, moving the paint on the canvas. Generally I work straight from the tube and mixing is done on the canvas. Choosing which colours is a massive part of my process."
Amy also enjoys experimenting with different textures, dragging her palette knife through paint "and seeing what marks can be created using different tools. I like the plastic qualities of acrylic paint the most but I've also explored a range of mixed media as seen in 'Fractured Image' (shown below) – if you look closely you can see the newspaper print coming through the paint."
She adds: "It's only occasionally that I set out to do anything representational. Mostly I'm interested in exploring the colours, textures and depths that I can create. The image develops as part of the creative process."
Find Amy's art at www.saatchiart.com, www.londonart.co.uk and facebook.com/AmyVansPaintings.
Know an artist you'd like to see showcased on SkyLightRain.com? Get in touch at judy(at)socketcreative.com.