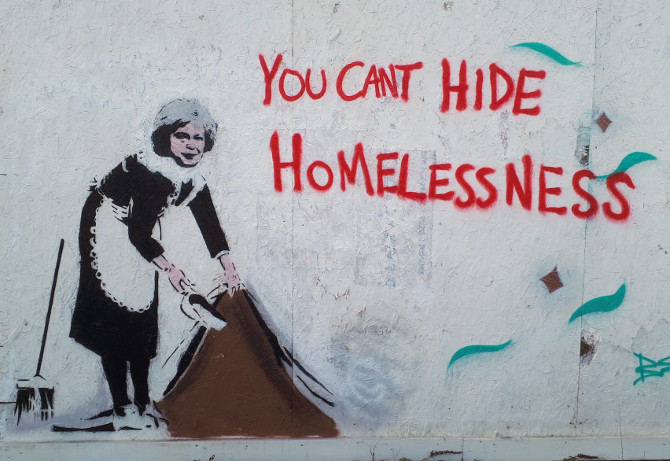 If you live in the Bristol area, you may well have already glimpsed work by urban artist John D'oh. Now the author of the freshly published Street Art And Graffiti: A Dissertation, he explains how he reached this new chapter in a life of creativity.
"I used to do street art as a kid but got into a long-term relationship so gave it up for a long time," he says. "Back then I got into street art and graffiti because of hip hop and I considered them to be part of that culture. These days my style and art has changed and now it's more about getting a message in with the art."
These messages can be prompted by a wide range of environmental, societal and political issues. "I follow the news and politics but sometimes I cover other issues like homelessness or environmental issues, which are close to my heart. If I see something that I feel would benefit from my street art then I start thinking about the logistics."
These include social issues "like civil rights, poverty, racism, bullying, inequality, immigration, and homelessness. There are a lot of politics in my art and some that are just done for humour."
His aim, he explains, is to encourage views to question what they read in newspapers and online. "People noticed during the last election that there was a lot of bias one-sided right-wing journalism," he comments. "It's nice just readdress issues and get people talking and thinking and not just believing the fake news that's out there in abundance."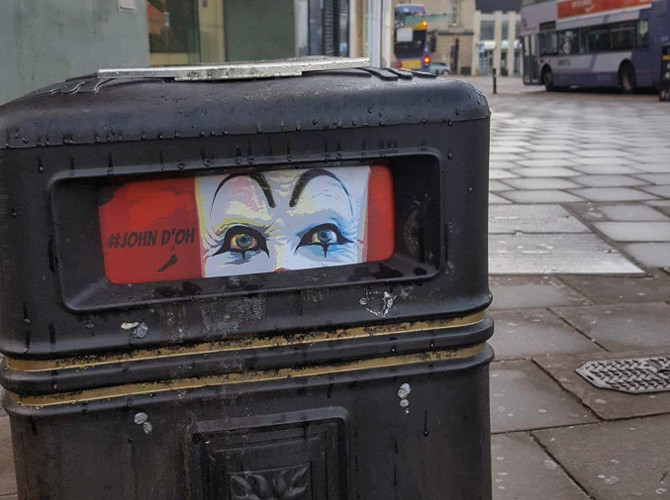 He adds wryly: "How many people voted for Brexit just based on the extra 350million a week promised to the NHS, which was all lies and deceit which has helped put us all in the mess we are in today?"
John describes his creations as "pretty much similar to advertising, as I only have a few seconds to catch the public attention with my art. Hopefully my artwork will make people smile as they go about their daily lives, but also maybe start debate or discussions as they talk to friends, work colleagues or other members of the public, if shared through social media."
The humour inherent in his work is an essential element, he explains. "I feel we all need a little humour in our lives and it's often better than the forced advertising that we are forced to endure on a daily basis."
Often the idea for a new work takes shape thanks to a news story. "I think about how I am going to adapt that to fit into an image, with maybe a short quote that can instantly grab attention of the passing public," John says. "I then cobble the artwork together with a mixture of photoshop and paint software, which I use badly, and freehand and draw the rest."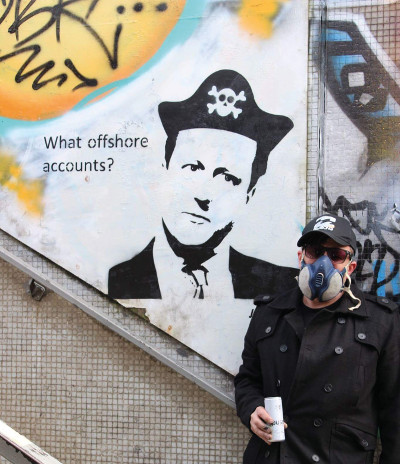 The biggest challenge is the speed at which a new idea needs to become an existing work of art in order to be relevant.
"I find the news changes quickly, so the timing has to be right – if you miss the headline or the story then it's too late; there's no point in putting it out a week later."
The design stages are the most crucial. "You ask yourself where you're going to paint it; whether there are any CCTV cameras; how big you can make it; how many layers it needs; whether it should be pre-made or maybe be an art installation…"
Once it's completed, John has one goal in mind. "All I hope to do is get that one descent photograph before my artwork is removed, painted over, jet washed or tagged. I consider what I do as a temporary art form and am not too precious about my work once it's done."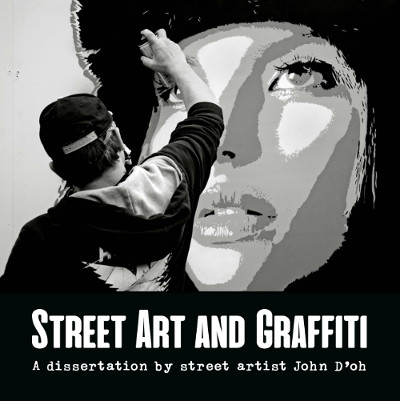 The idea to produce his debut book, Street Art And Graffiti: A Dissertation, was prompted by students and academics asking for insight.
"The book took me six months to put together so a lot of thought has gone into it," John says. "I've read many books on the subject and I feel mine is like nothing on the market. It's an insider's view and where most artists produce what I call generic coffee table books with just page after page of glossy photos of their art, mine is different and balanced with about 50% text."
The book covers and raises a lot of questions about the nature of street art, he says, "like should street art be protected and if so how do you choose what to protect? And the re-appropriation of street art, should art be removed from the streets? If you take this art then and stick it in a gallery or a museum, does it then loose its integrity? And lots more."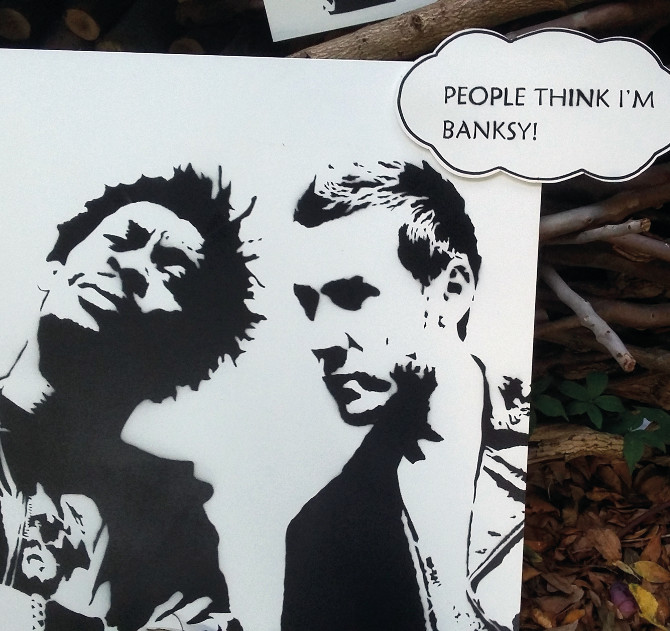 John's trademark wit shines through too.
"I've included some funny stories, some background information about myself that's not common knowledge and many unseen photos," he says.
John is hoping that the book will be used as an educational tool for teachers and students, "as the subject is becoming more common place in the school curriculum. I hope it will be something teachers can use in the class room to generate discussions between teachers and pupils and for students to maybe read."
Plus, as the title suggests, he'd like to see his book provide support for anyone writing a dissertation on the subject of street art. "My book may make it easier and highlight some interesting topics from which to base their work."
The book is also bound to appeal to anyone who appreciates art in its myriad forms.
You can see original street art by John D'oh all over the UK. "In some areas it stays up longer than others," he says, listing: "Bristol, Burnham on Sea, Manchester, Liverpool, Cheltenham, Worcester, Upton upon seven and Gloucester, to name but a few. And I'm always on the lookout for new locations, opportunities and walls."
Street Art And Graffiti: A Dissertation By Street Artist John D'oh is published by Tangent Books and available to buy here.
Are you an artist or do you know an artist who would like to be showcased on SkyLightRain.com? Get in touch at judydarley (at) iCloud.com. I'm also happy to receive reviews of books, art, theatre and film. To submit or suggest a review, please send an email to judydarley (at) iCloud.com.