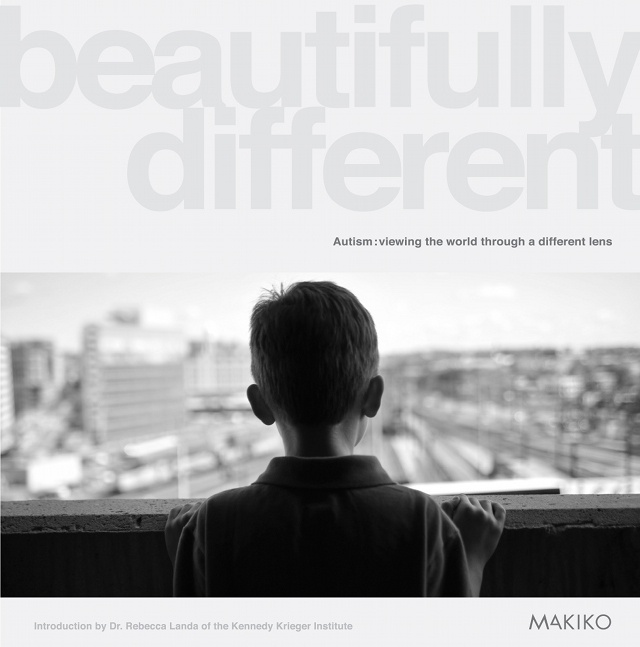 With exquisitely shot photographs, information-filled chapters and commentaries both from autistic children and their parents, this is that rare thing – a universal and yet deeply personal insight into the experience of life on the spectrum.
The book is a collaborative effort between photographer Makiko, Dr. Rebecca Landa at the Kennedy Krieger Institute in the USA, and the parents of children treated at the Institute.
While described as a photographic book, the compelling images take up far fewer of the pages that I expected, and I would have loved to see more. Instead we're presented with interviews presenting different views of autism, most notably a q&a with Chase, an autism activist who speaks eloquently about his experiences of diagnosis, social marginalisation, friendships, and his future plans. It reveals the strength and joy he finds in his own company as well as the heartbreaking lament that haunts the boy so much of the time: "What did I do wrong?"
It's a message that rings out clearly from the pages, that these children, through being different, having different responses to the expected ones, risk being made to feel 'wrong' simply for being themselves.
When he's alone, Chase says: "I don't have to play rules […] I will go out and find the excitement on my own." Effectively, for Chase, being with others is far lonelier than being left to his own company.
It helped me to glimpse the richness children in the spectrum gain from the world around them – and to understand that they can enjoy exploring their fascinations, with numbers, nature, music, architecture, with the same depth of pleasure we may gain from spending time with others.
One of these interests highlighted in the book is Ben's 'obsession' with lighthouses, which contrasts sharply with his brother Alex's (also autistic) dread of heights. It begins with the boys' mother overcoming her own vertigo  as she follows Ben's race up the lighthouse stairs, emerging with her legs "shaking from the stress of the climb." It's a magical moment as she sees, and shares, her son's happiness. "It was infectious. The moment was worth more than the fear I had overcome."
The next challenge, encouraging Alex to ascend a lighthouse, is far more difficult, and takes many more lighthouses. Eventually, they succeed and he's as awestruck as his brother. "Take the time to join your child in his world," says their mother, "and you may be surprised that eventually you will find the strength and tenacity to pull your child out of their world and into yours, no matter how briefly."
For me that's the power at the heart of this book. It's not about changing or 'curing' children with autism, it's about understanding them and what they present you with, and finding ways to engage with them, or help them engage with you.
While I would have preferred the different elements of each child's story to be presented together, so that the parents' insights came alongside the images and diary entries from the children, these separate sections each layer up to a vivid whole that will draw you into the world and lives of these children – not wrong, but beautifully, wonderfully and sometimes awe-inspiringly different.
Beautifully Different: Autism: Viewing the World Through a Different Lens is published by Matador and is available to buy from Amazon.

To submit or suggest a book review, please send an email to Judy(at)socketcreative.com.