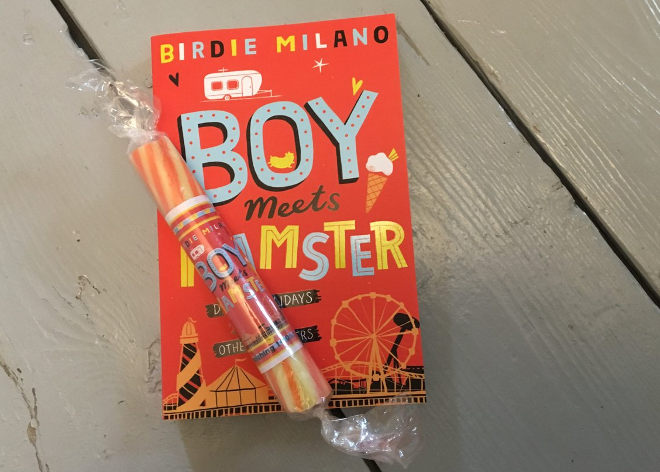 Full disclosure, my review copy of Boy Meets Hamster arrived with a stick of rock. A themed stick of rock striped in the book's colours and with the book title running right through the centre. So let's just say I was pretty well disposed towards author Birdie Milano before I even read the first page.
But beyond exquisitely en pointe bribery, the concept of this novel immediately grabbed me. Quite simply, this is one of the most inclusive YA stories I've had the pleasure of bumping into.
Fourteen-year-old Dylan yearns for a dream holiday, but ends up on a budget trip to caravan park Starcross Sands. When he lays eyes on the beautiful boy in the caravan next door, he's certain things are looking up, but his best friend Kayla's not so sure.
Nibbles, the giant hamster who serves as the park mascot, "with a perm-grin and two massive back teeth," seems to be wherever Dylan goes, much to his distaste.
Dylan's little brother, Jude, has cerebral palsy, "which is a medical condition where his brain gets a bit muddled about telling his body what to do." Jude also has a tendency to honk when distressed, and an ardent passion for said-hamster.
Their paramedic parents are embarrassing on a whole range of levels.
And Jayden-Lee, Dylan's potential love interest, is incapable of speaking without saying something ignorant and cringe-worthy.
Each of these characters is utterly believable. They're flawed, complex and capable of redemption, even those you might prefer to abandon tied to a miniature train's tracks (and yes, that happens in one scene). These are people with more than one side to their personalities. In some cases they're still figuring out who they really are, and that makes them all the more credible.
Birdie summons the spirit of the British seaside and sensibilities with everything from Elvis impersonators to garden gnomes, not to mention fairy-themed hen parties, and plenty of mayhem thrown in for added laughs. Comedic set pieces are stunningly visual, with Dylan always at the centre of them and never quite knowing why.
There's thievery, football, meat-related catastrophes, and in the midst of it all that a dancing gigantic hamster, not to mention the possibility of Dylan's first kiss.
And there's also a startling level of wisdom about love from our teenage hero: "Falling in love felt a lot like falling into a canal. A sudden shock as you're plunged into murky depths, with all kinds of unexpected dangers just below the surface."
How could you resist?
The real magic of the story, however, lies in its emotional depth. This is a technicolour daydream rippled through with glitter and laughter, but the true beauty shines through in uncertainties Dylan faces, and overcomes.
Though intended for the YA market, this book is the perfect summer read for anyone who's ever survived the intensity of a teenage kiss, or a UK caravanning holiday.
Boy Meets Hamster is by Birdie Milano and published by Macmillan Children's Books. It's available to buy from Amazon.
Seen or read anything interesting recently? I'd love to know. I'm always happy to receive reviews of books, art, theatre and film. To submit or suggest a review, please send an email to judydarley(at)iCloud.com.
SaveSave
SaveSave
SaveSave
SaveSave