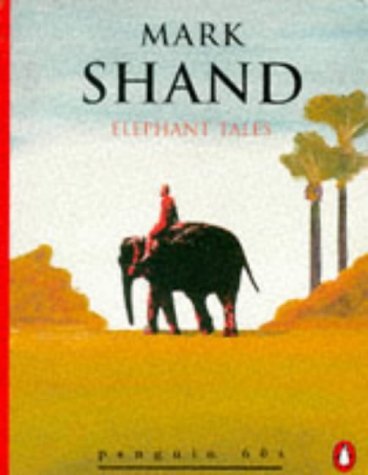 Given to me by my sister as part of a boxset of Penguin 60's miniatures, this small volume has been travelling with me everywhere recently, and aptly so as it's one of the finest examples of travel writing I've encountered.
In Elephant Tales, Shand is learning to drive Tara, a female elephant of great dignity, stubbornness and, intermittent whimsy. Like an eccentric great aunt and errant toddler in one, she ambles her way through the pages and into your heart.
The fondness and respect Shand feels for this pachyderm. Carrying him on her back and occasionally, though more often not, doing his bidding, Tara offers the author, and us, an uncommon view not only of the atmospheric Indian landscape, but also of the people and wildlife that populate it.
Tara is the hero of this story, as well as the means of travel, rather like a sentient bus and bodyguard. "I was filled with a complete sense of security, cocooned, wrapped in cotton wool," writes Shand. "I knew that while this wonderful, benign animal lumbered below me, nothing could go wrong."
At times they encounter people who regard Tara as a threat, having had their crops and homes laid waste by elephant herds. At another time, they enter the territory of a herd themselves, and it's Tara who is immediately, wisely, on the alert. "Tara suddenly stopped, her huge ears spreading outwards. She extended her trunk upwards and moved it from side to side scanning and smelling the air."
It's a tense moment, as the wild elephants appear from the forest's half-darkness.
Shard balances rhapsodies about his growing love for Tara with a faint self-mockery, as well as beautiful descriptions of crumbling architecture, and meetings with deftly, often comically, illustrated individuals. Shand's evident wonderment keeps you equally entranced, while his light touch ensures even wranglings with annoying officials are laden with humour.
My favourite scene begins 25 pages into the extract, with the words: "'Tara escape!'"
Tara, it transpires, has found her way into a gigantic reservoir tank, and is having the time of her life. "Suddenly from the far side of the tank, the tip of Tara's trunk broke the surface, blowing a spray of water like a fountain into the air. With a trumpet of pleasure she flung herself forward like a porpoise and disappeared again, delighting the large crowd which had by now gathered around the tank."
It's almost 12 hours before Tara decides to emerge. I couldn't help but admire her even more for giving herself a day off for some fun, helped by the fact that Shand is clearly just as charmed by his elephant's playful spirit.
This is a gem of an extract from Travels on My Elephant by Mark Shand. Buy the full book here or buy the extract here.
What are you reading? I'd love to know. I'm always happy to receive reviews of books, art, theatre and film. To submit or suggest a book review, please send an email to Judy(at)socketcreative.com.