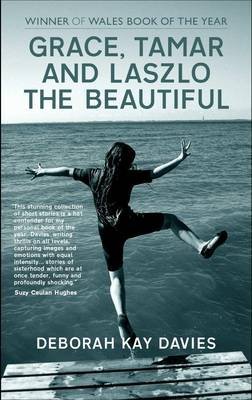 Rediscovering the darkly poetic wilderness of Deborah Kay Davies' writing in Reasons She Goes to the Woods drew me to reread the book that first brought her to my attention, Grace, Tamar and Laszlo the Beautiful.
This sharply envisioned series of interlinked fables is less about loyalty and sweetness of siblings than the darkness of this enforced friendship, focusing on the venom that bubbles between two sisters.
It's no surprise that the book won the 2009 Wales Book of the Year award. Scenes are vividly painted, sometimes almost too brightly to look at directly, and as readers we race along with the narrative, terrified and charmed at time, but most often disturbed to the core.
Deborah is acutely observant, using colours, sounds and unexpected imagery to depict the oddities and frailty of human emotion. And as you get deeper into the collection, the two sisters get older, alter and present different sides of their personalities.The young Tamer who bounces her half-naked 'body of an elf" above a bedridden old man in Fun and Games is in same ways very different from the grown up Tamar in Cords, and yet in others not different at all. Her rawness, strangeness and beauty make her seem like a creature half-glimpsed in a forest – not someone you'd see in a city, in a house, living an ordinary life.
Grace, the older of the two, presents a more considered perspective, though she has her own stories to live out in which she is seemingly content and bored by turns.
As Grace describes their childhood as their "not-really-shared life", Tamar raises the idea that despite their difference, they are tied together by the cord of the title of the collection's final story. That is the absolute truth that Deborah has captured – how much or little we have in common with our siblings is almost irrelevant. What matters is the deep love, and equally deep apathy, that binds us together.
Grace, Tamar and Laszlo the Beautiful is published by Parthian and is available to buy from Amazon.
I'm always happy to find out what you're reading. To submit or suggest a book review, please send an email to Judy(at)socketcreative.com.