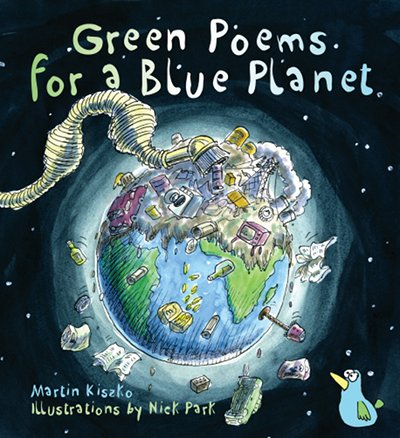 Martin Kiszko's Green Poems for a Blue Planet offer the chance to take an irreverent, sometimes alarming, often hopeful journey through ecology.
With Nick Park's quirky illustrations and Martin Kiszko's astute yet comedic words, this poetry book is a rare treat for adults and children alike.
Martin highlights serious issues with such a deft touch that you'll find yourself smiling even as you take on board his points about recycling and waste.
Despite the humour, the poems are also deeply thought-provoking, with lines in poems such as Street Names: "Places named after the trees that once lived there", and My Natural History: "I took the path by the highway/Where my heartbeat could not be heard."
If all that begins to feel a tad too serious, flip to Energy Laugh, a page of great eco-quips.
My favourite line comes in How to make Aeroplanes Green, a list of very funny an some rather sensible suggestions, which include: "First and business class to be made into allotments. No sleeping, only digging."
With a rhythm and zest that makes them perfect for reading aloud, and enough giggles to ensure you won't give your children nightmares, merely raise their awareness a notch, this is a delightful, insightful collection.
The poems crackle with energy but don't waste a single bit, instead using it to power up the readers and equipping them to understand and tackle eco-issue with ease.
Green Poems for a Blue Planet by Martin Kiszko is available from Amazon and www.greenpoemsforablueplanet.com