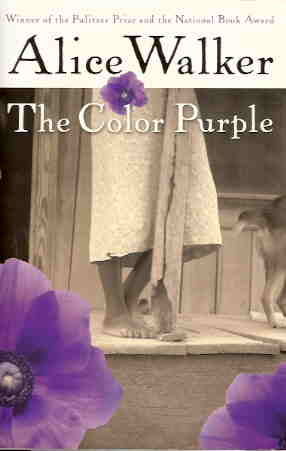 Book review by Emma Bragg.
Alice Walker's The Color Purple is one of the most powerful and controversial books of its time.
Published in 1982 and winner of The Pulitzer Prize for Fiction, the book is set in the 1930s and located deep in the American South.
The central character is Celie, a young black girl who has had to overcome a horrific youth, suffering abuse and rape from the man she calls 'Pa'. Walker does not shy away from detailing this explicitly and part of the reason this is successful because Celie writes of her experiences in letters to God – the only person she is permitted to tell them too.
'You better not never tell nobody but God. It'd kill your mammy'.
This is the opening line of the book, which immediately engages the reader in the secretive world Celie has to live in.
The plot unfold through the letters written from Celie, at first to God and then in correspondence between herself and her sister Nettie. Family is one of the central themes throughout the book and the cause of conflict and abuse.
Early in the book we learn how Celie has been raped by 'Pa' and forced to give up her two resulting children before she is fifteen. The loss of these two children is a constant regret for Celie but also appears to be one of the key aspects that drive her to remain strong even at the hands of violence from 'Mr –'.
'Her and me and our two children. What they look like, I wonder. But it hard to think bout them. I feels shame. More than love, to tell the truth.'
Her marriage to 'Mr–' is an escape from an abusive home but Celie always blames 'Mr–' for Nettie's disappearance. More than the violence from her husband it is this further loss of a sister and confidant that develops Celie's hatred for him.
A turning point for Celie is her introduction to Shug Avery. To Celie, Shug seems to represent everything she aspires to and admires: she is independent and able to stand up to 'Mr–', something that Celie is never able to do, seemingly a repetition as to how she was never able to stand up to 'Pa'.
'I won't leave, she say, until I know Albert won't even think about beating you.'
Much of the critical praise Walker received for 'The Colour Purple' was for her effective use of the language of the black characters. In Celie's letters she also uses underdeveloped language consisting of phonetic spelling and grammatical errors such as:
'He keep it locked up tight, but Shug cam git the key.'
This successfully emphasises Celie's deprival of an education, especially when compared to the more skilled language used in Nettie's letters.
The real appeal of the book is its portrayal of strong underprivileged women who are treat as second class, by white society because they are black and by the black men because they are women. Despite their difficulties and they abuse they suffer they overcome this and, in the case of Celie, even find it within themselves to be forgiving.
The Color Purple by Alice Walker is available from Amazon.