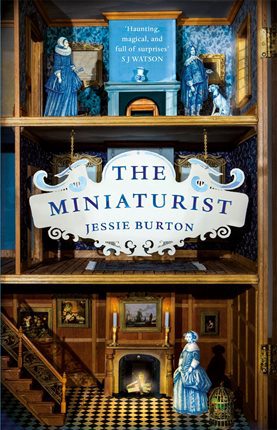 This richly detailed, immersive book draws you into the life of Nella Oortman, 18 years old in 1968 and freshly married to a man she barely knows. At the start of her story, she arrives in Amsterdam, a very different place to the rural Assendelft she's left behind. Her life is on the brink of changing forever, but not in the ways she anticipates.
Told solely from the point of view of this naïve yet spirited girl, The Miniaturist is a story that crackles with suspense, straining at the seams with vivid descriptions and characters so finely sketched they seem utterly real. Within the first few pages we meet Marin, the stern sister-in-law with a hunger for distant shores, and Cornelia, the servant who will prove a crucial ally as the novel unfolds, and Otto, the first black man Nella has ever seen.
The actual miniaturist of the title, however, is a far more intangible creature, difficult to meet and impossible to grasp, yet armed with an uncanny knowledge of Nella's new household and its many mysteries.
Until this point, Nella's world has been small, and far from exotic, a fact delicately revealed by Burton with a paragraph in which her seafaring husband Johannes accuses his sister of "crashing like an elephant" when she should tread with care, leaving Nella wondering if he's referring to a type of "elegant flower."
The writing is a masterclass in 'show not tell', with the third-person narrative never straying from Nella's viewpoint, and revealing each passing thought, feeling and fear that flits through the girl. It's a delight to read, drawing you into a world set abroad in space, time and outlook, yet swiftly as familiar as your own home thanks to Burton's skilful handling both of the facts and the fictions she's woven so deftly together.
And yes, at the heart of it there's Petronella Oortman's doll's house, a genuine artefact you can see for yourself in Amsterdam's Rijksmuseum (I saw it myself a few years back, and it really is extraordinary). Burton has taken this magical object and imbued it with eeriness, making sinister allusions between the mirroring of Nella's new home and this exquisite replica, and those of the residents of each house, the life-sized and the miniature – the whippets "no larger than moths", Otto with his carved muscles concealed beneath his clothes, the copy of Marin "who keeps her secrets like weapons"… The pieces made by the miniaturist seem to Nella to be "more than plain mimicry."
And yet despite these promises, for me this bestseller is all about the stylishness of its sentences – the plot itself, while engaging, lacks a satisfying resolution, and quite a few sections towards the end feel unnecessarily bleak. While individual scenes and characters kept me enthralled throughout, I found that after finishing the whole, I felt disappointed. Like the doll's house itself, this is a book of great craftsmanship and beauty, but little lasting substance.
The Miniaturist by Jessie Burton is published by Picador and available to buy from Amazon.
To submit or suggest a book review, please send an email to Judy(at)socketcreative.com.