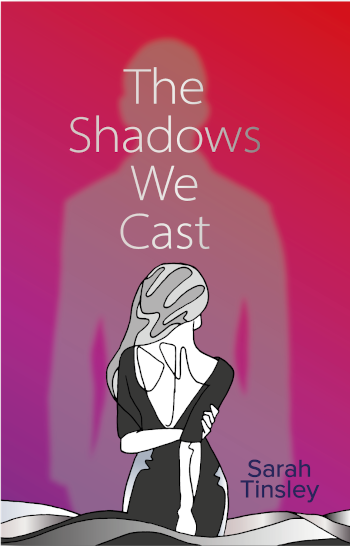 With chapters headed by names and starting with two time-frames (Now, After), the moment you open The Shadows We Cast by Sarah Tinsley, it's clear we're in psychological thriller territory. The first chapter, from Nina's point of view, crackles with alarm, while the second, from Eric's viewpoint, is no less gripping.
Tinsley layers in sharp, pithy descriptions that match the tone: "His pulse is a train-click", "The stretched darkness of winter has always grated on him." We're fed settings and circumstances line by atmospheric line, so we're fumbling with the characters to understand what's happened and who is in the wrong.
There's humour too, as Nina navigates the perils of getting a coffee at work while avoiding chat, speeding past "the HR lot, wallowing around the kitchen like it's a watering hole" and passing Brian in Sales, who, thankfully "seems safely amused by something on his phone, either that or he's checking up his nostrils."
Later, a group of 'office drones are described through Eric's eyes as having "gel swooping their hair, like a wind has caught each one in a different direction."
In these opening chapters, engineer Nina writes sentences onto post-it notes like a disturbing list poem. We soon discover she's actually pinning down her impressions and memories of the event she sums up chillingly as "You were raped."
These fragments, scribbled on "neon slips", serve as a way of Nina piecing together what she believes has taken place, while drawing us incrementally into her horror.
"It's like a schematic," Nina thinks, "something you need to break down into disparate parts, before it can be quantified and understood."
Yet her vulnerability is palpable, as she looks out of her window and notices: "Everyone looks capable of terrible things."
School teacher Eric reveals more about himself through a teatime visit to his mum's. "All so homely. Where had that lewd part of him come from on Saturday night? People who liked that kind of thing grew up in houses with loose curfews and parents that let them watch unsuitable films, surely."
Through her characters' bafflement, Tinsley confronts the reader's own complacency. This could never happen to us. We could never do this…
It's deeply unsettling in the most compelling way.
Tinsley also captures the sense of having been changed so fundamentally by an experience that it's unfathomable that others can't see it. Nina's surprised when her friend Holly doesn't spot anything. "Why doesn't she ask Nina how she is? She's sure she looks different." Nina herself has been "avoiding mirrors, the sheen of windows."
Then there's the issue of self-blame:
"Nina needed time, to plan out what to say. Lay out the facts, not get hysterical. Try to make it sound ok, like she wasn't weak. What else could she have done? You wake up with someone doing things to you, it makes you panic. You freeze. It was natural. Yet she couldn't think of a way of saying it that didn't make her sound at fault."
Meanwhile, Eric is heading down a parallel path of shame: "All he's trying to do is see this girl again. Tell her he's thinking about her. Why is he finding it so hard? It's pathetic."
And yet he has a growing awareness that what happened between them wasn't as straight forwardly consensual as he'd like to believe.
 "There's a niggle in his stomach. He keeps thinking back to that night, trying to remember whether she was moving before he took her pants off."
Tinsley treats her characters with equal weight – neither is full good or fully evil, making both of them relatable, at times disconcertingly. Eric is a fully fleshed character, with his own sorrows, complicated family life and desire to fit in. At one point he thinks enviously of his sister Lilly: "She didn't have to hide things from those around her, like enjoying musicals, or crying at episodes of TV shows. He had never felt secure in his expected mould."
Nina isn't perfect either. As her life crumbles in the aftermath of what happened, she deliberately makes trouble for co-workers, plots revenge and reveals her petty prejudices: "He's never left Portsmouth. That must mean he doesn't have a degree. It seems worse, that he's not intelligent."
By the centre of the book, Nina's taking us down a dark path I hadn't anticipated, keeping suspense ratcheted high.
Even seemingly throwaway comments emphasise Nina's determination and resilience: "She thinks of the box of broken things she kept under her bed when she was younger, the hours she spent tinkering until they were fixed."
As tension-filled as it is satisfying, Tinsley's thriller showcases all the ambiguities of humanity nature, and, refreshingly, not one of these suggests victim.
The Shadows We Cast by Sarah Tinsley is published by and is available to buy from SRL Publishing.
This book was given to me in exchange for a fair review.
What are you reading? I'd love to know. I'm always happy to receive reviews of books, art, theatre and film. To submit or suggest a book review, please send an email to judydarley (at) iCloud.com.