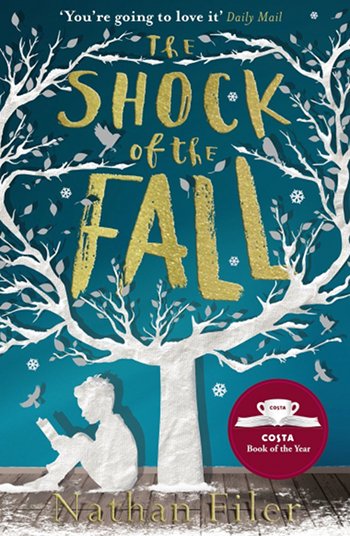 This beautiful, funny, sorrowful book is an impressively assured debut. Drawing on the realities of the modern day health services from the point of view of a 'service user', Nathan Filer has woven a tale of sibling love, family grief and mental disintegration that begins with a funeral for a doll at a Dorset campsite.
Filer has been interviewed extensively about the Costa Award-winning book, and is open about the influence of his work as a mental health nurse in creating the world of 19-year-old schizophrenic Matthew Homes. Strikingly, however, he has dug deep in Matt's state of mind and has devised a variety of means to immerse us in it, including sketches, typefaces and, always, a heart-achingly upfront voice.
This first person account gives Filer a freedom that he has made full, and very skilful, use of. Flipping backwards and forwards through time gives him the opportunity to keep the suspense ramped up, as we revisit crucial moments and sometimes (now putting the unreliability of Matt's narration to excellent use) encountering several different versions of the same scene. I found his unique style swept me along as I vied to find out the truth – what happened to Matt's brother Simon on that family holiday in Devon? And what's happened to Matt since?Early on in the book, Matt introduces his older brother, saying, "I think you're going to like him. I really do. But in a couple of pages he'll be dead. And he was never the same after that."
It's true, Simon's not the same, but from Matt's point of view, he's still around: "in the rain clouds, fallen leaves, sideways glances. I searched for him in the places I had come to expect him. In running tap water. In spilled salt. I listened in the space between words."
This constant search for signs of his dead brother intensifies until it lands Matt in psychiatric care, and yet, as unwell as Matt clearly is, there's a thread of sanity running through his thinking processes. Whatever your mental state, death is shocking and senseless, like so much of life.
And as a protagonist, Matt has more power than most. He constantly jolts us out of the story – at one point with a chapter heading beseeching in annoyed capitals "PLEASE STOP READING OVER MY SHOULDER." It's an unusual technique, but while it interrupts the flow it serves to emphasise Matt's own disjointed thinking while ensuring the control over the narrative remains firmly in his hands.
In stark contrast, when it comes to his own wellbeing, Matt has little to no authority. The Shock of the Fall is a tragic story, but one through which Matt's character shines as well rounded as any real person's. His schizophrenia is simply one aspect of him, just as his grief and guilt, and humour and kindness are. And that's the true revelation of this tale.
The Shock of the Fall by Nathan Filer is published by Harper Collins and available to buy from Amazon.
To submit or suggest a book review, please send an email to Judy(at)socketcreative.com.