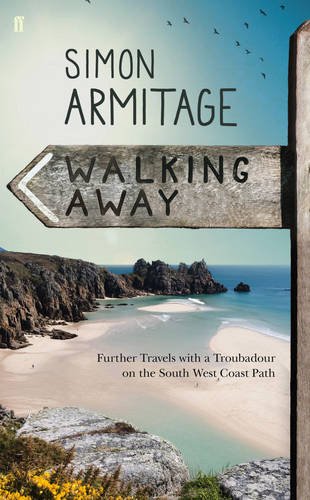 "There's a sameness to this kind of walking, with the corner of my right eye always full of the blueness of the water and my left always full of the greenness of the land."
So writes Simon Armitage shortly into the follow-up to his troubadour travelogue Walking Home, in which he hiked the Pennine Way. In Walking Away, Simon is again travelling without a penny to ease his way, instead relying on his poems to secure bed and board, plus the funds for the occasional ice cream, by reading his work to enthralled and occasionally bemused gatherings between Minehead and The Scilly Isles.
It's a pleasingly audacious idea – a challenge to himself to discover whether or not poetry has a relevance in the present day. Almost every evening he gives a reading, in part to see who will attend, and after each event a large sock is left out which attendees are invited to drop donations into, not all of which turn out to be monetary.
Armitage is a hugely likeable fellow, with a keen eye for the gentle absurdities of the world, making each step of the way a delight. He notices things many of us might overlook, so that his commentary is peppered with oddities such as "wilfully quirky signposting", lanes "so upholstered with spongy luminous green moss it has the appearance of a sea bed or coral reef" and, as the tide rolls in, moored boats in the bay "stirring and righting themselves like horses after sleep."
For all these entrancing observations, I would have loved to find more actual poems on the page – the few we're presented with add something no amount of prose could hope to, but merely served to whet my appetite. Perhaps that was the intention.
Simon's writing is drenched with wry delight, and he seems equally interested in the disappointing views (the two seals, "which are seals only until they stand up and walk onto the beach in their black rubber wetsuits", for example), as he is when it surpasses his expectations. He collects descriptions the way a twitcher might record birdcalls: "The map lied, because within those large blocks of standard OS shading the eye eventually discerns an unlimited spectrum of colour within the sand: cream, corn, gold, mustard, salmon, straw, umber, amber, peach, pearl, brass, skin, bronze, bisque, buff, tan."
En-route he meets some of the most hospitable eccentrics Devon and Cornwall have to offer. As each day's walk comes to an end, he looks out for people wearing "the looking-for-a-poet expression." It's a charming idea, resulting in a diverse array of places to sleep, from a stately home to Boscastle's Museum of Witchcraft. The audiences for his readings are equally varied, both in size and personality, with one host actually asking if he'd like to be reintroduced after the interval of one of his events, in case those present had already forgotten who he is.
At times, the route seems to have forgotten Simon too, as he comments that "The coast path is only an idea, a conceptual possibility", endlessly encroached on by wind and tide, storm and even gorse – "a right of way only where a way exists."
This could be a curious metaphor for the entire journey – where poet gives readings to peoples that may or may not be listening, and is relevant perhaps only when he has the gumption and courage to push himself into the forefront of public and cultural conscious.
In a conversation with the Guardian recently, Simon Armitage says: "I used to have a purist view of poetry, that the page was all there was, I don't think that any more. A poet is the entire package. Poetry goes back to the campfire, the theatre, and the temple."
I think Walking Away is this belief put into practice – a poet making himself known almost by sheer force of will – and that's no small accomplishment in this day and age.
Walking Away by Simon Armitage is published by Faber and Faber, and is available to buy from Amazon.
To submit or suggest a book review, please send an email to Judy(at)socketcreative.com.