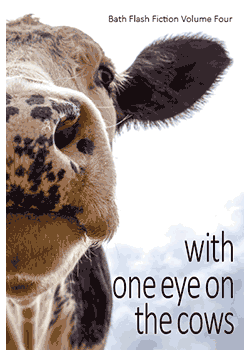 Gathering together 137 stellar micro fictions, With One Eye On The Cow: Bath Flash Fiction Volume Four is an anthology full of stamping, harrumphingly insistent words.
I have a particular fondness for slow-burn flashes, by which I mean the ones that burrow in and quietly stop then restart your heart. Not the well-worn trope of a twist in the tail, but the stories that seed in subtle clues that burst into bloom with startling vivacity. Those authors in my opinion have mastered the tricky craft of the short short.
A Kind God by Jesse Sensibar is a particularly fine example, beginning with the sublime and finishing with the prosaic, with a sliver of shock in between.
Elsewhere we rub shoulders with displaced families, and a vastly varied assortment of starting points of PTSD. We encounter the bravura of sexual, awakenings and dawning realisations, and seethe with the knowledge of thoughtless wrongs impossible to undo.
In The List by Leonora Desar, mental illness is sensitively, heart-achingly handled in only a paragraph of text, while in Tim Craig's skilfully mirrored Planes, Horses and Planes, phobias smirk as they grow inarguably rational.
Immense topics are covered with aplomb, from menopause to AIDS. Often the focus appears to be humanities' tragi-comic shortcomings. In After, Deborah Tomkins uses dark humour to shed an unwavering light on the realities of climate change.
As with Tomkins' story, time is a preoccupation that crops up throughout, particularly the sense of it running out. Fiona J. Mackintosh's Snow Falling Upwards is a beautiful example of this, sketching in the outline of a yearning relationship, then painting in details with lines such as: "In our thousand days together, you'd always listen like you were hearing music, even when it was just my voice, full of unnecessary language." When readers see your story as a series of vivid images, you'll draw them in as well until they've become part of the tale's landscape.
One of the reasons we read is to gain access to other minds and other lives, whether the differences are cultural or psychological.
In TJ Newton's chilling flash Slipping Through My Fingers All The Time, we're shown a relationship from the viewpoint of the possessive other: "He began to notice that the love was getting smaller somehow, and he worried that it must be escaping elsewhere." In this instance, we empathise with the woman he wishes he could lock inside, and ache with an awareness that she may not flee in time. It's a claustrophobic story, full of unease and escalating mistrust.
And yet, there's a wealth of humour in the 137 stories chosen for this anthology. Even the darkest tales contain moments of wry delight, as with the literary dragon who can turn urine into wine in Nod Ghosh's A Finite Dragon: "'It's a matter of substituting a w in place of the ur,' she says, 'easier in some fonts than others.'"
The title story by Annette Edwards-Hill speaks of a man's love for his herd, regardless of their concern for him. It seems to me to be a tale about compassion for compassion's sake alone, which seems a positive note to finish on.
No tale is longer than 300 words in length, and this brevity ensure that each is spring-loaded and ready to explode into your consciousness.
With One Eye On The Cows is published by Ad Hoc Books and is available to buy from bookshop.adhocfiction.com
What are you reading? I'd love to know. I'm always happy to receive reviews of books, art, theatre and film. To submit or suggest a book review, please send an email to judydarley(at)iCloud.com.