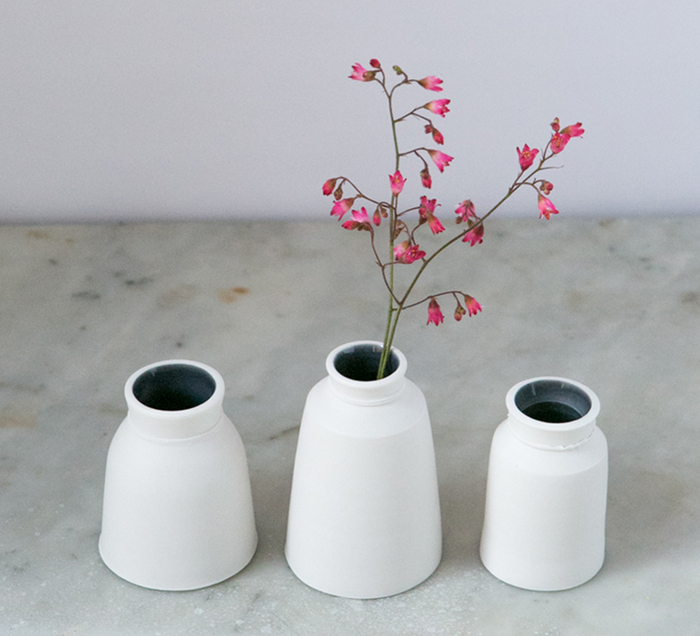 The soft, rhythmic slap of clay against the potter's wheel can induce a meditative state. In the case of artist/ceramicist Elisabeth Barry, the resulting creations exude their own quiet peace. The white exteriors and often tantalising interiors invite you to look, lean in and perhaps reconsider your preconceptions. To me this meets all my needs from a piece of art.
And yet, those that work with clay are often not considered artists.
"There does seem to be a gaping divide between art and pottery, which troubles me. I like the fact that my pieces are all very much designed for use (and benefit from a trip through the dishwasher) but will also be beautiful when placed on a shelf," says Elisabeth. "I struggle with the idea that something is 'too good' to be used. Pottery came about to fulfil very functional needs. And yet we started to decorate them and refine the shapes. What a joy it is to be able to use something we deem to be incredibly beautiful."Elisabeth says that she has always been happiest when being creative. "I was utterly fascinated with the process of throwing pots on the wheel and was determined to learn how to do it," she says. "I had a sneaking suspicion before I tried that it might suit me very well."
Elisabeth began taking evening and adult education classes, "with barely enough time to get everything out before it was time to clear up. I became increasingly keen to do more and more throwing so, when my job went part time, I leapt at the opportunity to study part time at City Lit in London. They run a fantastic ceramics diploma course, which gave me a very thorough and practical grounding in clay work."
After graduating, "with an 'it's now or never' attitude" Elisabeth decided to find and set  up her own studio, "and bought myself a wheel and kiln. I'm so very glad I did – it's one of the most satisfying things I have done."
There seem to be a large number of pleasures connected to working with ceramics.
"I love being my own boss and working to my own rhythm," says Elisabeth. "I love the silence and solitude of the studio. I can lose myself completely in the clay – and, of course, find myself at the same time. I do love it when my friends in the next-door studios come round for tea and cake on my sofa!"
Elisabeth is a particular fan of working with porcelain. "It's like throwing with white chocolate – it's so white and smooth, it feels so good running between the hands when throwing. It's quite addictive…"
The process itself involves several stages.
"When you've completed throwing a piece – the magical stage when the spinning clay has grown in your hands into its basic shape – then you can invert the pot and 'turn' it', using the wheel and a variety of little implements to refine and define the shape of the object and its surfaces," Elisabeth says. "After drying, the pots are fired in the kiln to make them solid before I add the glaze and then do a hotter glaze firing. Finally I polish each piece to produce an exceptionally smooth finish."
One of the striking things about Elisabeth's creations is that they remain pristine and white on the outside, with hearts full of earthly, leafy or sky-shaded hues.
"I like to let the material speak for itself, and have no desire to obscure the porcelain by covering it all up," she explains. "When fired and polished, the bare porcelain has the most beautifully soft and tactile quality – so much so that I often find people holding a pot to their cheek!"
Elisabeth is drawn to work by acclaimed Carmathenshire-based ceramists James and Tilla Waters. "I find it quite exceptional Their attention to detail is sublime. They made me consider the underneath of pots, which is often an afterthought for potters. I would love to own a piece of theirs one day."
Happily, Elisabeth is hoping to make her work more widely available in 2015. "My online shop (www.elisabethbarry.com/shop) is currently the best place to see a wider selection," she says. "Several galleries hold a small selection of my work. Those interested in knowing more should sign up to my mailing list via my website so I can let them know when I have an exhibition or show coming up and when I am holding an open studio event."
The making remains the most satisfying part of the process, however. "When the pressure is off, so to speak, and I am not working to deadlines for shows or commissions, I'm free to experiment with new shapes and ideas or just to make the kind of work that matches my mood that day," says Elisabeth. "The thing I am most focused on at any given moment is the particular piece in my hands. That's where all my attention goes."
Find Elisabeth at www.elisabethbarry.com.
Know an artist you'd like to see showcased on SkyLightRain.com? Give me a shout at judy(at)socketcreative.com.