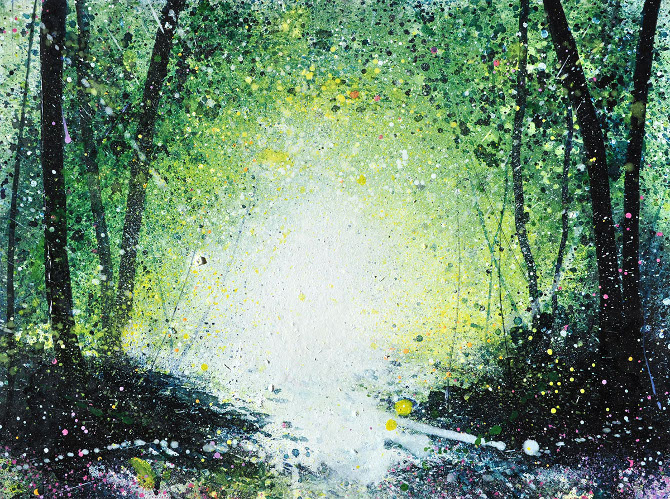 There's a palpable sense of the coolness, dappled light and breath of a forest in the paintings created by artist Elizabeth Jardine.
"My paintings have developed over the years, but have always been concerned with the idea of a journey, and with interconnectedness and symbiosis," Elizabeth says. "I've had a love of the outdoors from a young age, growing up on the edge of the South Downs National Park, and after my BA I started long distance walking, which immediately fed into my artwork."
Elizabeth has been painting woodland scenes for about a decade now. "It offers so many compositions and metaphors that I don't think I'll ever come to an end," she says.  "Occasionally other imagery crops up – structures, or people or animals, but usually within a wooded space. I love to build up many layers of paint, working with gravity, light and dark, in parallel to the layers of growth and decay in the woods."
The wooded rural areas she's attracted to also provide the chance to explore a site's social, historical and geographical aspects.
"I'm fascinated by the layers of history embedded in the landscape and I set off on long walks in order to draw them out, looking for echoes of the past," Elizabeth says. "I tend to work with moving image or develop an artist book for specific research projects, but  wherever I walk I'm inevitably drawn to areas of woodland; these are the places that I feel most at home, and that I feel driven to paint."
Elizabeth describes her paintings as "an intuitive response to place, concerned with the abundance of growing things, the shifting of light and the sense of timelessness you can encounter on a solitary walk in the woods. I explore the emotional response I had to a physical place, and aim to recreate the sense of being drawn through a landscape."
The paintings offer up a means of communicating the feelings that rise up when viewing the landscape.
"These are the things I like looking at, and it's lovely to share that with people," she says. "I always leave space for the viewer in my paintings; I want to create a space where people can be absorbed, and feel drawn into their own journey."
I ask Elizabeth what tempts her to stroll down a new path and set up easel and paints.
"I guess it's a universal human condition to want to know what's down the path, round the corner, get to know the world more deeply," she replies. "I like to keep moving!"
Taking a full arsenal of art tools isn't practical for most long distance strolls.
"I used to sketch in the field but long distance walking is an activity in itself, you get into a rhythm as you roll through a place," Elizabeth explains. "Now I use my camera as a sketchbook and starting point for paintings. I refine the compositions within photographs back in the studio as little sketches; then scale them up."
On walks, Elizabeth carries a backpack of food, tent and various layers "to keep the British weather at bay. My knees aren't up to carrying an easel as well! It would be interesting to spend a long period of time in one woodland, working in situ, to see how that would change the feel of my paintings."
Elizabeth adapts her process as her painting progresses.
"At the start there is so much potential, and towards the end it is easy to overdo it; I slow right down," she says. "I try not to get too tight or precious, but keep the spontaneity and energy of the first strokes. I don't like to have too much control over the work, as long as it is underpinned by a solid composition, and by a real place that I've walked though or slept in."
But how does her own frame of mind shift between the beginning of a work of art, and putting down the paintbrush at the moment of completion?
"Watching a painting unfold into some kind of resolution is a process of discovery, like walking round a corner, or taking in a new view," she says. "I like there to still be a sense of potential, a feeling that it could still grow, or change. For me they feel 'finished' when they still sort of hover on the verge of becoming – it keeps them alive."
In 2017 Elizabeth was selected to be resident artist in Yeovil Country Park's Water:Meadow:Wood project, which aimed to foster greater engagement with the park. "Each year focused on a different element of the park, with a different artist each time," she says. "My element was Wood, and I worked with children with special educational needs in the wooded areas, using clay to explore the trees and imprint a record of our time there. Creative activities are an amazing way to embed people in a place, encourage them to spend time there, and look closely. The children I worked with gained so much confidence from working outside, and made some wonderful artwork as well as building a sense of togetherness."
She adds: "I think it creates a sense of belonging too, that of belonging to a place rather than of owning it, which is really important for our health, happiness, community and for the future of the planet."
Find more of Elizabeth's work at www.elizabethjardine.com
"If you'd like to be invited to exhibitions and events please join my mailing list – email art@elizabethjardine.com."
Are you an artist or do you know an artist who would like to be showcased on SkyLightRain.com? Get in touch at judydarley (at) iCloud.com. I'm also happy to receive reviews of books, art, theatre and film. To submit or suggest a review, please send an email to judydarley (at) iCloud.com.