An old school friend of mine, Stu McLellan, is involved in an exciting new venture I wanted to share with you here. The Barefoot Diaries will be a quarterly journal of writing, artwork and photography "about living slower and deeper – in our own bodies, in our relationships, in connection to place and nature and the wider world." Sounds good, doesn't it?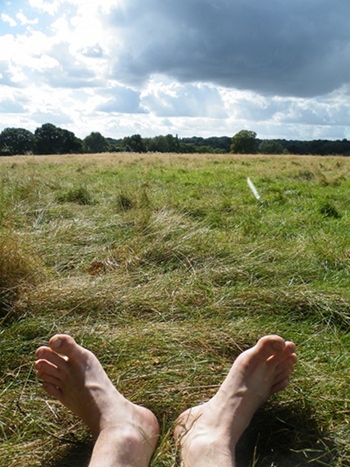 We all need to pause, look up and take stock occasionally, and the Barefoot Journal will offer a chance to do that. Issue one is due out in early summer 2013, with contributors including bee campaigner Brigit Strawbridge and illustrator Jackie Morris, and topics ranging from summer foraging, tree-climbing as meditation (yep, I'm curious too) to the art of campfires, all printed on 100% recycled chunky paper.
You can help they get going with Kickstarter, where you can find out more about the project and your hands on original Barefoot artwork, not to mention the opportunity to send Stu on some random barefoot (literally) adventures.
To play your role in getting the Barefoot Diaries out into the world, visit http://www.kickstarter.com/projects/352418155/the-barefoot-diaries