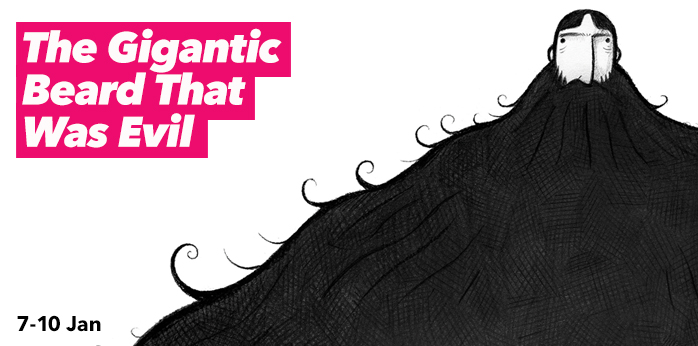 …And not just any graphic novel, but Stephen Collins' award-winning, darkly humorous and surreal The Gigantic Beard That Was Evil. Director and writer Stephanie Kempson talks us through how she and a team of twenty young actors collaborated to take the story from page to stage.
Choose your material
I discovered The Gigantic Beard That Was Evil through a friend who's into comics. I don't generally read graphic novels, but I really love words and I'm a big fan of picturebooks. Something about all the space in them is exciting – it offers up lots of possibilities. Stephen's work is like a picturebook in a way – there are lots of one-panel pages and plenty of space for ideas.
The story is quite fantastical, yet political too, whimsical but also very melancholy, which appealed to me. It's a book about confronting your own mortality. It's far more than a simple allegory – it's very rich, really exciting and fun.
Find your cast
I suggested the idea of adapting The Gigantic Beard That Was Evil to the Bristol Old Vic Young Company, and they were instantly interested. We then needed to get the rights to the book, which wasn't easy. Stephen had turned down several companies, but the Young Company have a fantastic reputation for innovative work, and that helped. There are 20 cast members aged between 14 and 23, and you don't often get that.
As soon as we had the go ahead, I began auditions, and discovered there were some really talented singers in the group, as well as excellent actors. Oscar Adams, who is 16 and plays the lead role of Dave (who grows the gigantic beard) is just brilliant.
Get to know your material
I took the opportunity to talk to Stephen about the piece. He's well known in comic book circles and writes strips for The Guardian. The Gigantic Beard That Was Evil was his first full book and had been shortlisted for Waterstone's Book of the Year and won the Edinburgh Festival's inaugural 9th Art Award. He told me he'd been influenced by the 1993 film Groundhog Day, which stars Bill Murray and is about the importance of really living your life.
While writing it, Stephen also listened to a lot of Kate Bush but opted for The Bangles Eternal Flame as the story's repeating refrain. In the play you hear fragments of it five times in the beginning section of the performance, but only the whole way through twice.
Begin collaborating
We had a really decent chunk of time to work with. We started in September, working in groups of four or five with each group devising something different for each scene. It was an incredibly exciting process. The Young Company are full of energy and original thoughts – in the end I had to say, stop with your ideas!
As well as the book, we drew inspiration from the real world, including the recent Question Time debate with Nigel Farage. It gave us the chance to look at the ways The Gigantic Beard ties in with issues to do with immigration, intolerance and how quality of life can be reduced due to a single characteristic.
Make essential changes
We had to make some tough calls to achieve the transition from graphic novel to the stage. The whole middle section was a real challenge – we needed a narrative and characters that could be followed from beginning to end. Professor Darren Black, who is played by 23-year-old Elliot Winter, doesn't appear in the book until half way through. We needed to bring him in far earlier. It's about choosing which of your characters to develop. We also expanded the role of the Prime Minister, who is played by Kate Alhadeff.
Survive some drastic cuts
We needed to change the play's ending drastically in the last week before opening night – which meant a lot of rewriting. We cut out around 25-minutes worth of material and lost a third of all the scenes. That part of the process can be a challenge, particularly if one of your favourite scenes has to go. The young people understand that it's all about making the best show possible. You will find your moment in the show, even if the scene you loved has been cut.
Draw on everything at your disposal
Stephen's story has a touch of Roald Dahl about it, and to this end we wanted to recreate the melancholic grey-scale of the graphic novel. We were able to do this partly through shadow puppetry, thanks to Tim Streader, a hidden gem at Bristol Old Vic who is overseeing all of our lighting. We also have fantastic music by Verity Standen, has created wonderful, moving a capella arrangements with our four singers, and some bizarre soundscapes too. It all serves to bring the graphic novel to life.
About the author of this post
Stephanie Kempson is a Made in Bristol graduate and JMK Assistant Director Bursary recipient. She previously worked at Bristol Old Vic as Assistant Director to Sally Cookson on Jane Eyre. Stephanie runs Sharp Teeth, hosting nights of theatre, storytelling, poetry, music and more.
The Gigantic Beard That Was Evil performed by Bristol Old Vic Young Company will be at The Bristol Old Vic Studio between 7-10 January 2015.
To submit or suggest a guest post, please send an email to Judy(at)socketcreative.com.