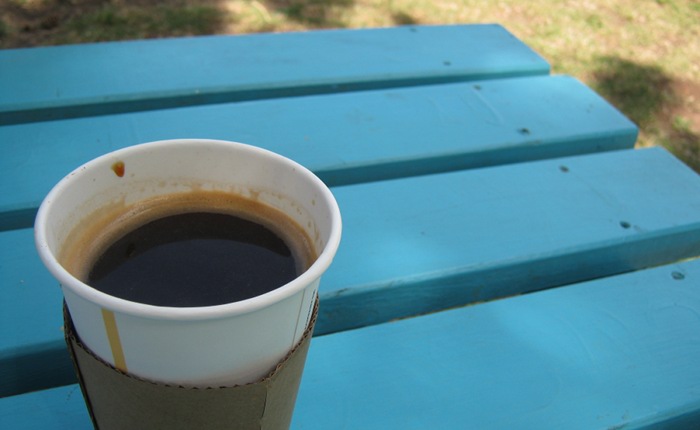 When I met Darren Laws in 2008, he was working in PR but already had high hopes for a literary career. In the first instalment in a two-part series, I pick Darren's brain about what it takes to get a new, independent publishing house off the ground. 
Value your writing skills
"It was actually my writing skills which enabled me to get into public relations in the first instance," Darren says. "I am pretty much an autodidact by nature. Never academic but always fascinated by learning about the various industry roles I have worked in over the years. I'm always wondering what I'm going to do when I grow up – I'll probably never know the answer to that but writing and creativity has been at the core of everything I've done. I had long embarked on a writing career when I moved into public relations, so it was natural to continue writing through that period. PR itself offered some great writing challenges which I loved."
In the early years Darren ran Caffeine Nights in the evenings and at night (hence the company's name) while spending his days working full time as a public relations manager. "The job was excellent, offering the chance to work on many great and diverse campaigns in the UK and abroad, but the agency like many others really suffered during the last recession following the banking crisis," he says. "The downturn lead to a dramatic reduction in staff at the agency I worked in and while I escaped the first round of cuts I wasn't so lucky second time around."Take small steps
Fortunately for Darren, Caffeine Nights was on its feet by then.  "Working full-time for myself in an industry I loved seemed the obvious answer."
The genesis of Caffeine Nights goes way back to the late 90s. "I formed a writing group and realised just how many talented people there were out there who may never find an outlet for their work or have their voice heard," says Darren. "I set up an online short story site called 24/7 Caffeine Nights and slowly, as publishing opened up and grew more inclusive, we evolved into Caffeine Nights."
Be a good all-rounder
Darren learnt most of the skills he needed actually on the job. "It really has been a case of throwing myself into it and at times making things up as I went along," he says. "The main skills to bring are being a good all-rounder though, as with many small companies you find yourself doing a plethora of jobs, from accounting to commissioning and everything in-between and beyond."
Darren had previously written and had published two novels, Turtle Island and Tripping, which he decided to purchase the rights to. "These became our guinea pigs, which we sent out into the market to see what happened to them and what we could make happen. I then spent two years studying the publishing industry before we published any further books."
Understand budgets, and marketing
Darren admits that there are many challenges for small independent publishers.  "Primarily it's about trying to compete in an over-crowded marketplace with limited marketing and advertising budgets," he says. "For me a background in public relations has been useful when it comes to placing author interviews and news pieces in the national newspapers, on TV and radio."
He adds: "The rise in self-publishing also makes the market a much more crowded place but competition is a healthy thing – the challenge remains the same: getting readers to buy your books rather than theirs!"
Celebrate the highlights
Major successes for Caffeine Nights have ranged from gaining TV coverage for their first publication, Broken Dreams by Nick Quantrill, to sell-out book signings and being shortlisted in this year's Bookseller Awards for Best Digital Strategy. "Being up against Harper Collins, Pan MacMillan, Hodder & Stoughton, Faber & Faber, Head of Zeus and Hachette UK was a thrill as clearly we are the smallest publisher probably in the whole room that night by a country mile and clearly punching above our weight with our book apps."
Caffeine Nights has a flourishing list, with established authors alongside debut novelists. "We publish books by horror fiction author, Shaun Hutson and are really pleased to be bringing out Shaun's first standalone horror novel in five years, Monolith, in April 2015," Darren comments. "Journalist and TV pundit Garry Bushell is another of our authors and we've just released the audiobook of his novel Face Down, which we've already  published in paperback and eBook. We hope to announce news soon regarding a series of our books which may make the transition to the small screen. Finally, we've brokered an agreement with a leading British independent film production company to publish the official novelisations of their films."
Devote time to nurturing relationships
Busy times then! The company is open for submissions only occasionally, relying more often on finding new authors via word of mouth. "We don't actively look, but now find we are directly approached by agents and authors," Darren says. "I'm always happy to read something fresh, from authors who are realists in today's world. I've  had a few cases of great books but personality clashes which have led me to letting go of the book reluctantly because I felt I couldn't work with the author. The relationship has to be one we both can trust and work in to the book and the authors benefit."
Next week find out how Darren balances his role between being a publisher and an author.
About the author
Born in East London in 1962, Darren Laws' first writing success came in the mid-1990s, when he won first place in a short story competition for a BBC Radio 4 arts programme. The thrill of hearing his words read on Radio 4 encouraged him to write dark and quirky short stories before progressing to lengthier works.  Darren then crafted his first novel 'Turtle Island', a crime thriller, which was picked up by an American publisher. Darren is the founder of Caffeine Nights, an independent publishing house producing crime, horror and contemporary fiction in paperback, eBook and apps for all digital platforms. Find out more at caffeine-nights.com.