In this week's guest post, Tara Guha tells us how she came to enter and win the Luke Bitmead Bursary 2014 with her upcoming novel Untouchable Things, and offers her tips for how you can do the same.
It was just luck that I happened to be on Twitter that day. Social media has come lately to me and I can't say I'm a natural. But there I was, on some nondescript day in late spring, scrolling through my Twitter feed instead of (at a guess) writing a honed, targeted letter to an agent. And through the fog of cute kittens and links to articles I couldn't be bothered to open, it jumped out at me. The Luke Bitmead Bursary for unpublished novelists.
This link I did open. As I read, I got the prickly feeling of something like excitement, something like possibility. The Bursary is in memory of Luke Bitmead, a talented author who died tragically young, set up by his mother to help struggling writers. I felt an instant connection to the focus of the award, which aims to raise awareness and reduce the stigma around mental health issues. In fact, I was about to start a new job as a project worker for a mental health charity. You could say I just had a feeling.
Trust your gut
But then, I'd had 'feelings' before. Every competition I entered gave me a flutter, that tingle of hope that you absolutely need to keep going as an unpublished writer. But the mental health connection here was something extra. And the prize – to have your novel published – was extraordinary.
To add some context, my novel and I were at that point spending a few months together in Last Chance Saloon. We'd got together after the birth of my first child some eight years earlier, and had enjoyed/endured a rollercoaster ride since. We'd had some memorable times where we couldn't bear to be apart, we'd broken up a few times, and currently we were figuring out if we had a future together. We agreed to give it until the end of the summer while I fired off letter to agents and entries to competitions, and then if nothing had happened for us by then we'd be free to move on.
Make sure your novel is in good shape
The novel was at third draft stage: in reasonable shape but probably requiring a set of professional eyes. It had come a long way since the breathless scribbled exhilaration of a first draft, hammered down frantically while my new baby napped and I thought "I know, I'll write a novel." I laugh at my naivety now but I'm glad of it; had I know what was in store I probably wouldn't have started at all.
It turns out that I'm one of those writers who loves the freedom of a first draft but completely freezes at the editing process (unlike many I know, who are the other way round). Years went by while I couldn't face the enormity of knocking this unwieldy thing into shape, during which time I had another baby and used her nap times to wash coffee cups, or sit and stare at the rain.
But I couldn't let it go. I read books that taught me about structure, character development, plot twists. I rewrote and struggled and rewrote. I sent it out to agents, some of whom requested the full manuscript, all of whom ultimately said no. Which was how we ended up in Last Chance Saloon. I was all set to pop the novel into a bottom drawer and – at some point – use my learning to write another one. But at work one day my phone beeped and I squeaked and read that I was one of ten writers shortlisted for the Luke Bitmead Bursary.
Celebrate the shortlist
At last something had happened. I didn't think for a second that I'd win but this gave me validation – and the chance to get a new dress for an awards ceremony in London. We ummed and ahhed about whether my partner Dave should accompany me, as it would mean sorting out complicated childcare. In the end, thank goodness, he did come with me.
Being announced as the winner was as close as I'm likely to get to an out-of-body experience. People said "You must be thrilled", but for a while I was actually too stunned to believe it. Even now, I'm not sure I've fully taken it in.
Accept that life will change
Everything changed in that split second, in a way that doesn't often happen in life, or at least not in my life. Suddenly, in a week where I was working almost every day, I needed to fill in marketing questionnaires, sign contracts, write an author bio and, most scarily, come up with a new title! I'd lived with the old title, Absent, for eight years, but I'm already much happier with Untouchable Things. Two months on I'm still figuring out how to rejig my commitments so that I make sure I can give this opportunity the time and focus it needs. I've scaled back on work, but scaling back on my children is not an option – so it's a constant (and clichéd) juggling act.
I recently had my first meeting with Legend Press where we discussed the book jacket and the other deadlines that need to be met before the 1 September release date. We haven't even got onto editing yet!
Relinquish some control
Untouchable Things is a psychological literary thriller which unpicks complex group dynamics to explore sexual obsession and emotional addiction. Groups fascinate me. Who am I in a group? What knowledge or opinions do I need to cultivate to join the group, and which bits of myself do I need to hide? What happens if the group revolves around one person? And, in the case of Untouchable Things, what happens if that person disappears?
After so long sitting alone in the driver's seat it's a huge relief to hand the controls to someone else, to be told what I need to do and by when, and to know I'm no longer on my own. I wouldn't say I can exactly sit back and enjoy the ride, but I can at least peep out of the passenger window now and again and know that we won't crash. Until, of course, I hop into a shiny new Smart Car waiting for me somewhere along the route and start writing my second novel.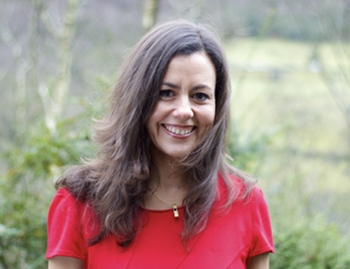 About the author
Tara Guha is the winner of the 2014 Luke Bitmead Bursary and Untouchable Things is her debut novel. Born to an Indian father and English mother Tara spent her childhood in the Ribble Valley, passing many a wet day writing poetry and music. After studying English at Cambridge she embarked on a career in the classical music industry in London, promoting artists such as Placido Domingo, Paul McCartney and Dudley Moore. Over the years she has also been a freelance journalist, charity worker and has trained as a counsellor. Tara is a keen amateur pianist, singer and songwriter and lives in the hills of West Yorkshire with her partner and two daughters.