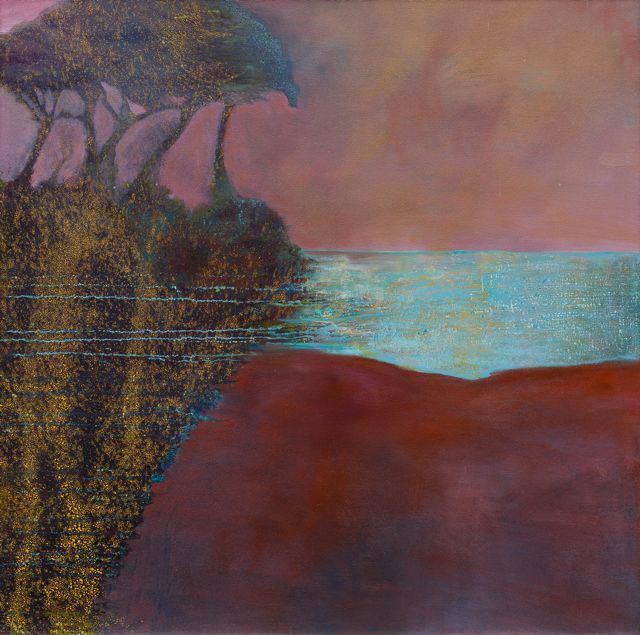 It's astonishing how the interplay of colours selected and applied by an artist can stop you in your tracks. In Julie Moss's Crossing The River At Its Widest Point, shown at the start of this post, I'm struck at once by the shimmering turquoise-green set between two shades of earthy red, and feel I've rediscovered a half forgotten place. The use of light dancing on the water against the stillness of land and sky makes this feel like the time just before a storm, when electricity is already stinging the air.
Cornwall-based Julie brings this sense of place and atmosphere to all her works, offering the impression of journeying as much through dreamt landscapes as well as the real world. Julie says she never made a conscious decision to become an artist, then admits to attending Bolton school of art from the ages of 13 to 16, "so I guess I was destined to become an artist sooner or later, much later in my case. The art school was great, lots of freedom, hardly any rules and no uniform!"
The mixture of pragmatism and dreaminess feels evident in her paintings, as well as her life before embracing art full time, and originally wanted to be a florist. "I loved nature and spent most of my time outdoors,' she says. "After art school I did work for a couple of years as a florist, then had a brief stint working for a textile designer, which greatly improved my drawing skills, as it was the time before computers and everything had to be drawn by hand."
Julie married young and brought up three now fully grown children, attending evening classes and art groups "such as watercolour painting and even Japanese Sumi painting, a technique I still use today in my sketches – it aims to capture the essence of something with as few brushstrokes as possible." It's a skill you can see put to beautiful us in Julie's  ink and pager picture below,  titled Eye of the Storm.
Discovery is at the core of Julie's work. "I love the freedom to create, mark making, colour and light," she says.
Her interest in landscape currently focuses on "a growing feeling of disconnection to nature by society, in particular on pockets of wilderness and manmade environments. It also stems from a love of travel and an underlying desire to feel protected whilst in an unfamiliar environment."
Julie's paintings seek not to depict actual settings or events "such as the cyclone we experienced in Australia two years ago but more my emotions and state of mind at the time, as shown in Restoring Order below. I paint in order to find out things about myself."
You can find more of Julie's work online at www.juliemossfineart.co.uk.
Are you an artist or do you know an artist who would like to be showcased on SkyLightRain.com? Get in touch at judydarley (at) iCloud.com. I'm also happy to receive reviews of books, exhibitions, theatre and film. To submit or suggest a review, please send an email to judydarley (at) iCloud.com.