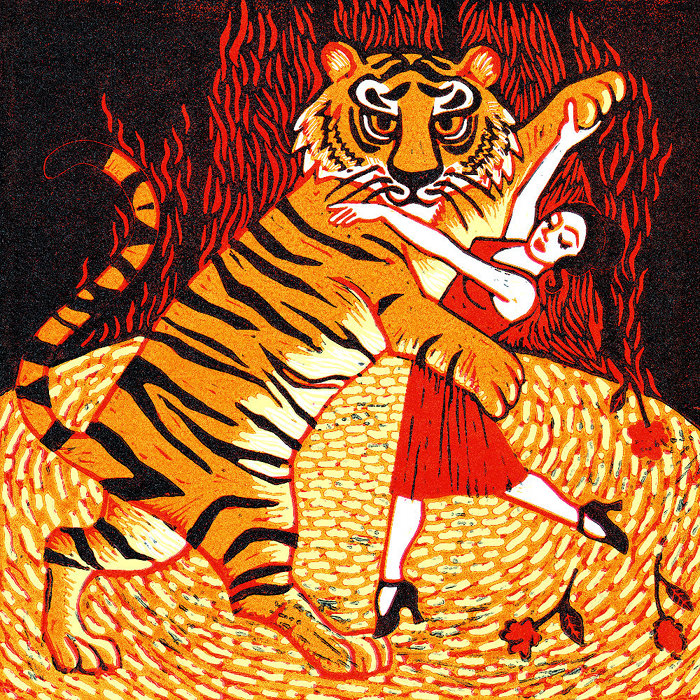 I know people who believe artists are born, not made, and in the case of Laura Robertson that may well be true.
"I've drawn for as long as I can remember," she says. "It's part of who I am. I live and breathe it. I can't imagine life with doing art."
Following her early urges, Laura studied illustration, printmaking and sculpture in Durham, London, Cambridge and Bristol. "For a long time I didn't know what to do with it, and having children and losing all my free time made me determined to take it up again once I started to have free time," she says. "These days I'm on the committee of two art trails and will exhibit in four this year. I have work in four shops and am a member of an artists' cooperative, and sell work online. Pretty busy really!"
Laura's enjoyment of creating art is evident in the energy exuded by her work – almost as though we're glimpsing a living moment not intended for our eyes. Much of her inspiration comes from the literary world, whether that's in the form of nursery rhymes, such as Edward Lear's The Owl and the Pussy-cat, or works of fiction by Angela Carter.
"Tiger Argentina (shown at the top of this post) was exhibited in the RWA 162nd open exhibition in 2014, and is available as a Giclée print. This was part of my theme of ladies dancing with tigers, and was inspired by Nights At The Circus by Angela Carter."
A broad range of artists influence Laura too, including Chagall, Picasso, Paula Rego, Odilon Reddon, Banksy and Frida Kahlo. "Frida and friends, my acrylic painting, was inspired by the Mexican Day Of The Dead and Frida Kahlo's her love of animals. It's available as a Giclée print," she says. "I also love the prints of the German Expressionists and admire the illustration work of Arthur Rackham, Ivan Billibin, Edward Burrows and Eric Ravilious."
Brilliantly, Laura's work is finding its way into new creative fields – including TV, with her lino print They Sailed Away (shown below) bought from Room 212 by prop buyers for the ITV suspense chiller Broadchurch. "My picture was shown on series two in the second and third episodes," she exclaims. "It's on the wall of one of the character Ellie's house. It's such a thrill to see my work on TV. David Tennant and Olivia Coleman are having a conversation in the room, with my picture visible in the background!"
The pleasure of having her work bought by anyone remains as vivid as ever.
"I pluck things out of my imagination, and originally just did things that I liked," she says. "Now my work is becoming popular I'm trying to focus more on what's popular, I guess I'm more commercial now. It's a real joy when someone buys my work!"
Laura likes to dabble in a variety of mediums, with lino printing a particular favourite, "because I can create images that are bold, bright and dynamic. I like the expressive marks, the textures and the fact that every print is different."
She also relishes painting with acrylics and oils. "I had my self-portrait in the Nation Portrait Gallery as part of the BP Portrait Award 2013! I still love drawing in pencil and pen and ink."
The ideas remain the driving force. "I enjoy translating my imaginary world onto paper. Ideas come first, then I choose the medium to suit."
Find Laura's work in Bristol at Blaze and Room 212, as well as at Fish Out Of Water Gallery in Wotton-under-Edge and Tilly's Vintage Treasures in Backwell. She's also online at www.laurarobertsonartist.co.uk, and on Etsy and Ebay. Look out for her work appearing in the background of your favourite TV shows.
Are you an artist or do you know an artist who would like to be showcased on SkyLightRain.com? Get in touch at judydarley (at) iCloud.com. I'm also happy to receive reviews of books, exhibitions, theatre and film. To submit or suggest a review, please send an email to judydarley (at) iCloud.com.