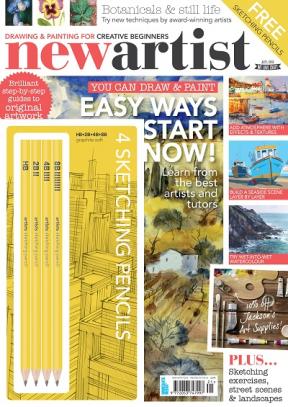 I recently got invited to write a feature for a brand new magazine, New Artist. It was a dream commission, involving me visiting galleries, coffee shops and the like and talking to the people about the pros and cons of choosing to exhibit in unconventional spaces. It opened up really interesting discussions, and gave me an opportunity to consider some unexpected sides of the arguments for and against, while enjoying spending time in some of my favourite kinds of places with some truly talented people.
I was thrilled to receive my comp copy of the magazine last week, which comes with a cover gift of a set of sketching pencils (bonus!), and is packed with beautiful practical articles designed to improve artistic skills and inspire ideas for new compositions.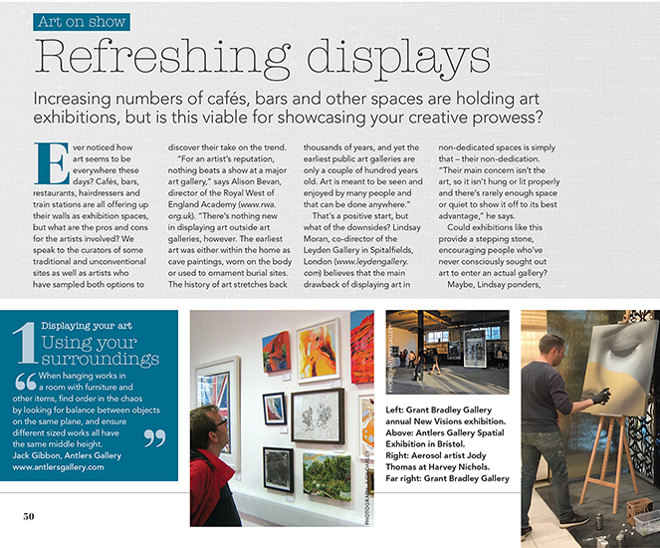 One special detail for me is that among the photos I submitted along with my feature text was a photo I'd taken in the Grant Bradley Gallery, Bristol, which just happened to include a small work of art by my mum. It made it onto the printed page, which means I now have the pleasure of letting my mum know her collage has been featured in a national art magazine. How lovely.
Print editions of the quarterly New Artist magazine are available to buy online from craft.buysubscriptions.com/Special-Issues/New-Artist, with digital versions available on iPad, tablets and Zinio. The print version of issue 1 will be on sale until early March 2016, with digi editions available indefinitely. Huzzah!