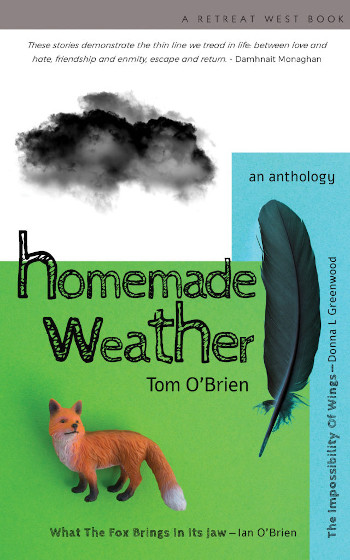 The final novelette of Homemade Weather: An Anthology of Novelettes in Flash from Retreat West Books is an emotionally-charged story of a girl picking her way through a childhood where parents may present the biggest dangers. The Impossibility of Wings by Donna K. Greenwood was awarded third place in Retreat West's novelette-in-flash contest, judged by Damhnait Monaghan.
Greenwood paints scenes that layer the unreal over the real, so that we almost need to hold them up to the light to recognise the truths bleeding through. Opening with 'In the Night They Will Come For Me', our protagonist talks of the hyenas that gobbled her mother's eyes, and of how "On Mum's good days, we watched her fly above the earth", while on bad days "she would lie at the bottom of the ocean (…) she let us drown a thousand times."
In 'Lost Jesus', we learn that "Dad wants her to be normal" and that "Dad drinks a lot", a fact that the protagonist blames initially on herself and her sisters. Humour jolts through this story, but panic whispers at the edges of the family's laughter.
Comedy lifts passages of fear: that the wardrobe the girls take refuge in is known as the War Dog, "because Nessy couldn't say wardrobe when we first discovered the sanctity of its walls."
A playfulness with form also delivers otherwise potentially bleak tales with a weft of whimsy. 'How to Make a Cup of Tea at 3am In The Morning' is a stunning example of this, with Ingredients including "Sugar, the last hardened clumps at the bottom of the bag are best" and Method including "2. Wake in the midst of a dream (nightmares are best)", "4. Check all siblings are still sleeping", "12. Ring your grandma. Tell her your mother has run away."
I urge you to read the whole hermit crab flash for the full impact of this particular compact masterpiece.
Greenwood has a magic touch when it comes to these topics, lacing sorrows with beauty and darkness with innocence that elevates her novelette to a poignant and entrancing read. In the world she crafts, mental illness is elemental, with the suffocating sting of salt-water and the "mad glare of the moon." A drunk father may be a bear, even as "its great paws scoop" you out of bed to go and watch fireworks. A mother's eyes are "two dark holes" and the line between love and hate is perilously sheer.
In "Things I Can't Pack Into My Suitcase" we're treated to another hermit crab flash, in which love and fear is spelled out through a litany of "sleepy giggles", "belly laughs" and "unnameable bangs and slaps." It's a list that builds to a heart-fracturing crescendo that explains the presence of the suitcase and the desire to leave, stronger than the need to stay.
In the title flash, 'The Impossibility Of Wings', the experience of a farewell is only brought into focus in retrospect, when love finally unfolds and shows us its wings. It's a whisper to the child hiding in the wardrobe and making tea at 3am that through all the darkness, tenderness curls, seeking the strength and courage to emerge.
An intense and deeply moving portrayal of a child growing up mired in both parents' mental frailties.
Read my review of Homemade Weather by Tom O'Brien and my review of What The Fox Brings In Its Jaw by Ian O'Brien, the first and second award-winning novelettes in Retreat West's anthology.
Homemade Weather: An Anthology of Novelettes in Flash is published by Retreat West and is available to buy from www.retreatwest.co.uk/homemade-weather.
This book was given to me in exchange for a fair review.
What are you reading? I'd love to know. I'm always happy to receive reviews of books, art, theatre and film. To submit or suggest a book review, please send an email to judydarley (at) iCloud.com.