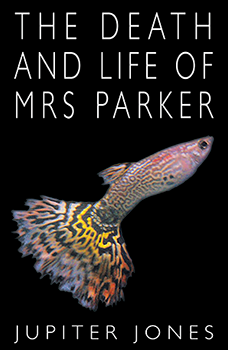 Book Balm recommendation: read for stalwart cheerfulness in the face of adversity.
Spoiler alert, this wry, tragi-comic novella opens with the apparent lethal poisoning of the main character, but for the dauntless Aveline Parker, these moments are far from the end. While her heart races towards the finish line, memories flood in and we're treated to chapters from decades filled with love and misadventure. When the paramedics tell her that she seems to have a problem with her heart, she comments inwardly: "I've always had problems with my heart, giving it away, getting it broken", and proceeds to think through the medical attributes of the human heart, ending with: "The heart is fickle."
Aveline's voice rings with authenticity as she relays anecdotes that weave threads of excitement into knots of heartbreaking regret, each edging us closer to the paramedics working to keep her alive on a restaurant floor. The originality of the story and its telling is anchored in this voice, the skilful use of colourful clichés (such as when Aveline observes that the lines around an elderly woman's mouth contract "like a cat's arse") that suit the character so well and the rich textural details that pin each recollection in place.
"I remember a purple velvet midi dress. I remember driving an old Ford Capri in torrential rain. I remember the clinic, the smell of antiseptic," she tells us. "I couldn't be sure, so George insisted."
George is husband number 2, preceded by Frank and interrupted briefly by dashing Brock, but Bobby, "grinding the porcelain veneer of his new crowns" and spending Aveline's money "like water."
There are memories of "benign neglect", bruises, manipulations and worse, but also solid friendships balancing the exhilaration of grasping every pleasure that comes within reach. All are laid out between bouts of the paramedics working to keep Aveline's heart pumping.
Later, as the paramedics resort to a shot of adrenaline, we're treated to scenes of sheer, breathless thrill: "I'm five and upside down with Papa holding my ankles as he whirls me round and round."
Aveline is a woman with a generous capacity for joy, so that you could almost miss the quiet grief underlying Aveline's life. As you read you'll feel you are sitting beside her, perhaps on a bus, a bench by the sea or sipping gin in a dated sitting room. Regardless of the location, Aveline's is company you'll be glad you fell into. She is very much the hero of her own story, with the men mere dalliances as she gets on with the business of living. And of course, the real suspense throughout hinges on this: will Mrs Parker live or die by the final page?
The Death and Life of Mrs Parker by Jupiter Jones is published by AdHoc Fiction. Buy your copy.
This book was given to me in exchange for a fair review.
Seen or read anything interesting recently? I'd love to know. I'm always happy to receive reviews of books, art, theatre and film. To submit or suggest a review, please send an email to judydarley (at) iCloud.com. Likewise, if you've published or produced something you'd like me to review, please get in touch.