b-side festival & OSR Projects are looking to commission artists who work with sound to produce a piece in collaboration with the Weather Station project.
South West-based sound artists are invited to put forward proposals to take part in Weather Station (Part 2), an art project culminating in an exhibition at the b-side festival on the Isle of Portland, Dorset, in September 2016
The deadline for submissions is 7th February 2016.
To apply, submit a brief outline (around 250 words) detailing how you would respond to the subject of flooding and extreme weather, and how you might explore the changing relationship we have with landscape and the natural world. The organisers say: "Particularly we ask that your response should engage with the 'Weather Station' itself, which is a large transparent inflatable sphere (see all available images HERE). It's large enough to stand, walk or sit in – if wished – on land or water. It's waterproof, and also therefore 'breath-proof', meaning there's a limitation on the amount of time you can spend inside it."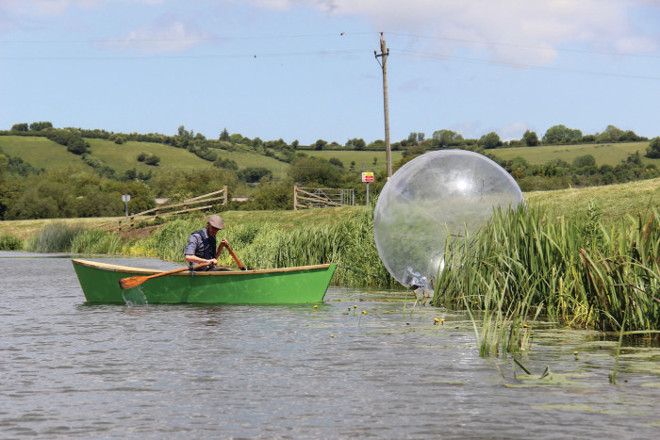 You must be available to take part in Weather Station (Part 2) sometime between March and June 2016, with results being exhibited at the b-side festival in September 2016.
To be in with a chance of being part of this, consider the part the sphere itself will play in your performance – "to use, react to, present, record, collaborate on, share, or otherwise engage with" before the Weather Station travels on to the next artist in this cumulative project. In your proposal include the South West setting you would like the Weather Station to come to for your particular piece, whether that's a street, river, rooftop or field.
OSR Projects and b-side will jointly select one artist from the proposals. The final exhibition of Weather Station (Part 2) also offers the opportunity for the selected artist to include some existing relevant work. The successful applicant will receive an artist's fee of £400 to cover any travel and materials.
Find full details at www.curatorspace.com/opportunities/detail/commission-opportunity-for-artists-working-with-sound/513 
For further information on Weather Station visit osrprojects.net/archive-projects/weather-station-part-1/weather-station-part-i.