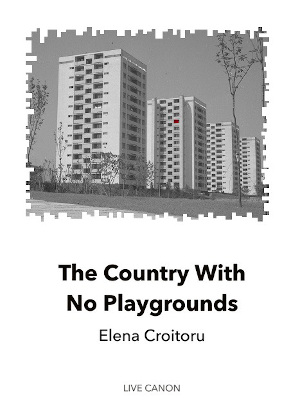 Book Balm recommendation: Read to have your empathy heightened and awareness deepened.
In her debut poetry pamphlet The Country With No Playgrounds, award-winning British-Romanian poet Elena Croitoru has captured a place and period in time so precisely and skilfully that you'll find yourself transported.
Stark scenes are highlighted with words that seem fondly chosen for their beauty: "We grew up in our spare time,/ beyond a tower block island/ where pearly cement dust lay…"
Relayed with disarming matter-of-factness, many of the poems are almost cinematic, such as in The Last Wedding: "She looked out of the window/ at the militiamen who watched our balcony/ from below, the way one would watch/ the funeral of someone still moving."
It's heart-stoppingly alarming, yet clearly for the inhabitants utterly normal, to live with such a palpable threat. As worrying as the situation must have been for the adults she mentions, for the children Croitoru counted herself among, this was nothing more than ordinary. This gives her the tools to describe moments with a lightness of touch that draws us in rather than pushing us away, so that we read each stanza with wide open eyes.
Croituru excels at describing the more unusual aspects of her Romanian childhood in a way that inserts us directly into the wonder or banality experienced. A particularly glorious example of the exceptional nestled within the mundane crops up in Pencil Case, in which an object many or us regard as commonplace is rare enough to be treated with reverence. More serious lines about the president who demanded "that love be taught" glitter against the revelation of school children's attention won by "a glossy, padded box stencilled with pandas/ and bamboo leaves, too unfamiliar to be real."
In Fish Bones by Candlelight, darkness sneaks in via a power cut: "We took out/ the candles bought in churches/ that weren't meant to exist any more."
But amidst the practical hardships and hinted-at fears, it's the people who give Croitoru's poems their strength. In Hospital View, Croitoru cloaks us in her father's vulnerability, and that of every person who shared that generation's experiences: "By then he had more memories than flesh/ I asked if he was hungry & he said/ his ration card filled out too soon./ But communism had ended years before,/ though I still saw its geometric ghost/ spread over the tower blocks beyond/ the hospital's parking lot."
The imagery is as powerful as the character sketches that flesh out unsettling scenarios and make this pamphlet shiveringly relatable on a human level.
The final poem, Border, trembles with ice and hope that will have you rooting for poet's family, and for the place they need to leave behind. Croitoru's carefully crafted works are a reminder that even countries wracked by war and trapped by regimes are also homes, populated by individuals overflowing with exquisite possibilities.
The Country With No Playgrounds by Elena Croitoru is published by Live Canon and available to buy here
This book was given to me as a gift by the author.
What are you reading? I'd love to know. I'm always happy to receive reviews of books, art, theatre and film. To submit or suggest a book review, please send an email to judydarley (at) iCloud.com.