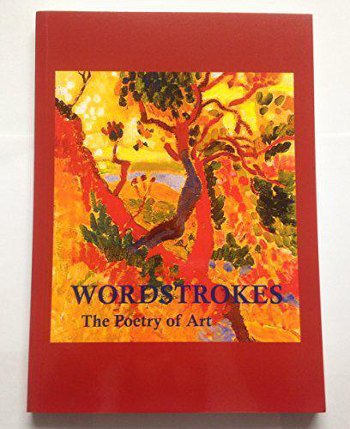 Actually, I have a confession – this is partly a review, partly just me tooting my own trumpet, because I have four poems in this anthology. Tooo-ti-tooo!
Published by Avalanche Books and edited by the keen-eyed and astute Deborah Gaye, Wordstrokes: The Poetry of Art reveals how different creative mediums can energise one another. In this case, every piece of writing featured has been prompted by paintings, sculptures and art museums, with the result that the crisply printed black text on white seethes with colour.
As a passionate advocate of bringing different expressive forms together, I found this assortment of poems (and a single work of prose) to be a page-based equivalent of visiting a gallery, only the images appear inside your head, generated by the words as you read them.
Among the most moving examples are Bird of the Sea by Susan Taylor, after a carving by Bridget McCrum, which opens with the elegant stanza: "remember/ her like /the font /that was leaking/ the water/ that held/ first flight".
There isn't a single dull note in the anthology. Other highlights include In Response To The Sea by Sarah Miller (prompted by Emil Nolde), which is a sultry poem that zings with flavour: "We talked sweetness/ until the wind took it/ sucked what was left/ of the fading orange sun".
Likewise, Stitching Twilight by Kay Lee (inspired by Paul Klee) is richly layered with colour and texture: "This could be a new embroidery,/ one you made from a grandson's drawing –/ see the bird, its beak open/ to drink in the last of the daylight."
Deborah has arranged the assortment of works to build up impressions of thoughtfully curated rooms, where each piece subtly elevates its neighbours. Moods spill into one another, while narratives gain momentum, and more abstract creations present the impression of an endlessly shifting, shimmering ocean.
Inspirations are wonderfully varied, but include Edward Hopper, Millais, Paula Rego, David Hockney, Frida Kahlo, Kandinsky, even Yoko Ono, as well as a raft of lesser known but equally emotive painters, sculptors and makers.
My four pieces are Tea (inspired by Ai Weiwei), More Water Than Land (inspired by an untitled abstract painting by Katy Webster), Last Night I Dreamt (prompted by the sculptures of Paul Smith) and This Gallery, inspired by a host of visual artists.
To get your hands on a copy of Wordstrokes: The Poetry of Art, head down to your local bookshop (Waterstones will do, or any other with friendly, intelligent inhabitants), and ask nicely for them to order it in. The ISBN number is 978 1 874392 26 2. They should be happy to oblige. Alternatively, click here to buy it from Amazon.
What are you reading? I'd love to know. I'm always happy to receive reviews of books, art, theatre and film. To submit or suggest a book review, please send an email to Judy(at)socketcreative.com.