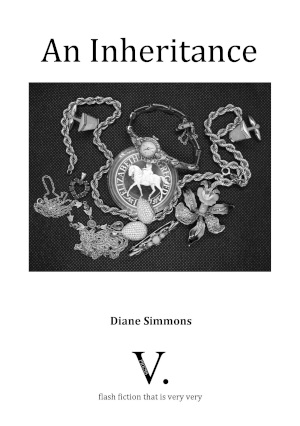 Lifetimes pass in a twinkling in this novella-in-flash from Diane Simmons. Eighteen tightly woven short stories sew together moving glimpses into the love, betrayals and reconciliations of four generations over a span of seventy years from 1932 to 2002.
We enter their world via a door into a pawnbrokers', where kind-hearted Thomas is moved to help those who enter his dad's shop in their darkest hours. By the end of the novella, we're rediscovering the unclaimed items from that shop, alongside Thomas' grandchildren, and understanding the desperation and hope those shops and their glinting miasma of contents represented.
The book's earliest flashes stream by at disconcerting speed – it took me a few disconcerted chapters to adjust to their pace. Deaths and funerals rattled by with unnerving rapidity, and I found myself craving deeper delves into the lives Simmons' wafted past my eyes. One blink, and I felt I might miss a crucial triumph or catastrophe.
The velocity eases as the novella progresses, however, and I realise now how accurately Simmons has captured a sense of the past through the her use of acceleration in those early chapters. Ask anyone about an ancestor, and the likelihood is that in return you'll receive a blurred array of snapshots – births, marriages and deaths, an anecdote of a feud or act of selflessness and little more.
As we near the current century, we have a chance to catch our breath, and fully focus on the people before us.
With only a few unfussy sentences, Simmons paints portraits of characters symptomatic of their times, to the extent that you may find yourself recognising one or two from your own family archives. There's drama here, but no melodrama, and the tragedies that come bear with them an air of resignation rather than rage. Quite simply, this is a celebration of people who take things in their stride.
Each chapter is titled as a separate story and notes the year to help you understand the context of when you are. In Peace: 1945, we eavesdrop on a conversation between Thomas and his wife Margaret, some years after they've taken in Margaret's orphaned nieces. "I want to be able to talk about Esther – tell them what a wonderful sister she was to me and how much she loved them, how like her they are. When Susan wouldn't clean her teeth tonight, she pulled that face exactly like Esther used to. Susan needs to know that."
Margaret's words echo both with the magic of seeing those lost in those still living, and with her desire, unfashionable at the time, for openness over secrets.
In Trying Harder: 1982, Susan sees a photo of the place where she spent her earliest years. "It was taken only eleven years before she was born, but it looks like something out of Dickens."
An Inheritance is more than a story of the objects left behind, but of an era so different to our own that it's difficult to imagine how recent it truly was.
Simmons also achieves the feat many families forget to attempt – she manages to make us really care for the relatives she presents us with. Even when they behave badly (Fred shocked me most of all), it falls to us to love them and recognise that we are each mortal and therefore capable of mistakes. Yet, she reminds us, that in the cases of siblings, parents, grandparents and indefinable others who surround us, we are also gifted with unfathomable breadths of forgiveness.
An Inheritance by Diane Simmons is published by V. Press and available to buy here.
What are you reading? I'd love to know. I'm always happy to receive reviews of books, art, theatre and film. To submit or suggest a book review, please send an email to judydarley(at)iCloud.com.