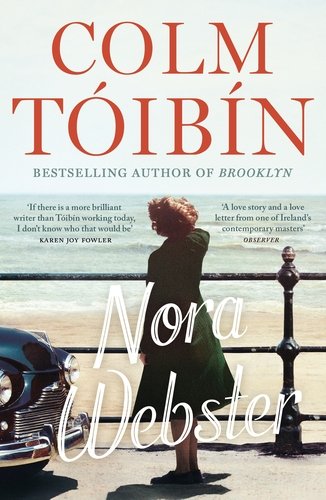 Drawing on the months and years after the death of his father, Colm Tóibín has created an elegant, honest portrayal of grief – not his own but his mother's.
By shifting the point of view he edges from memoir into fiction, but the truths remain. Nora Webster has lost her husband Maurice, the man she'd intended to spend her life with, and now has to re-learn herself without him.
Through the novel Colm captures the sense of small town Ireland in the sixties, where to have your hair dyed is borderline scandalous and wearing a red coat to the first day on a job is regarded as distastefully showy. Nora is a quiet woman who left much of the opinion spouting to her husband, but now he's dead she realises she has beliefs and ideas of her own.Each of her children, she understands, also has their own preoccupations and beliefs, and it's through her thoughts about them and how best to accommodate their hopes and needs, that you gain a clear sense of Nora as a woman with an analytical mind – always trying to do the best by everyone while seeking out the things to suit herself.
In one extraordinary instance, her son Donal, the one most like Colm, is intent on photographing the moon landing as it plays out on telly. At the time the family are on holiday in a caravan, and when the nearby hotel ban Donal from spending time in their television room, rather than insisting he come to the beach instead, Nora arranges for him to go home with his sister in order to carry on with his goal. It's as though, having failed to prevent the main catastrophe in their lives, the death of their father, Nora is intent on ensuring no more perceived disasters have a chance to befall them.
Much of her thinking regards wishing for time alone – to be left to think or, as comes later in the book, to listen to music. It's a curious thing to read about this woman – part real, part invented, part eager to please and part happiest left alone without anyone else to consider at all. She misses her husband terribly, not only because of the love they shared, but because of the wall he represented between herself and all the other people in the world.
Ireland is undergoing its own upheavals in the novel, with the characters spending many evenings watching the news and reacting to that. Even in Nora's workplace there is turmoil, with workers pursuing unionisation while the bosses look on, appalled. Nora, intriguingly, is excited by this. It is clear that beneath the fear of being alone and the conflicting desire to be alone, she is in fact very bored. She needs something to capture her heart and draw her out of mourning.
This, Colm says, was his greatest fiction in a book in many instances are plucked directly from his memories. There is an impression of Colm writing in part in an effort to better understand his outwardly stern, self-contained mother. In order to lift Nora from her inertia and sorrow, Colm as the author Colm reaches down and bestows upon this invented version of his mum the gift of singing. It's a powerful trick – shining a light through the story just as Nora's own wry humour does.
"She had decided to buy ten records. The excitement she felt was new, like something she had felt after she married when she bought a dress or a coat."
In Nora Webster, life is in the details, with countless pages slipping by with little occurring but everyday minutiae. It gives the book a slow unfurling calm and imbues Nora with a steadfastness that will see her through every storm her own grief, and her country's emerging Troubles, bring her way.
This is a book about strength and resilience, about how our hidden reserves can surprise ourselves as well as those about us. More than that, though, it's a study of people, of the layers of thought and feeling that happen inside everyone of us, and how those thoughts and feelings define at some level who we are, and how we move forward. And that's a beautiful thing.
Nora Webster by Colm Tóibín is available to buy from Amazon.
I'm always happy to find out what you're reading. To submit or suggest a book review, please send an email to Judy(at)socketcreative.com