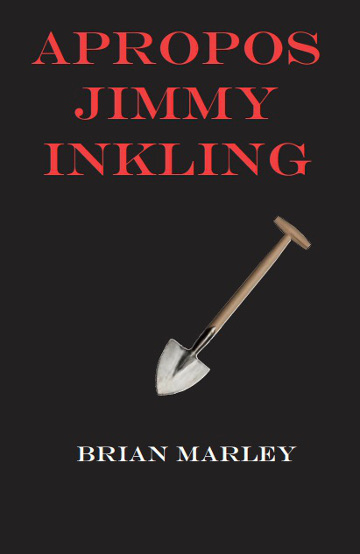 The first two books released by publishing start up Grand Iota each entice us into streams of consciousness states of very different kinds.
In Apropos Jimmy Inkling by Brian Marley, we enter a court case where an unwitting customer, unnamed, has become the jury for the afore-mentioned Jimmy Inkling. Written entirely in dialogue with numerous digression into random topics, we soon learn that in the world our characters inhabit, gods tread alongside us and seem very like to us. We're taught early on in the book that gods have far less power that we mortals suppose, but "have a tendency to boast", hence this misconception. Instead of causing or preventing "typhoons and tsunamis", for example, they are responsible for tasks such as making hinges squeak.
I'm a fan of authors who play with space on the page, and Marley works with his text as though it is clay, building small mountains by careful tweaks to font and alignment that lifts some passages so that they seem more akin to spoken asides:
His speed of thought was such that
he was incapable
of finishing one sentence
before starting another.
There's a wonderful surreality to the court case's progression, as time is taken out to honour the loss of a tooth, from the mouth of a character whose godly name is almost impossible for mortals to pronounce.
By this point I had lost track of whether I'd ever known what the court case was actually about, or even who was on trial, but was enjoying the ride.
It's a frame of mind equally well suited to Grand Iota's other bibliophilic pioneer.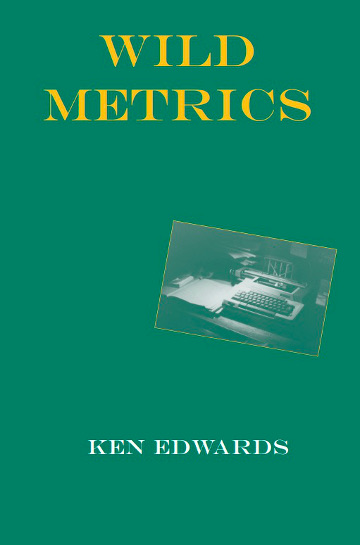 In Ken Edward's Wild Metrics we meander through the life of alternative poet K, sharing a squat in the early 1970s where, as in Marley's book, characters ebb and flow, and the text is laced with the aura of dreaming philosophers, with punk, and Thatcher, on the horizon and literary genius bubbling below the surface.
In a neighbourhood of squats, the one where our hero resides (run by a bloke called Des) is special enough that nearby residents, including Big Steve, want in: "Steve would scrounge items from skips or dustbins that he thought Des or other members of the household might like and bring them round hopefully, like a cat depositing the gift of a decapitated mouse on the doorstep."
There's a sense of memories having been poured onto the page, possibly from a substantial height. Rather than being channelled towards a specific destination, each syllable nudges you one way, then another in a way that offer an impression of being immersed in K's consciousness. I found myself setting the book aside for a few weeks and then, inexorably, returning to it – once it's in your blood you'll need more than a session of cold turkey to push past it.
Part memoir, part trip and part novel, it does, as the publisher promises, confound easy categorisation.
More than anything, reading Wild Metrics is akin to overhearing a discombobulating conversation on a bus that draws you to lean in with the aim of catch every muttered word.
In short, Apropos Jimmy Inkling and Wild Metrics are great companion reads. As you align yourself to unfamiliar atmospheric and gravitational pressures, you'll find yourself hungering for another paragraph, another page and, most definitely, another book to allow you access back beneath the surface of this unconventional and intriguing waterway.
Apropos Jimmy Inkling by Brian Marley and Wild Metrics by Ken Edwards are available to buy from Grand Iota. 
Please note that Grand Iota is not currently open to submissions.
What are you reading? I'd love to know. I'm always happy to receive reviews of books, art, theatre and film. To submit or suggest a book review, please send an email to judydarley(at)iCloud.com.