A love of decrepitude drives Australian artist Ros Paton's work. As a small child, scribbling on walls on furniture frequently got her in trouble, but meant that when she left school she knew wanted to go to art college. "I imagined creating enormous ceramics," she recalls, "but I was an utter failure at it. At the end of the semester they gave me a terminal pass, which means they'll pass you if you'll promise never to do that subject again – sort of like paying a busker to take their music elsewhere!"
It was at this point that Ros picked up painting, and discovered she really enjoyed it.
One of the most important things she learnt at art college, she admits, was a tiny percentage. "We were told that just 4% of us would make it as professional artists – I was determined to be in that 4%."
As a result, she launched her business Just Laughing in the late 1980s, painting murals, TV sets and other large-scale artworks – a natural combination of her childhood tendencies combined with her extraordinary painting skills. The business still exists, though these days she only takes commissions that really interest her, allowing plenty of time for her own art work.
"Things reached a head when I accepted a contract to project manage the painting of murals at twenty stations for Queensland Rail, as part of an effort to minimise graffiti. I wasn't able to do anything else in that time, so since then I've concentrated more on my own work."
Ros' fascination with disrepair and destruction took hold in the aftermath of a devastating earthquake in Newcastle, New South Wales, in 1989.
"I arrived the day after the quake and it was terrible. Lots of buildings – the fronts had just fallen off. Chimneys had collapsed. They have these buildings on stilts that had been picked up by the tremors, turned slightly and dropped back down, just balancing there on the stumps."
It fired up an urge in Ros to explore ideas around impermanency. "Nothing lasts forever, not even, or especially not, our homes."
Ros gained her masters in painting, while investigating and recording scenes of demolition at sites such as the State Library of Brisbane Queensland, part of which was torn down to make way for the new Queensland Gallery of Modern Art.
But after a while, Ros found her attention attracted by the more gradual natural dereliction of places. "I love the Ovid quote 'all things human hang by a slender thread,'" she says. "I still relish the built environment, but I'm intrigued in the way places degrade and fall into ruin. I like to notice the paving everyone ignores, and the tiles that are hard, but fragile."
It's an interest that has led to a series of works based on the house next door to her Brisbane home. "Percy and his family lived there for at least sixty years, and covered the floors with linoleum. As it wore out in the areas most walked on, they'd simply put down more, so in some places there were 12 layers – all different, and all reflecting the era in which they were laid."
Ros photographed these layers and set about painting pictures of them. "I've painted mostly to scale, some deliberately aged and others as new," she explains. "People recognise them – they're reminded of the décor of places they rented as students or grew up in as kids. They feel a connection to these designs."
As well as having shows in Australia, previously Ros has held exhibitions of her work in Florence and Brussels, but is only now exhibiting in the UK.
"I arrived in England in May 2015, just in time for a group exhibition with the Leyden Gallery in London."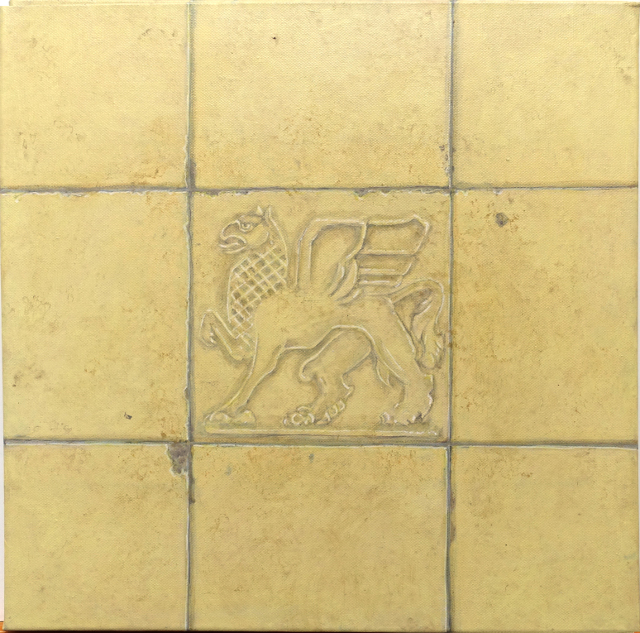 While in London, Ros became entranced by the tiling in many of the Tube stations, including the vibrant Eduardo Paolozzi mosaics of Tottenham Court Road, the elegant relief tiles (above) at Aldgate East, and Annabel Grey's mosaic balloons on the walls of the southbound Piccadilly line platform at Finsbury Park. "They're artwork we pass everyday, but rarely take the time to look at. The friend I was staying with in London took me to Finsbury Park Station but had never even noticed the lovely balloons before!"
Since arriving in Bristol, where she's taken a space at Easton's Mivart Studios, Ros has been drawn to capture rooftops, gates and doorways, taking delight in the fact nothing stands entirely straight, and nature is quietly reclaiming disused areas. "They're the kind of strange details you probably wouldn't be that aware of, but coming from elsewhere, I find them really beguiling!"
The three different subjects come together as a triptych celebrating our impermanence – as spaces shift, take on new personalities and roles within our cities, never settling as one thing for more than a limited period. It's a visual story of change and possibility, and a subtle reminder to relish the time we have.
Ros' next exhibition, Lamina, will be at the Grant Bradley Gallery in Bristol from 5 September until 3 October 2015. You can find more of her work at www.rospaton.com. 
Are you an artist or do you know an artist who would like to be showcased on SkyLightRain.com? Get in touch at judydarley (at) iCloud.com. I'm also happy to receive reviews of books, exhibitions, theatre and film. To submit or suggest a review, please send an email to judydarley (at) iCloud.com.