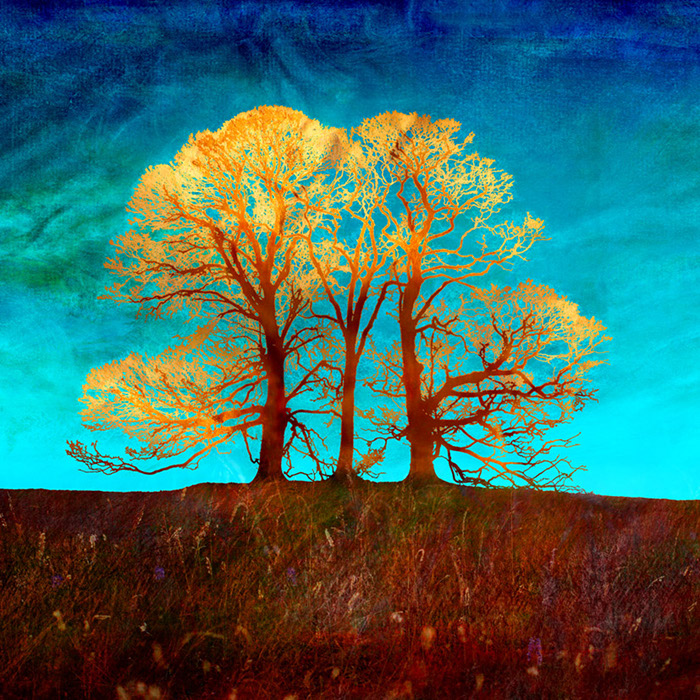 Wild, windswept landscapes and reaching trees fill the artwork of Samantha Gilraine with a sense of restless movement.
"I have felt compelled to record the world around me and express what I see and feel in various ways," she says. "I did dream of being an artist but never really realised it was truly possible until a few years ago. It was people's reactions to my work made me believe that I could do it as a profession, not to mention my passion for the subject."
Samantha treats her artistic endeavours as a journey, "exploring and recording the world around me and then experimenting with different media." She says the process itself "is a real joy. But the best feeling is when someone connects with a picture that I have made and I get to see the true enjoyment they receive from looking at it. This spurs me on to create more."
She also uses her talent for composition and atmosphere in her work as a wedding photographer. "Being a wedding photographer is a real privilege as I get to go to beautiful places, meet wonderful people and share and capture precious memories," she comments.
Samantha grew up on the Mendips in Somerset, "where the landscape and dramatic weather shaped my imagination – I'm always grateful to my parents for choosing such an inspirational place for me to grow up in. I then completed a degree in Illustration in Southampton,  where I could happily paint, print, draw, photograph, and design while working to briefs that stretched my creativity."
Inevitably, Samantha finds that her artwork and photography feed off one another.
"I'm inspired by the desire to capture or communicate a moment in time whether using my camera or paintbrush," she says. "My camera is always by my side and allows me to a record the environment in many ways, from abstract details to natural structures. These photos often become the building blocks of my next piece whether they are just used for reference or are added my drawings/paintings to create something really multi dimensional."
The piece that first drew my eye to Samantha's work was Rusty Trees (shown at the top of this post), and is a fabulous example of Samantha's use of different techniques and mediums to capture the wild scenes she glimpses on the Mendips.
"Rusty trees was creating originally from a silhouette photograph, but inside is a brown piece of paper screwed up and scanned in," she says. "I knew that I wanted to use this dramatic colour combination and was just waiting for the right tree to use. The sky has been painted and there is a photo of a summer meadow overlaid on top of the foreground landscape. So its a true representation of all the things that I do."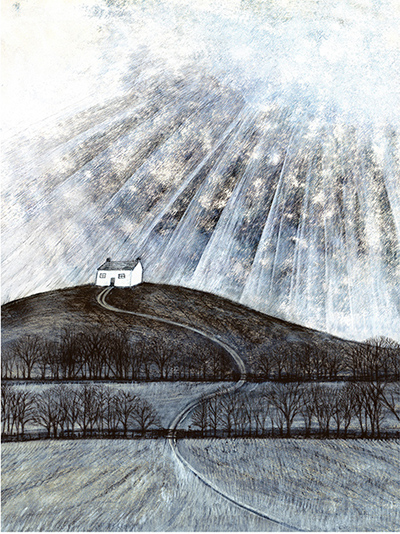 No place Like Home (shown just above) is a monoprint that has been drawn on top of, while Bristol Park Life, (below) is a manipulated photograph which has been printed out and painted over.
"My artistic flair enables me to take my wedding photography further and see things in a different way that gives my photographs a creative edge," she says. "However if I've been editing thousands of photos the urge to paint grows stronger and stronger, then I go and indulge myself with a day in the studio playing with printing, drawing and painting. I think the different disciplines keep me balanced and express two important sides of my artistic personality. Ultimately I love to tell stories.  Also I loved designing books as an illustrator and now I get to use these skills to design beautiful and captivating wedding books."
When we met, Samantha was cradling her newborn son Harris, named after the Hebridean isle. "My desire to be a mum and have an active role in bringing up my child focused my attention on taking the business further," she says. "I'm very lucky that my family are so supportive. As a mother to a tiny baby I know that I won't be creating much art for a while, but I look forward of going into the countryside on inspirational mini adventures with my son
She adds: "I always have ideas buzzing around my head and being a mother hasn't changed this. I'm inspired by changing weather, trees, natural structures, moonlight, moments in time and, ultimately, telling stories."
Discover Samantha at www.samanthagilraine.com; www.samanthagilrainephotography.com and www.GilraineArt.etsy.com.
Know an artist you'd like to see showcased on SkyLightRain.com? Give me a shout at judy(at)socketcreative.com.