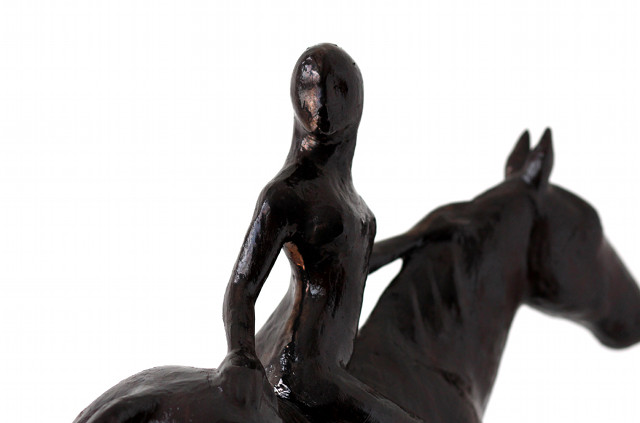 Some sculptors have the power to halt you in your tracks. Like animals poised to pounce, the stillness of their creations suggests coiled strength, waiting to be released. That's how it is for me with Sophie Howard's work, where her explorations of human and animal, especially horse, forms, seem paused only for the briefest of moments while your gaze rest upon them.
And yet, Sophie's early experience of sculpture was more about the mind than physicality, at least from her own point-of-view.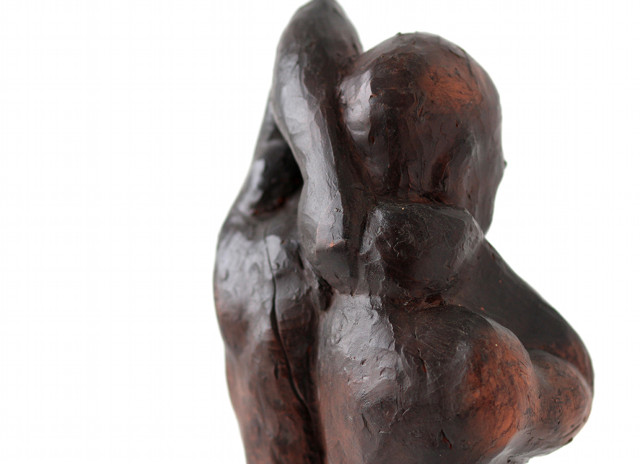 "On my art foundation course I remember sitting and staring despondently at the first sculpture I made, thinking it was so, so bad," she admits. "To move on from that most negative state I made myself list the shortcomings and imagine how it would be if it was really good. Then I saw a series of objects stretching into the far distance, right out of sight. I think that was it. It's like they say about History: 'Just one damn thing after another.'"
Sophie was just ten when she first managed to take what she saw and turn it into art. "I was painting a tree in my bedroom on a piece of paper with poster paints from glass jars," she says. "The tree was the old imaginary type – like an upturned broom. I looked out of the window, and saw the extraordinary natural structures of the trees in my garden at once. So I made my trees like that. There was an encouraging response from my mother when I showed her, as she crashed about making lunch. Later I kept going back to look at this painted tree thinking there was something good there, and I was on to something, but not sure what or why. I remember the light in the room."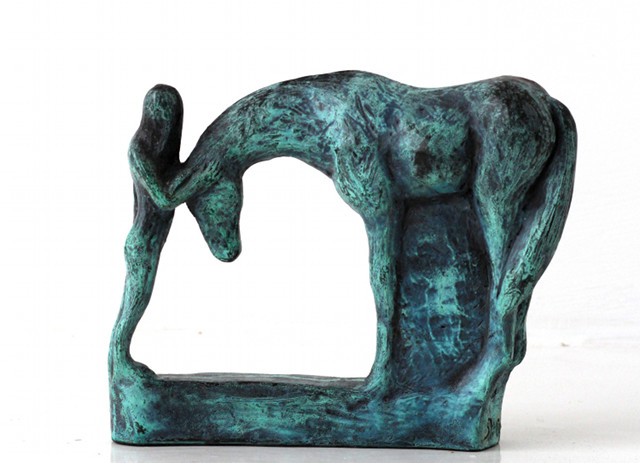 Light and the 'seen' continue to drive Sophie's work today, but she also seeks out ways to expose the unseen, as she puts it "nuggets of experience, connections. Last night I saw a singer, whose body sang and told the story of her song as much as the sound and words that came from her. We listeners were reached by her and connected up. That is what I want to make right now. The work I do is in finding the language. Sometimes it works, and connects us up – the subject, the viewer and me."
Sophie finds herself increasingly interested in working with ceramics. "The way a sculptural style can be described is partly about the materials and what they let us do. I'm getting more keenly into ceramics, so that certainly will make my style more identified with the richly endowed clan of the clay. I've heard my style described as classic, though it was a surprise to me. If that means that I use form, line, texture, imagery and scale to communicate, I am happy about it. 'In the style of Sophie Howard' would be nice."
Looking at Sophie's body of work, it's clear that the potential for movement is an enduring force. "If dance and horse sculptures are my poems or songs, then sculptures of the torso are the single words," she comments. Horses and the way people connect with them seems to epitomise something deep in us. Natural magic would be a way to say it. I dance tango, so I witness and experience fine physical things with my body, and see and feel the dynamism, subtlety and power of other dancers. Making sculpture, which is static, of something that moves but has such rich form and meaning is what engages me."
Sophie is currently embarking on a new venture called Hours. "I'm building a new home and creative space," she says, then amends: "Well, I'm one of the people commissioning builders and others to build it, not doing it myself."
Hours is scheduled to open early in 2015. "It will be a place to show art and design, including work that has a positive ethical element. The space will also be available for people to meet, entertain, practice yoga, show a film or inhabit for other purposes. It will be a fine and flexible space with big windows, oak floor, underfloor heating and its own washroom and kitchen. It overlooks Lewins Mead, in central Bristol. We will live upstairs."
That sounds pretty magical to me.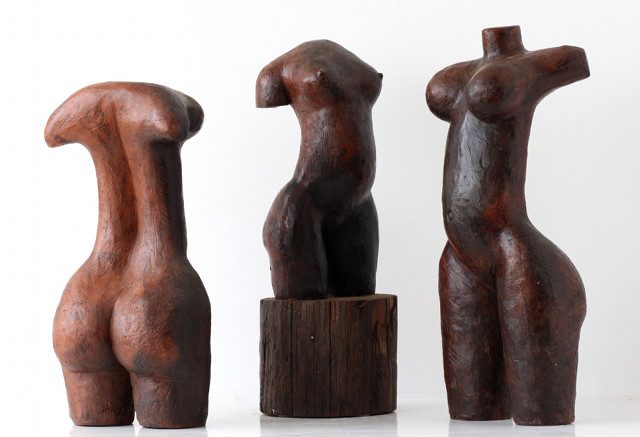 "For my own work, I'm bringing together some different strands," Sophie says. "Horses are involved, and a collaboration  with a very special poet and performer. I am not sure what the outcomes will be, but for me it is about ideas that have come from mythology and archaeology, combined with positive psychological power, and how to manifest those things in sculpture. I am discovering that there are surprising and rich ideas about what goes on between people and horses."
As she comments, these ideas are not really new, but rediscovered, she says, explaining that she's interested in "the nature of the raw relationship between a person and an animal, rather than the functional model of a horse as beast of burden, performer, farm worker…. I have begun a series of sculptures that will include a wider range of possibilities than my horse pieces to date – and some have no horses in at all. So far the first arrivals are some pretty fierce lasses with a range of wild hair dos, and some very proud looking fat ponies. It's surprised me how the figures have leapt to life."
Find Sophie at sophiehoward.co.uk. The photographs of the sculptures shown in this post were all taken by Jen Lo.
Are you an artist or do you know an artist who would like to be showcased on SkyLightRain.com? Get in touch at judydarley (at) iCloud.com. I'm also happy to receive reviews of books, exhibitions, theatre and film. To submit or suggest a review, please send an email to judydarley (at) iCloud.com.