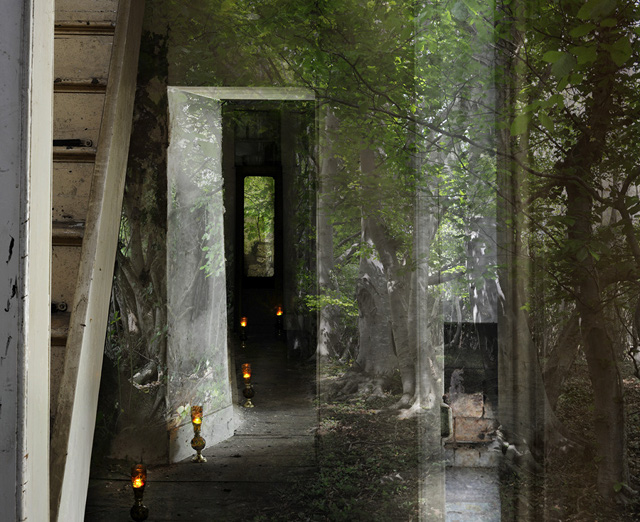 There's always something magical about encountering a ruin in the wilderness where nature is having its way with the walls and roof that once sheltered humans.
Soraya Schofield of The Drugstore Gallery took this idea to beautiful, fairytale-esque extremes with her project Mendip House – I looked back and you were gone. "This project came about after both my parents died within two years of one another," she explains. "My childhood home was already very dilapidated by then, which is when I came up with the idea of the natural surrounding garden and woodlands creeping back to reclaim the house, which I tied in with mementos of my childhood and of my parents."
She adds: "I wanted a strong sense of reality but with an aesthetic which alludes to dreams and memories. Although these images are personal to me I wanted the viewer to be drawn into the images and connect with them in their own personal way. It was a very cathartic experience."
Rather than passively waiting to see what nature would do to the house, Soraya actively encouraged the plants to reclaim the rooms.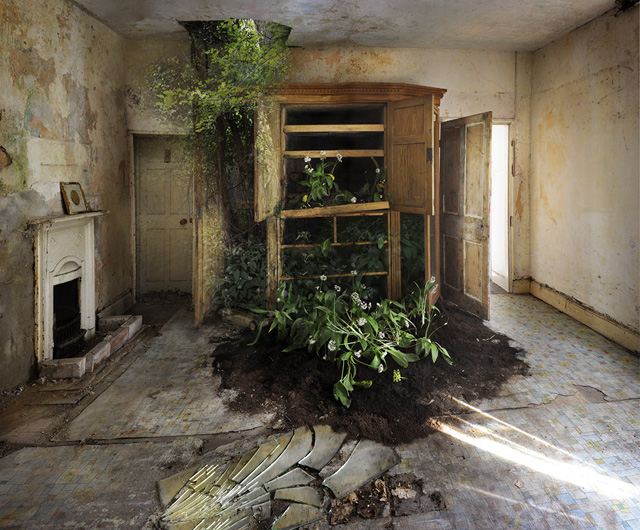 "I filled an old wardrobe with soil and wild garlic, wild garlic being a distinctive smell from my youth. Also planting grass seed that ran out of the cupboard and over the floor of one of the bedrooms, these I tended to and encouraged them to grow inside for a time so they looked as if they had spread naturally into the rooms."
It's an immensely moving project, however much or little you know of the background story. I rather love that in a sense it brings Soraya's artwork back home after several years of taking photographs in far distant lands.
"I had always like taking photos, but I spent four years out of England travelling through Asia and South America, and through this experience I really found a love of the photography," she says. "When I returned I was milling around trying to find a creative direction and booked myself onto a City Guilds photography course."
Soraya first started taking photos due to "a desire to capture people and places new to me." She visited Cuba in 2002 with her artist boyfriend Barry Cawston with whom she runs The Drugstore Gallery. "This is where Golden Doorway (above) and End of the Passageway (below) were shot," she says.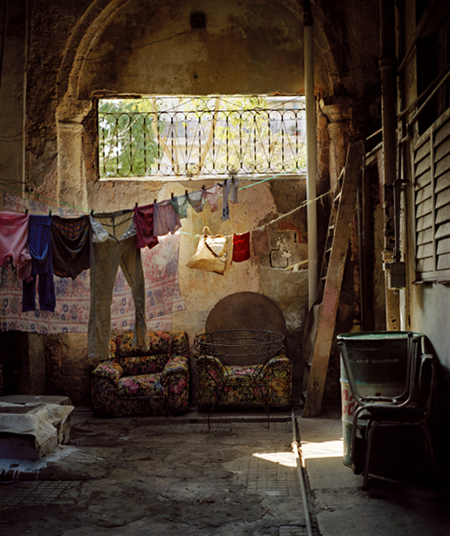 "My practice has developed over the last six years as I completed an Art foundation course and now am finishing a degree at UWE in Drawing and Applied Arts. I use the layering of photographs over an image to create landscapes in which nature meets manmade structures, and am now beginning to experiment in combining screen-print and lithography with this as well."
Her current project, however, is something of an attempt at reversal, as she and Barry now live in the Mendips house she grew up in.
"We realised that we had to save the building!" she exclaims.
Work to evict the natural elements she'd invited in began in April 2013, and brought with it a series of curious adventures. "In June 2013 we moved into a tent in the garden for seven weeks – the weather was great but sleeping was a bit tricky, we would be woken at 4am by the resident hedgehog and our dog growling at it, at 5am the cockerel would call and at 6am the plasterer showed up for work. Decamping onto the top floor in August, while building work continued downstairs, was a huge relief! We are not totally done but very close and very happy to be here!"
Soraya's photography is currently on show in an exhibition called Emergence which is in The Paperplane Gallery, Bristol. Find more of Soraya's work at The Drugstore Gallery, Somerset, www.thedrugstoregallery.com.
Are you an artist or do you know an artist who would like to be showcased on SkyLightRain.com? Get in touch at judydarley (at) iCloud.com. I'm also happy to receive reviews of books, exhibitions, theatre and film. To submit or suggest a review, please send an email to judydarley (at) iCloud.com.