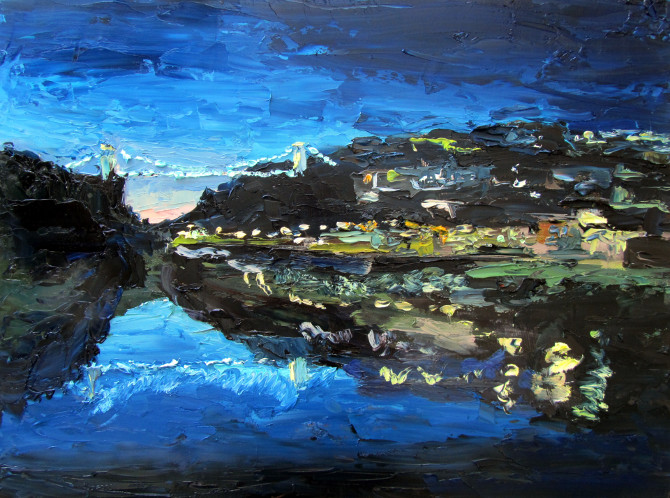 Nigel Shipley has been a firm fixture on Bristol's art scene since beginning his Bristol Cityscapes series in 2004. Using bold brushstrokes and his own luminous sense of colour, he captures the urban landscape's spirit as well as its appearance.
An avid curiosity and skilful use of controlled and uncontrolled accidents influence the direction of his work, imbuing his finished pieces with a sense of organic energy.
"Leonardo da Vinci urged artists to search for inspiration in the dirt on walls or the streaked patterns in stones," Nigel explains when speaking of his own methodology. "In the same way I have found that the accidental blot, the chance mark, or the naturally occurring stain can be a starting point for my art."
An example of such an accident led to Nigel's painting Suspense (shown above). "Some random marks led to an idea of the tension of two blocks of colour, of the same weight, close to each other, almost touching, but apart," Nigel says. "The intense red block in this painting became a ground lying at the bottom, and the dark blue/black block came to hover just above at a slight angle. The dark block is forever calmly suspended in space, held in place by the strength of the red block. A stormy landscape emerged behind them."
This blend of tranquillity and vigour seems to represent the artist himself, as well, as he explores his own impressions of the world and internal emotions with equal interest.
"Painting an abstract image is like feeling your way in the dark," he comments, echoing the sentiment on his website's About page. "In all of my paintings I try to achieve a sense of space and depth. I try to capture things such as emotions, a sense of calm or energy, a link to nature or an organic process."
He cites as an example his painting Warm grey and yellow gold (shown above). "The creation of this included painting a board with white acrylic paint and then washing a thin grey oil paint over it and allowing it to gently slide down the front of the board," says Nigel. "The oil and acrylic paints reacted to each other and the grey paint fractured into tiny cracks. The pattern of these cracks is similar to those you might find in nature, such as when mud dries. This natural cracking process created something of the infinite complexity that we find when we look closely at nature."
Before falling headlong into abstract painting, Nigel's work was far more figurative.
"For many years I painted cityscapes of Bristol, or tango dancers, and these paintings sold well and were popular," he recalls. "Then I took a break from painting to work on building a new home for myself and when I had time again to paint I decided that my painting was becoming stale and I needed a bigger challenge. I started to look at abstract paintings and then began to create my own."
The degree of difficulty involved in abstract painting is one of its attractions for Nigel. "I couldn't return to my previous figurative representations of Bristol harbour, because they would be too easy and I would become bored. I don't become bored with my abstract paintings, but I may become exasperated as I struggle with them."
In other words, exasperation is preferable to boredom when it comes to experimenting with paint. This outlook is perhaps shaped by Nigel's experiences of studying art in the 1970s.
"I didn't have a happy time at Norwich School of Art in the 70s," says Nigel. "They wanted me to create welded steel sculptures, but I didn't. I left art school feeling disillusioned with fine art world and went on to study cabinetmaking."
At that time, few artists had the possibility of making a successful living, Nigel says. "I didn't feel that I fitted in. Coming back to fine art in Bristol in the '90s I found new opportunities to succeed. I picked up where I had left off twenty years earlier and reinvented my identity as an artist."
Nigel lives with his partner, professional (and very talented) sculptor and art teacher Sophie Howard. "Her emotional and practical support is very important to my work as an artist," Nigel says. "I greatly respect her opinion about my work, and sometimes she can give me insights about what I'm doing that I might otherwise have missed. We share a pleasure in seeing art and meeting artists, and living a creative lifestyle."
Nigel's creative life is about far more than painting, these days. "I relish how I can use creativity in everything I do," he says. "I also love tango dancing, and dance at least one evening a week. This is a complex dance with a rich culture of music and Argentina. Recently I took part in a performance on the theme of happiness and pleasure."
Nigel also uses his adeptness at my creative thinking in other parts of his life and work. "For example, when after years of looking Sophie and I could not find the home that we wanted, we decide to build our own Grand Design."
The result is unique home in the centre of Bristol, called Hours. "It incorporates a space that is sometimes an art gallery, and at other times a dance hall, or a venue for creative writing, poetry, yoga and much more."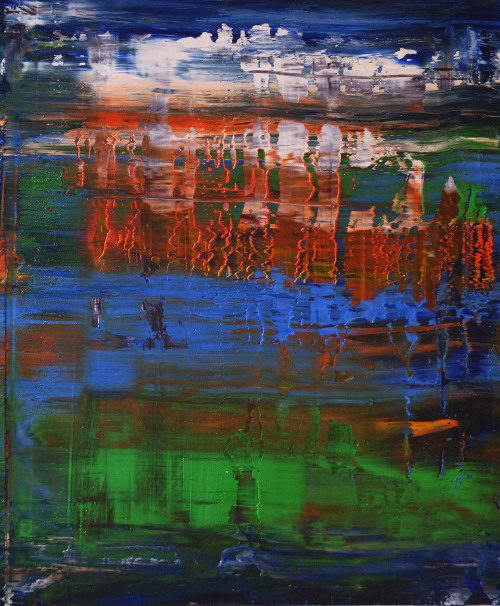 You can see all of Nigel's currently available paintings at www.nigelshipley.com. "I will have an exhibition of my paintings at HOURS (Colston Yard, Bristol) on 13th October. I have a studio at Unit 5, Barton Manor, Old Market, Bristol, BS2 0RL, and I'm happy to meet people there if they would like to see how I work. I have recently taken part in the Bristol Other Art Fair which was organised by Saatchi Art and included 100 artists from around the world chosen from 500 who applied. I plan to take part in this again in 2019."
Are you an artist or do you know an artist who would like to be showcased on SkyLightRain.com? Get in touch at judydarley (at) iCloud.com. I'm also happy to receive reviews of books, art, theatre and film. To submit or suggest a review, please send an email to judydarley (at) iCloud.com.