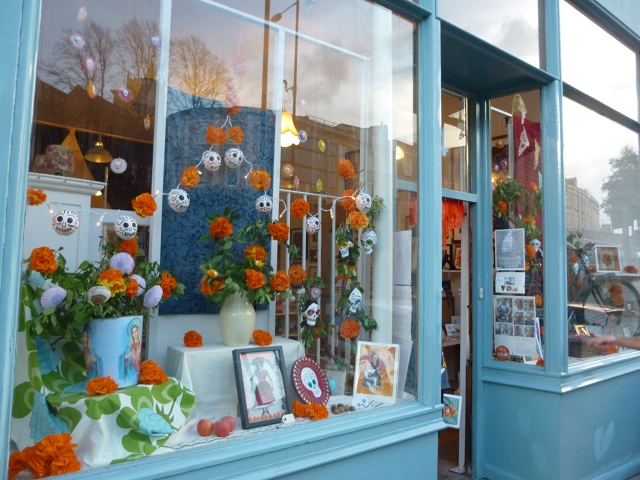 Two rather nice literary things happened last week. The first was that the marvellous folks at Liars' League Leicester posted their recording of actress Helen Vye-Francis doing a fabulous job of reading out my short story Wee Glory Boy.
Helen got the accents and emotions spot on – I definitely recommend watching it if you have 7.29 minutes to spare, and not just because I wrote it. There's something magical for me about hearing my characters' words in someone else mouth, which only adds to my enjoyment of Helen's performance.
The second thing is that gorgeous artists' collective Blaze Studio (pictured at the top of this post in all their Day of the Dead finery) agreed to stock my short story collection Remember Me To The Bees. Lucy put some effort into arranging the copies prettily and attaching the bees I'd brought for the purpose, cut from an early, unproofed copy of the book.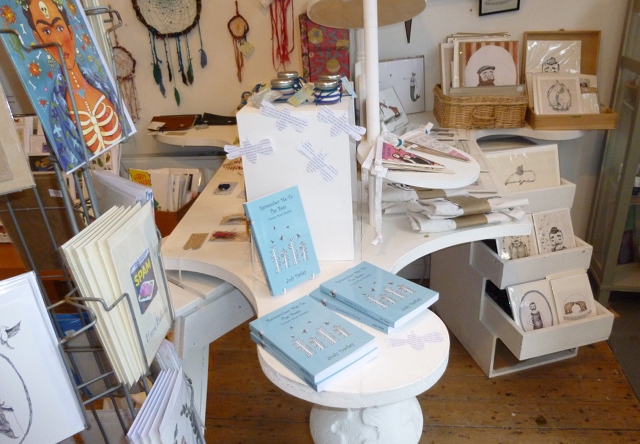 I think the collection looks right at home there, surrounded by curious and lovely works of art. If you're passing Colston Street in Bristol, pop in and take a look for yourself!
Ooh, and tomorrow from midday you can hear me on Ujima Radio, when I will be chatting to DJ Cheryl Morgan about my writing and multi-arts interests. So tune in to 98FM!