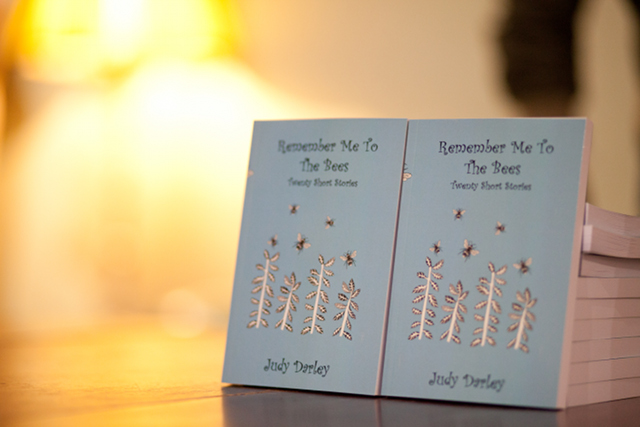 I'm a great believer in doing the things on your wishlist, your bucket-list, if you get the chance. A book launch was on mine, though I hadn't dared look it straight in the eye.
So when the opportunity came to have my short story collection, Remember Me To The Bees, published, that was exciting, but glimmering at the edge of my vision was the launch.
But I almost didn't do. Almost lost my nerve. Almost let the idea of 'what if no one comes' fright me into inaction.
I pushed past the fears – started planning the night.
And one excellent piece of advice from Mike French on throwing a successful book launch made it work – plan it not as a selling exercise, but a celebration, as a party.
Here are the ingredients of my book launch
1. The venue
I thought about what I would do if money was no object and set my heart on my dream venue, The Birdcage – a coffee shop cum vintage clothes shop cum bar cum music and lit night hosts.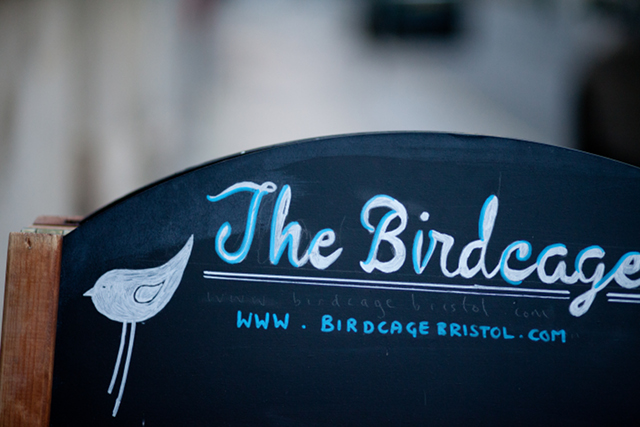 I had a few chats with them about what I wanted to do, and they agreed to let me have the space free of charge on a Monday night. And that was that, preparations in motion.
2. Live music
Having achieved this, I had the courage to come up with a dream list, and a pretty clear picture of the kind of tone I was going for – going with the party theme and the vibe of the venue, I was keen to have live music…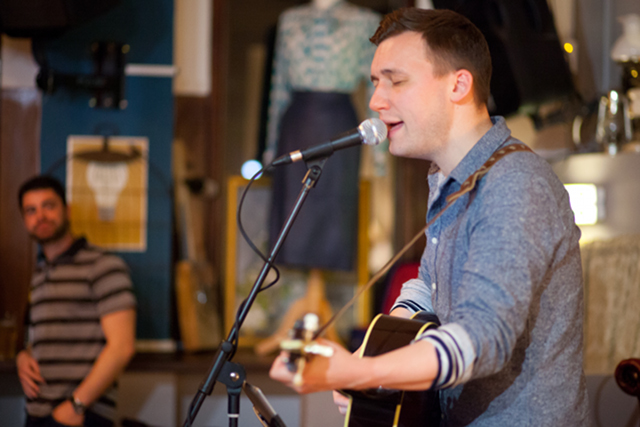 I asked around a discovered that a friend of a friend, Anders aka Rabbit City, is an extremely talented musician and singer/songwriter. I listened to some of his sets on SoundCloud and realised his music would work really well with the stories in my collection, create the vibe I was after and was exactly what I was after.
3. Original artwork
Art was always my vision for the night. Bournemouth-based artist Louise Boulter created the cover for Remember Me To The Bees and artwork for each of the twenty stories in the collection. I checked with the venue and then asked Louise if she fancied holding a one-night exhibition of her work at the Birdcage on the launch night. She was keen – so that was the décor sussed, if a way that matched the feel of the book, the music and the venue.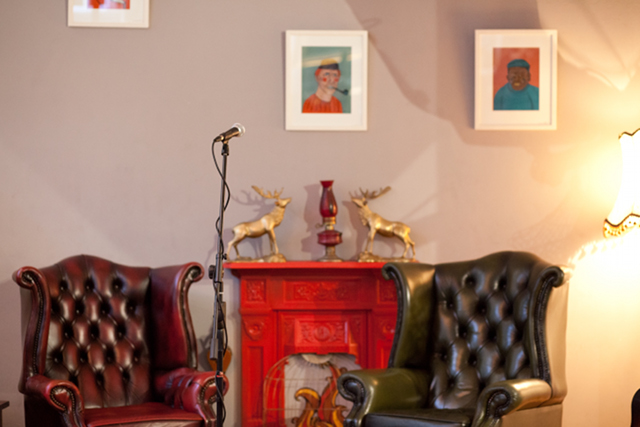 4. An outfit for the author
Okay, this one may feel pretty frivolous, but for me the right clothing can help to put me in the right frame of mind, and I wanted a fancy frock. I opted for a vintage-look silky navy blue number with a wonderfully flowy skirt and lacy back, and felt like a literary princess all night long. It helped give me an extra boost of confidence, and added to the party feel for me.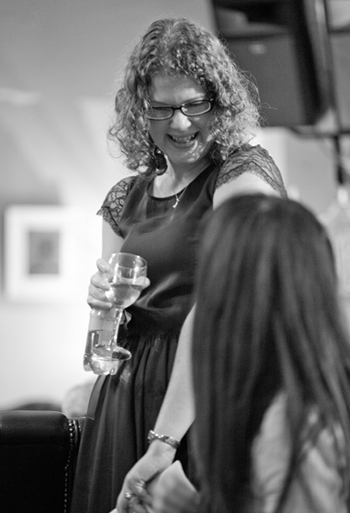 I also wore a gold bee pendant my hubla had given me, just in case people weren't aware this was a book of stories smattered with bees.
5. The readings
I prepared four excerpts to read at the launch, only around ten minutes in total, and just enough to whet people's appetites. My reasoning was that a full story demanded too much attention from attendees – I wanted everyone to be intrigued by what they heard, and be left wanting more. It seemed to work!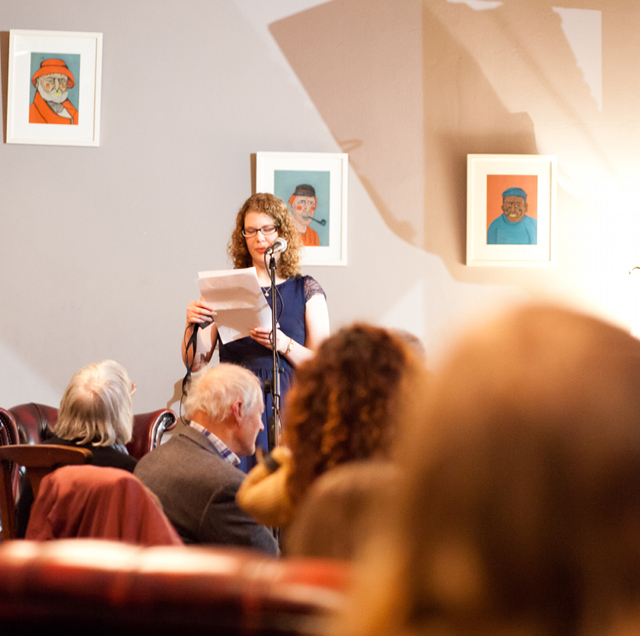 I practised diligently in the weeks before the launch so that I almost knew the snippets off by heart. It definitely helped to be so well prepared when I took to the stage and saw quite how many people had turned up!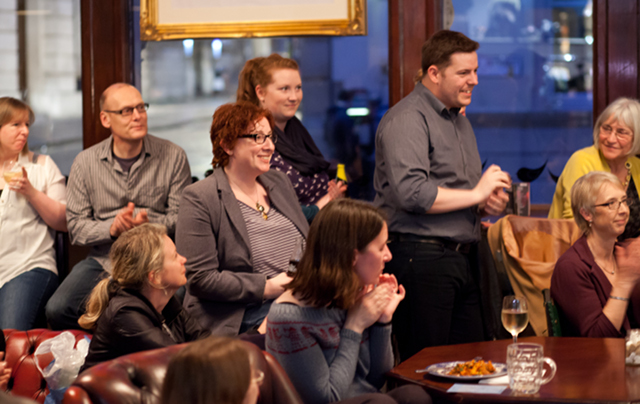 Which takes us to…
6. The invitations
I invited people I loved, people I liked, people I respected and people who I simply thought might be interested.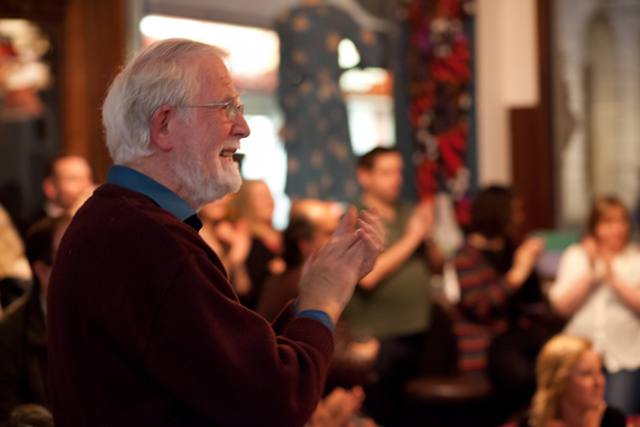 This included members of my family, local publishers, authors, journalists I've worked with, and just a lot of people I've enjoyed the company of at one time or another. The majority of the people I hoped would come did, and a few more besides. The place was packed!
7. A compère
I was happy to go up and introduce myself, but my hubla wisely pointed out that it would look far more professional if someone introduced me and then Rabbit City, and he kindly offered to take on that role, and did a grand job!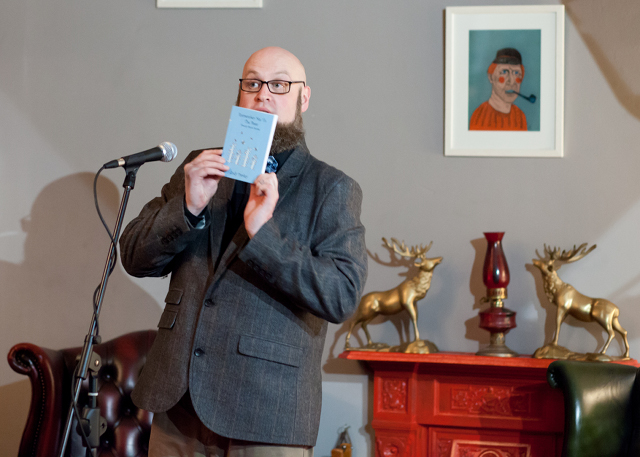 8. The signings
The Birdcage is a curious l-shape, with a main room that has the bar at one end and the stage at the other. A slightly smaller space spills off this and we took over a large table in there to pile up the books onto. I sat there and signed copies of the book and chatted to my fans (!) while Rabbit City played. It was utterly exciting, but when I felt overwhelmed it definitely helped to have a friend come and sit with me, or get lovely Louise Boulter to come and sign a few books too!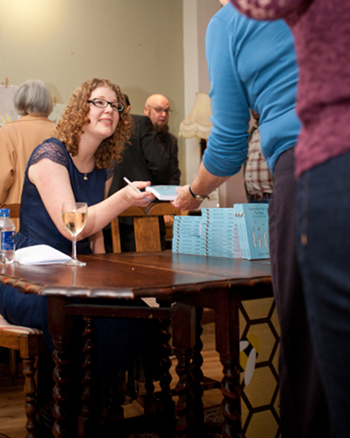 9. The photography
Last but not least, the gorgeous photographs that will helped me remember this night till the end of my days. Pete Gettins turned out to be the perfect man for this – unobtrusive and keen-eyed. Pete took all the photos published in this post. He captured many moments I hadn't seen and many that made me exclaim as I laid eyes on them for the first time. Working in low-lighting and a party atmosphere he managed to take a collection of images that feel to me part art, part reportage.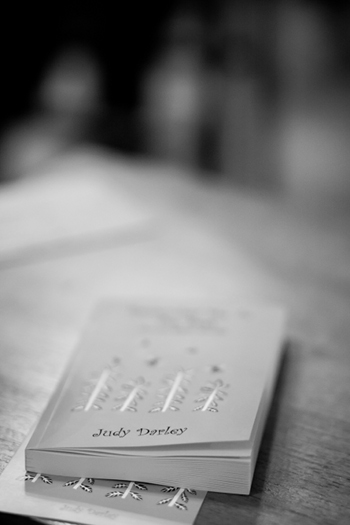 And on the night everything went swimmingly – there was a golden glow to the evening that brought to mind weddings, birthdays, the gladdest of times.
I shared excerpts from Girls in Windows, Stalagmite, On The Ledge and Singing For Seals, signed and sold a lot of copies of Remember Me To The Bees, basked in the shimmer of a job well done, saw the pride on the faces of family and friends, revelled in having my own, one-person house band, posed for photos, forgot to pose for photos (those ones turned out better, I think), made contacts, had some jolly chats, felt like a literary star, and floated home feeling like moonlight was seeping from every pore.
So this is my advice. If you publish a book, even if your publisher has no publicity budget, have a launch. It raises awareness of your work, but more importantly it marks a pretty special achievement, and you're bound to have a fantastic night.