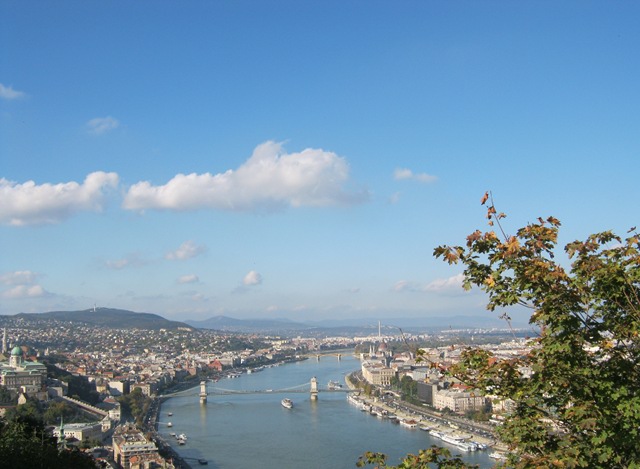 There's so much to enjoy about the Hungarian capital! For starters, the River Danube flows fatly through it, necessitating, of course, a number of glorious bridges. The landscape here boasts an abundance of thermal springs resulting in countless elegant spas to choose between. Dinky yellow trams rumble through streets lined with extraordinary architecture and artwork, from statues honouring playwrights, artists and musicians to pop-up sculptures by the likes of Ervin Loránth Hervé, (see below). And, perhaps best of all, what we know as Budapest is in fact Buda and Pest, twin cities laid out on either side of the Danube, with two very distinct personalities.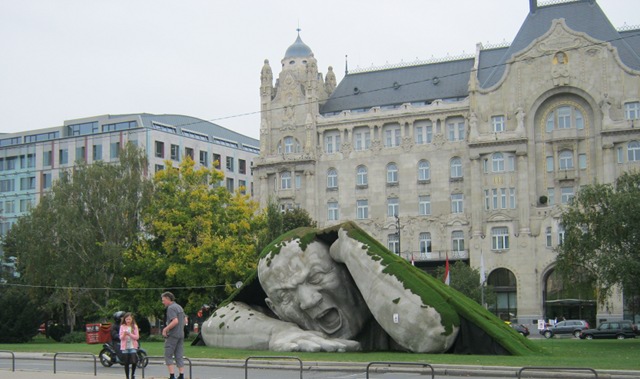 Then there are the cafés, the ruin bars, the antique shops, and so much more. We flew in late on Tuesday and left halfway through Saturday, and in that time saw, walked, ate, drank, and experienced as much as we possibly could.
Here are my top ten recommendations for Budapest.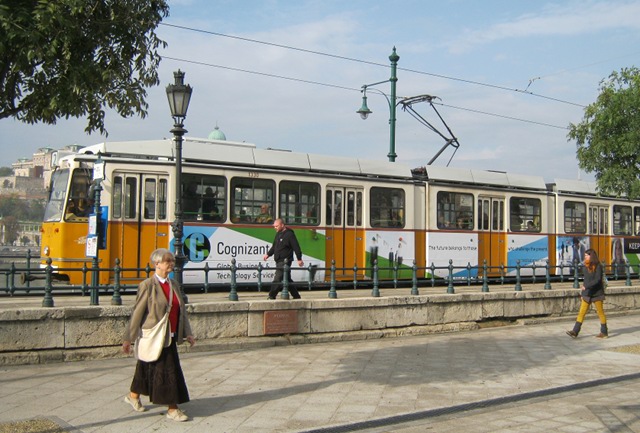 1 Sample the public transport
A bit of an unlikely one, this, but truly, the public transport is a joy. Even getting from the airport into Pest was a joyful adventure, and the beautiful elderly Millennium metro line added a happy dollop of vintage gorgeousness into the mix. Look at the wood panelling! Admire the ceramic titles! It's the second oldest in Europe (London wins), and certainly the most elegant I've experienced.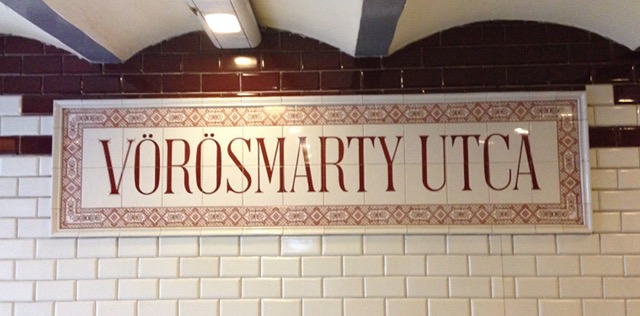 2 Take a walking tour of Buda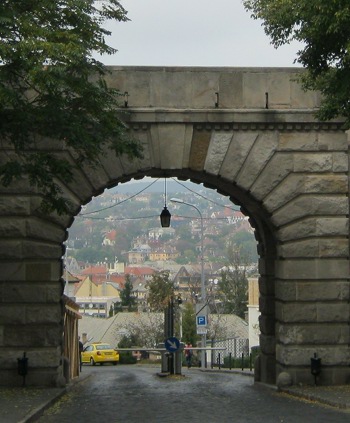 This is the ideal way to find out all about the city's history, take in some beautiful scenery, glean some local knowledge (our guide's told us that when Hungarian children talk back, their parents say their mouths are as wide as the Vienna Gate, (shown left), and work off a fraction of the cake you've eaten/are about to eat.
If, as we did, you get a Budapest Card, there are free walking tours leaving daily from daily from Szentháromság Square (just opposite St Matthias church) in the Castle District at 2pm.
3 Eat cake
Such hardship! Coffee and cake are cultural staples here, and every street you walk down will offer a few options. This is definitely not a city for the weight- or waist-conscious, though we found a mid-morning cake saw us through to late afternoon. The Hungarians are no doubt preparing for the cold winter ahead. Our excuse? We were on holiday!
We peeked in at famous confectionary Gerbeaud on Vorosmarty Ter, but thought the prices were high and the portions small, so we walked onwards along the riverside to Fővám tér, where we discovered Anna Café. The spectacular wedge of cake, shown left cost around £3 with a coffee.
4 Explore Budapest Central Market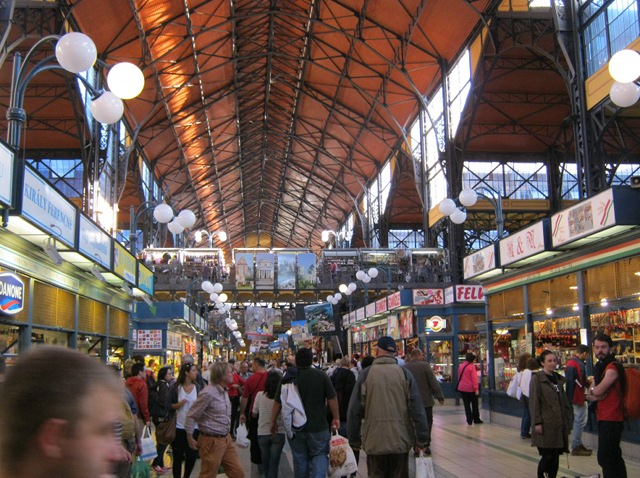 The best place for buying paprika, sausages, and yes, yet more cake. It's a beautiful building, and also has a number of excellent little eateries on the mezzanine floor, including Fakanal Restaurant, where you can lunch on hearty goulash and watch all the activity unfolding in the market below. The market closes at around 6pm, though, so don't bank on eating your evening meal there too.

Oh, and by the by, CNN named Budapest's Central Market Hall as the greatest one in Europe, better than Mercat de San Josep de la Boqueira in Barcelona, The Grand Bazaar in Istanbul, Portobello Road market in London and Les Puces in Paris. Quite an accolade!
5 Stroll over the Danube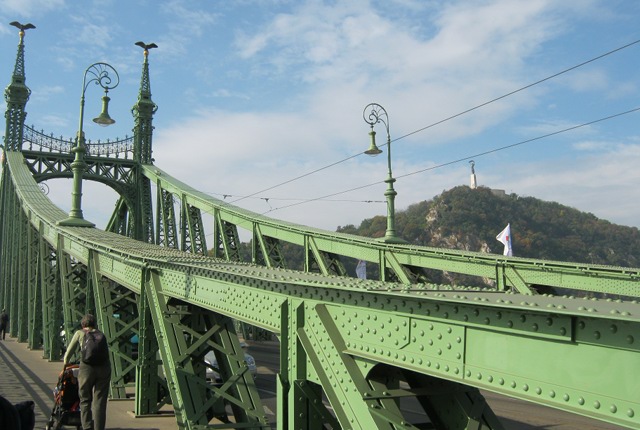 There are several divinely strung bridges to choose from, but the grandest is the green-painted Liberty Bridge, close to the Central Market. Choose a sunny day and you'll be in for fabulous views of Buda and Pest, the river, the boats and the other bridges.
And yes, that is the famed Hungarian Statue of Liberty poised on the hillside in the above image – we're just getting to that.
6 Hike up Gellért Hill
This rural oasis hill is on the Buda side of the river, and is topped by Hungary's very own Statue of Liberty, the Szabadság Szobor.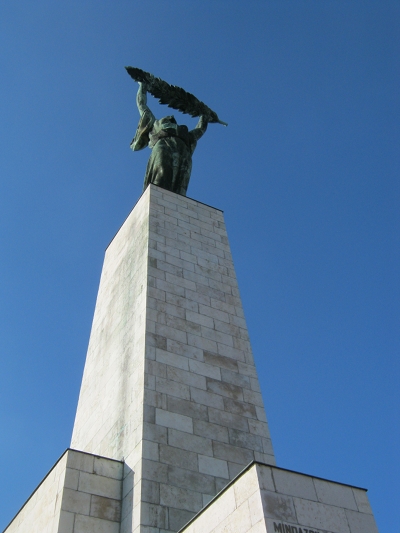 At 14 metres tall, perched atop a 26-metre pedestal, the statue is undeniably impressive, wafting her palm leaf over both sides of the capital. She was installed in 1947 to commemorate the Soviet liberation of Hungary from Nazi forces – ironic really, given the years of terror that would follow under socialism.
7 Discover The Whale
Where better to spend a rainy afternoon than in the belly of a whale? This glimmering building, known locally as the Bálna, rests between Petőfi Bridge and Szabadság Bridge.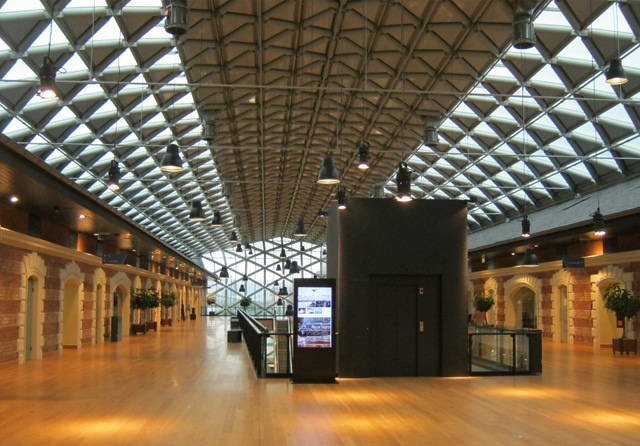 It houses exhibition spaces, dinky shops, bars and cafés, and is a great place to meander while waiting for the sun to reappear.
8 Visit Liszt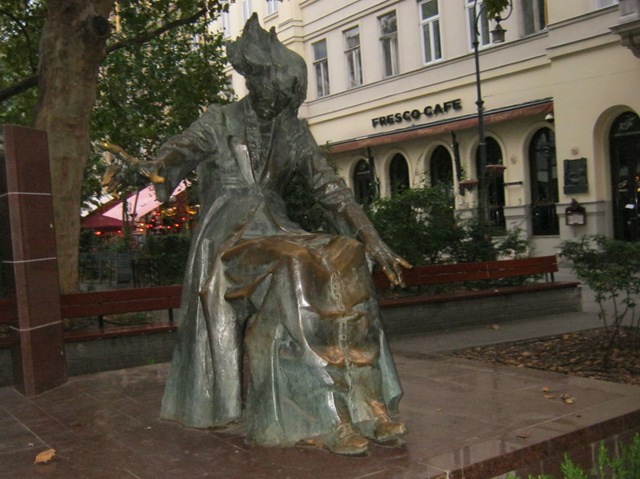 Budapest is a city of music, not least because composer Franz Liszt hailed from here – you may have noticed that the airport you flew into is named after him. If you catch the Millennium Metro to Octagon, you can stroll to Liszt Ferenc Ter (Franz Liszt Square). Take a stroll around this area and you'll discover the Liszt Academy of Music, and the Hungarian State opera house (daily tours offer a glimpse into this gorgeous building), as well as an exuberant statue of the man himself, surrounded by lovely street cafés, and, um, Hooters. Something for everyone, then.
9 Step inside the basilica
St Stephen's Basilica is a Roman Catholic marvel of domes and turrets, named after Hungary's first Christian king. You can enter this religious edifice in exchange for a 200 forint donation (less than £1), and gawp at the statues, candelabras and an opulent embarrassment of paintings and ornamentation by famous Hungarian artists.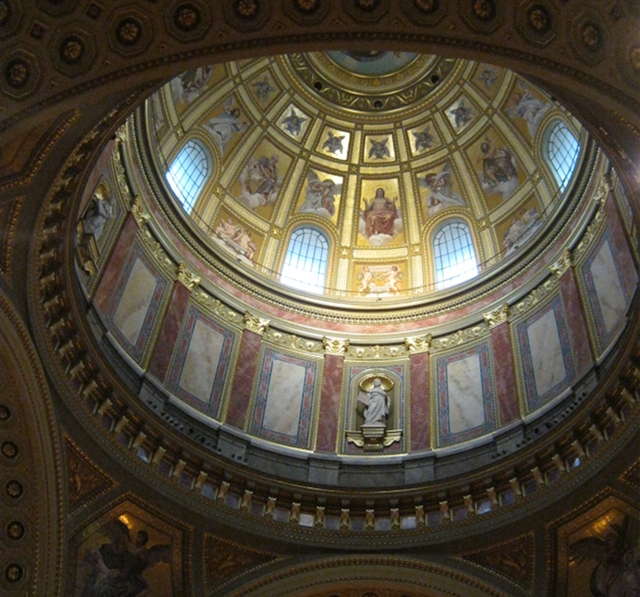 Opened in 1918, this is the ideal place to wallow, dream and relax, and was the highlight of my visit to Budapest.
We started in the outdoor adventure pool, a thermal bath around which trees waft their leaves and classical statues add to the ambiance. As the warm mineral-rich water and bubbles eased away every trace of travel-tension, the sight of people emerging from the nearby sauna to submit themselves to an icy plunge pool kept us endlessly entertained.
Inside, more pools await, as well as saunas and Turkish baths, with art nouveau tiling, stained glass recesses and sculptures adding to the sense of having slipped into the faded grandeur of a bygone, far more civilised age. Along with tourists like ourselves, we encountered locals enjoying their regular soak and steam. There's clearly nowhere better to enjoy a morning gossiping with friends and setting the world to rights. An absolute pleasure.
Find more Budapest highlights at uk.gotohungary.com.