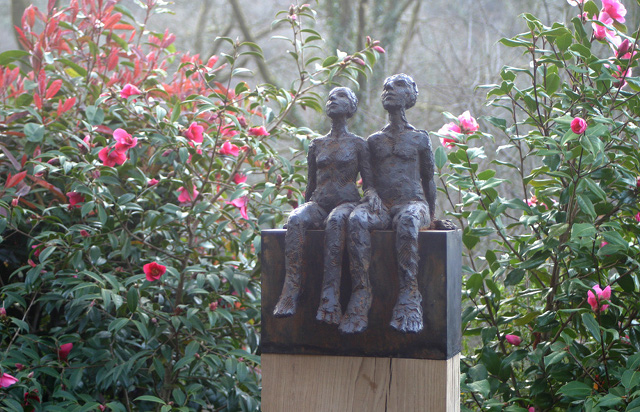 There's an unexpected sense of lightness to Carol Peace's work. Her figures float, soar, skim – sometimes suspended from giant fish, occasionally riding personal balloons, or just  gazing outwards – mind apparently occupied elsewhere.
Yet her materials are decidedly solid in nature – gleaming bronze or earthy clay – fixing her sculptures well and truly to the ground. It's a juxtaposition I enjoy, and connects in a way to Carol's thoughts about herself.
"I don't remember much from early childhood," she says. "I know I also liked cooking and horse riding so it could have been either of those instead of art. Sometimes I think I should have been a farmer, being out in nature all the time. My granddad and uncle were farmers and I did work on a farm after college and went from rougher (basically wedding in a massive field) to ploughing in one job… Perhaps I've missed my vocation!"
However, it was art that eventually stole her heart. "I remember copying drawings out of books a lot when I was little – I was always drawing," she comments. "Later I spent a lot of time in the art room at school – it may have been because the teacher was good and very encouraging and the fact that is was a quiet space. I don't remember feeling lonely or bored as a child so that's probably a sign that I was quite self sufficient."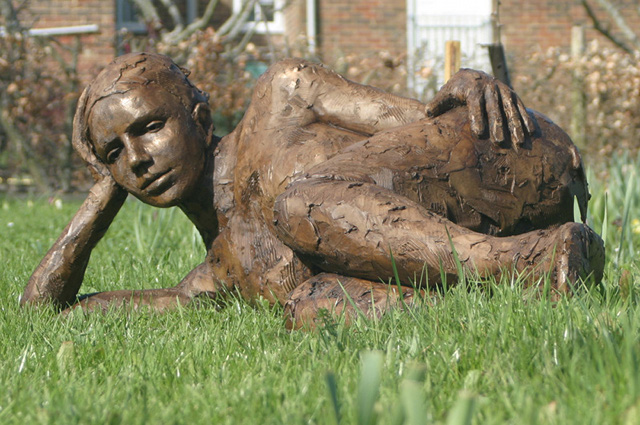 She continues to relish the psychological aspects of sculpting, painting and drawing,
"There is quietness and space," she says. "It can be fairly tough on the emotions – I always work honestly so it's brutally direct sometimes, but I don't mind. People often think the work is very calm and peaceful – I think they see the feeling I experience when making, but not the difficult starting points."
On a tactile level, it's the clay that Carol loves, "together with the process of changing something so fluid and fragile into bronze, something that will last forever. I am quite practical so I like the physical nature of sculpture, but I have a growing lust for painting as well."
Carol draws inspiration from a wide range of sources, including travel, which she says helps her see things far more clearly. "It's like when you start looking, your receptors open up. You can't expect to make art unless you are really looking all the time. You can't make art in isolation. To live life as a tourist, even at home, enables you to see things. Through time, familiarity and repetition a new place can become home but it's good to keep wide-eyed."
Nature plays a distinct role in this, particularly trees and leaves. "There's that moment when the first red is coming into the trees and the lime green is leaving. You can't just be busy, busy, busy all the time. You need moments in normal days to appreciate things."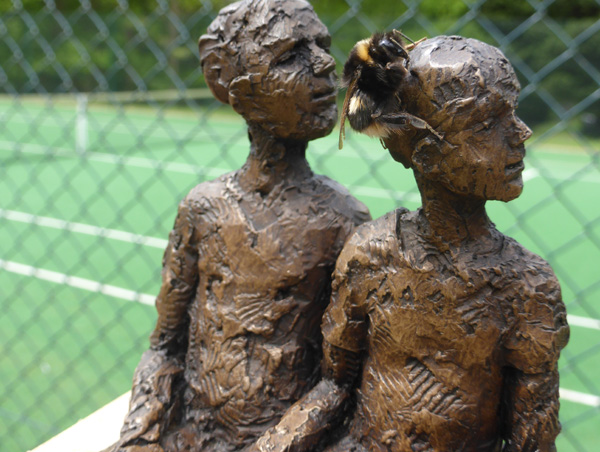 Carol continually seeks the stimulus beyond the habits of everyday life. "I'm not very good a routine," she says. "I find no comfort in it at all, I like contrast. At the moment we (Carol and husband Graham) are experimenting by living half urban with the hub of traffic and distant train noises and the sound of screeching skips being dragged across yards and half in the middle of nowhere on a hill, in a field…it's magic. Each time I go to the other place it is new and exciting, and I can see it afresh."
Increasingly, Carol has been finding herself creating art with family at its core. "I see my 'Family Tree' painting (above) and realise its not a family tree at all its just about parents and me. The orange pair of leaves is them, as strong and intense in colour as the land. But I am a leaf. They are leaves."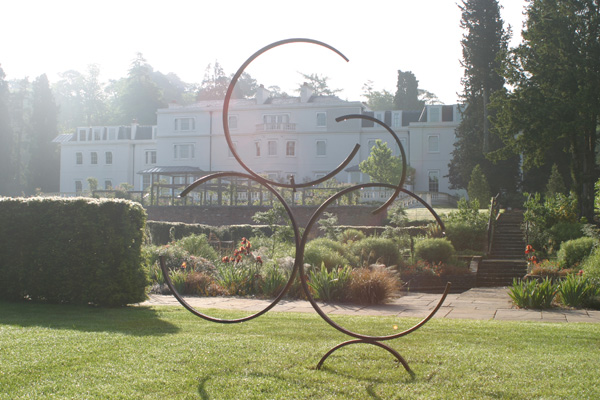 "I made Family (in full above, detail below) after seeing a cormorant diving in the river, he was gone for a long time but his ripples remained," she says. "It's part of a series of works in steel and bronze based on the family, for me it's about support. Each circle represents an element of the family, some peoples circles are broken some a full circle. The ripples, while suggesting the smallness of ourselves within the world, are also about the hugeness of giving life. It is about how two people can influence an ever increasing circle that gets bigger and bigger, long after you've dived into the water."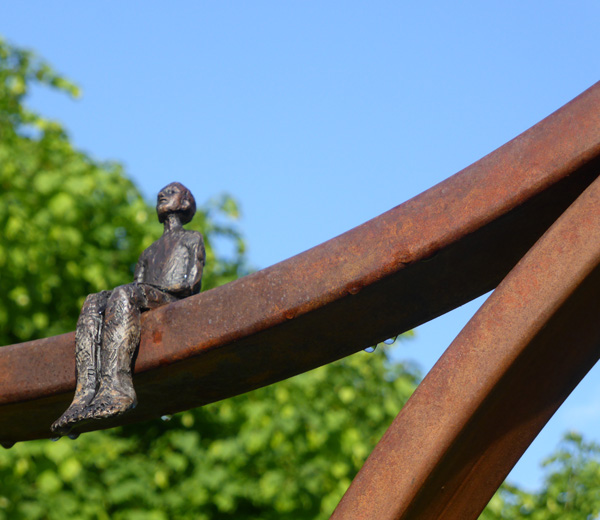 When asked to define her style, Carol says: "I work clay like I would a charcoal drawing, the texture is often defined by the pace of working, there are areas of focus and areas that fade or are less detailed. I put bits on and take them off all the time. I could never be a stone carver."
She adds: "Sometimes there are marks over the work from the tools I use – they show direction of movement, and sometimes they are like deep scars. The way I work is a response to being alive, from the basics of the blood pumping round inside you. Like drawing form observation it is a direct and intuitive response so I don't feel it's a style its just how it comes out!"
Carol is opening up her artist's studio (Unit 5.3 Paintworks, Bath Road, Bristol, BS4 3EH) to the public from 6-16th November 2014, with a Private View on Thursday 6th November 6-9pm. On Friday 7th November, her studio will be the setting of a special literary night, 'Travel, Identity and Home'. Find out more here.
The writing workshop Writing From Art takes place in Carol's studio on Wednesday 12 November. Find details here.
Are you an artist or do you know an artist who would like to be showcased on SkyLightRain.com? Get in touch at judydarley (at) iCloud.com. I'm also happy to receive reviews of books, exhibitions, theatre and film. To submit or suggest a review, please send an email to judydarley (at) iCloud.com.