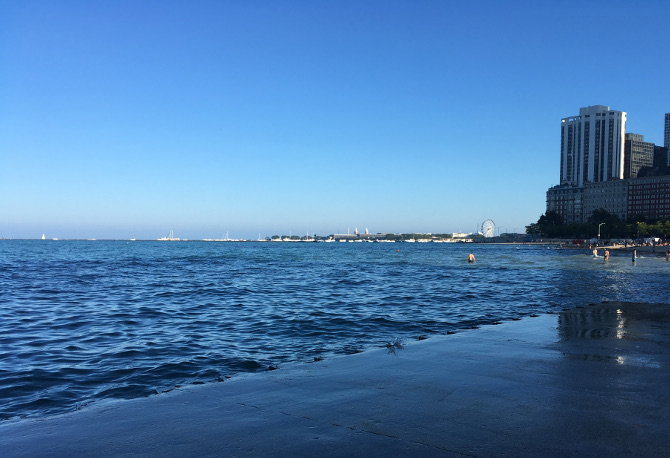 The first sighting of Chicago – long before the towers come into view – is of the lake. Big M, a landlocked ocean licking the shore of three states, sans salt, sans sharks, sans tides. Lake Michigan.
Our Airbnb is just a stroll from its edge, in the Gold Coast district where ornate mansions speak of an almost grotesque excess of money, while more time-worn streets have been turned over to a more Bohemian clientele.
We're close enough to stride along the water's edge into the city, using the John Hancock Center or Navy Pier's big wheel to guide us. Nature battles against the rampant urbanity here. Cormorant spread their wings in the harbour and fish dart, while tourist paddle kayaks, ride tour boats or pause on bridges to admire the soaring architecture. All human life jostles here – wealthy residents sidestepping broken-down beggars to enter designer shops, while holidaymakers hurry to the next museum, the next work of art, the next tower to ogle and ascend.
Here are my top ten recommendations of what to see, eat and experience in and around Chicago.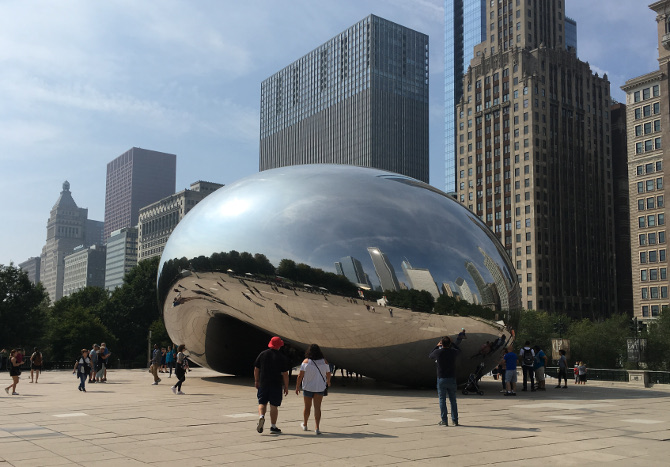 1 Encounter the Cloud Gate
Known by locals as the Bean, the Cloud Gate sculpture by Anish Kapoorresembles a gigantic silvery globular mirror. It rests in the AT&T Plaza at Chicago's Millennium Park like a capsized UFO, enticing tourists and passersby to pause and photograph their own reflection.
A vehicle to our own selfie-obsessed vanity, it's a perfect tool for people-watching, as well as capturing majestic views of the Chicago cityscape. The one thing it doesn't seem to me to meditate on is sky – but perhaps it's in the Illinois winter, when sub-zero temperatures halt human hive activity, that it truly comes into its own.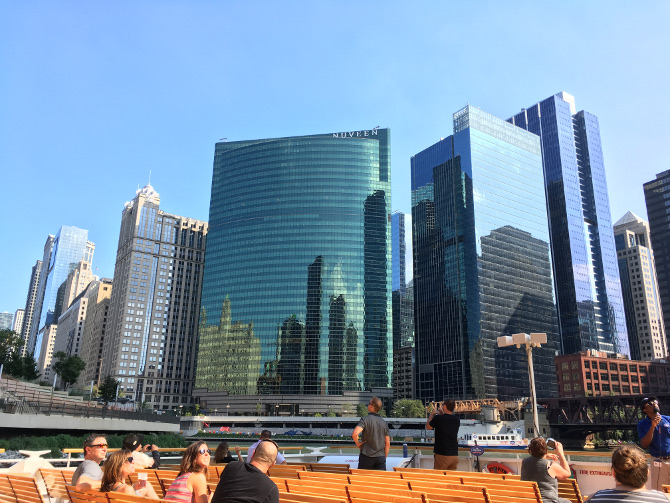 2 Embark on an architecture tour
In a city riddled with extraordinary towers, there's plenty of scope for admiring the architecture. With the river attracting many of the most ambitious designs, the most leisurely way to take in the their grandeur is with a Chicago Architecture River Cruise by Shoreline Sightseeing. From just over £30, you'll get a 75-minute guided voyage through the urban masterpieces, learn about the fire that destroyed 3.3 square miles of Chicago in 1871, and discover that in Chicago, the word Willis is pronounced Seeears. As an added bonus, our excellent tour guide Jalen seemed to be warming up for a set at legendary comedy hotspots Second City.
3 Ascend the towers
In a city of skyscrapers, there are several that stand out more than others, and you can pay to visit two of the more notable of these.
The Skyjack of the Willis Tower (previously the Sears Tower), offers exceptional views over Chicago and some unexpected treats. We glimpse a kestrel swooping on the thermals and a few vertigo-defying spiders too. Don't miss the chance to step onto the Ledge, a glass balcony that juts out from the 103rd floor of the tower (1,353 feet up!) – the perfect opportunity to snap your next profile pick/author photo/ album cover. Buy your tickets.
Above Michigan Avenue, 360 Chicago is accessible from the 94th floor of the John Hancock Centre, overlooking the city and Lake Michigan. You also have the chance to test your nerves with thrill ride Tilt, try Sky Yoga, get into photography, challenge your artistic side, or simply enjoy happy hour at the bar up in the clouds. Get your ticket here.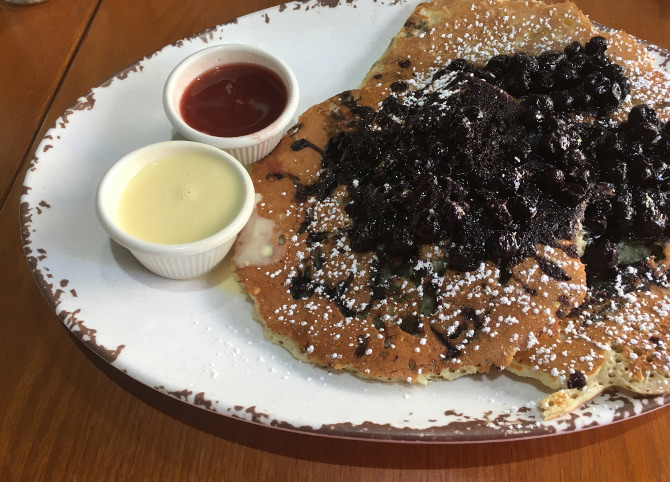 4 Eat
The people of Chicago are ravenous. Hungry for better views (how else do you explain all the skyscrapers?), bigger lives, and most of all for food. There are several dishes you have to try here: deep pan pizza, best served against a backdrop of TV screens each showing a different sport; burgers and fries; pasta; cheesecake; ice cream…
There are tricks to getting the most out of these dining experiences without losing your mind and gaining a ton of weight. 1) be ready to answer questions about the types of bread, side orders, salad dressings and cooking methods you want (fried eggs just won't do, you need to know whether you want them over easy, sunny side up or whatever). 2) Request a box and save half of your breakfast/lunch/dinner to eat the next day. 3) Share your dessert with your beloved. It will be ever so romantic and ensure you can get amble afterwards without waddling too badly.
And if you decide to opt for something a bit classier, you could do a lot worse than Café Robey. Read my review of Café Robey.
5 Mingle with art stars
Visiting the Art Institute of Chicago is bound to be a highlight for any art aficionado visiting this extraordinary city. This vast space is teeming with renowned artworks, as well as plenty of less famous gems. From the intriguing Thorne Miniature Rooms to marvels such as Georgia O'Keefe's Sky Above Clouds IV, I found myself floating on an excess of wonder. To me the Art Institute of Chicago felt like a portal through time, space and sensibility, with each doorway offering admission to another absorbing world.
Find out more at www.artic.edu. Read my full write up of the Art Institute of Chicago.
6 Hop on a train!
Have an adventure and take an Amtrak train journey to one of the quirky towns that sit outside the major cities. Kalamazoo is just over a couple of hours from downtown Chicago, yet lies in a different state (Michigan) and timezone. Trains run here infrequently, so we got up early, and saw dawn break over the Chicago towers during our stroll to the elegant Union Station.
Our train passed through industrial areas and by sparsely populated woodlands before reaching this small township of cute shops, breweries and one of the most attractively housed public libraries I've seen. Intriguingly, the town was once renowned for its celery crops, but don't let that put you off. We pass the time in coffee shops, admired unexpected sculptures, and visit the Kalamazoo Institute of Arts. Sadly, there is no longer a zoo in Kalamazoo – it closed its doors in '74. Hmm, that sounds like the start of a Dr Seuss story…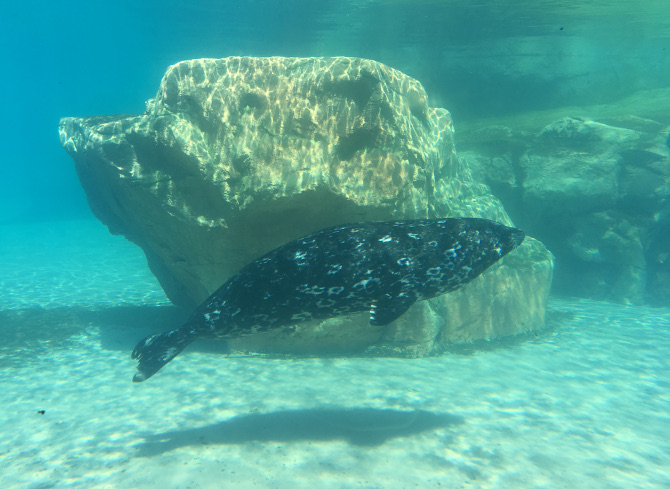 7 Explore Lincoln Park Zoo
A good zoo done well with plenty of imagination and an emphasis on conservation is a wonderful thing, and Lincoln Park Zoo is one of the world's finest. Even better, it's free to visitors, providing families and passerbys with the opportunity to glimpse wonderful animals and learn about the natural world both within and beyond America's shores.
We watched grey seals cavort with harbour seals, spotted a pygmy hippo being groomed by fish, saw black and white colobus monkeys playing, met an aardvark and glimpsed a slow loris, among so many other species I couldn't possibly list them all. Plus, beyond the confined areas a chipmunk darts by, turtles sunbathe with ducks, and a hummingbird dances in mid-air for its supper. There are some exquisite sculptures too.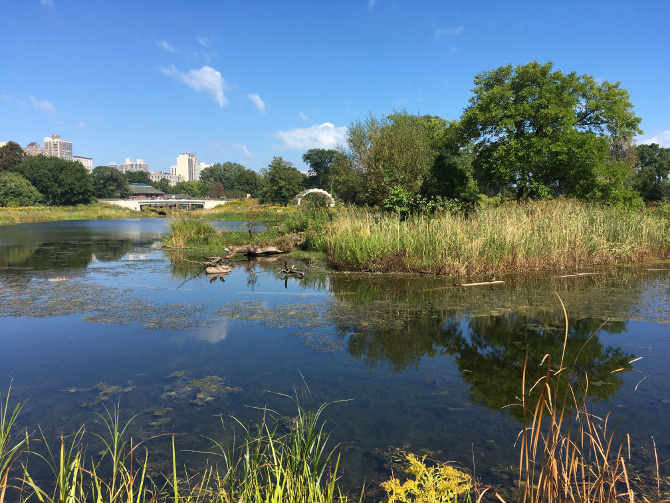 Outside the confines of the zoo, but in this case considered part of its realm, you'll find the Nature Boardwalk, which teems with wildlife and offers a tranquil spot within sight of the city. Find out more.
8 Sample the neighbourhoods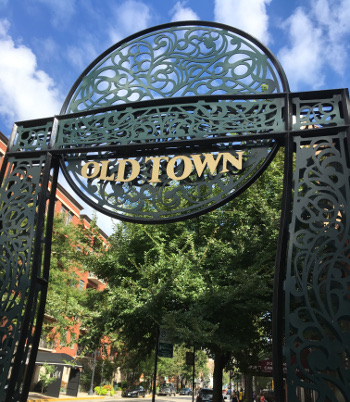 Chicago is made up of an assortment of different districts, or neighbourhoods, each with boasting its own distinct personality. While Downtown is where you'll find the major highlights such as Millennium Park, even this area boasts an assortment of areas, including Gold Coast, Magnificent Mile and the Loop.
Check out Chicago Transit Authority (CTA) at transitchicago.com to discover the treasures awaiting you in the other areas, from Andersonville to Old Town.
9 Search for public art
As treasure hunts go, this is one with endless riches. Sculptures pose on Chicago's street corners, in plazas and outside edifices. The Chicago Picasso is one of the more notable – untitled it stands 50 feet tall in the Daley Plaza, a monumental artwork that doubles up as a kids' slide.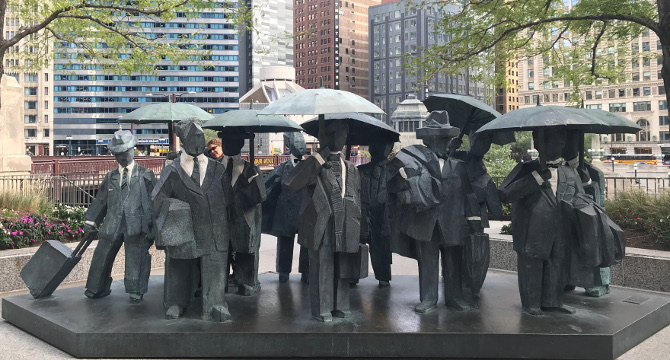 On the AMA Plaza beside the river, look out for Gentlemen, a series of statues by Taiwanese sculptor Ju Ming resembling quirky businessmen complete with umbrellas.
In Millennium Park, the Crown Fountain by Jaume Plensa comprises two 50-foot blocks that stand adjacent to one another, each made up of screens that present a vast visage of a Chicago citizen. The faces blink, smile and occasionally purse their lips so that spouts of water emerge. It's especially appealing on hot summer days.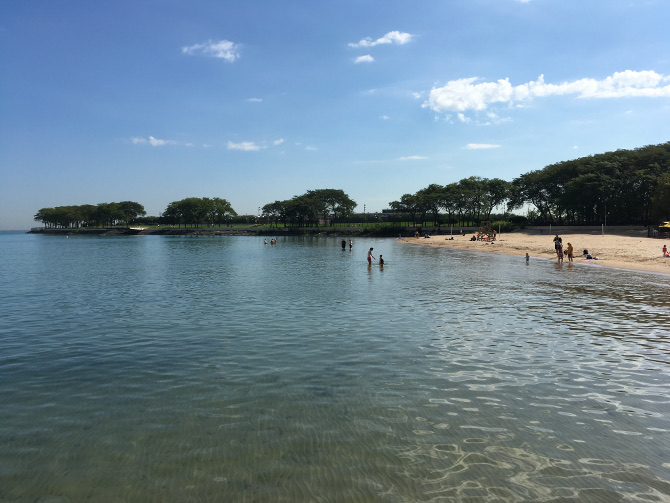 10 Be amazed by Lake Michigan
This shining pool is so vast that the far side is beyond the horizon's edge. One of the five Great Lakes of North America, it's unique in being set entirely within the United States. I've heard that in winter, it freezes over. In summer it attracts swimmers, kayakers and sand castle builders. Cyclists and runners pelt up and down the shore, while fish dart in the depths. A short train-ride away, more rural areas appeal to day-trippers, but within the city, the beauty of the water framed by gleaming skyscrapers is undeniable.
Discover more about Chicago at www.choosechicago.com.
Save money on some of Chicago's top attractions with the Chicago CityPASS.
Discover Bilbao.
Discover Brescia.
Discover Budapest.
Discover Bath.
Discover Barcelona.
Discover Laugharne.
Discover Reyjavik.