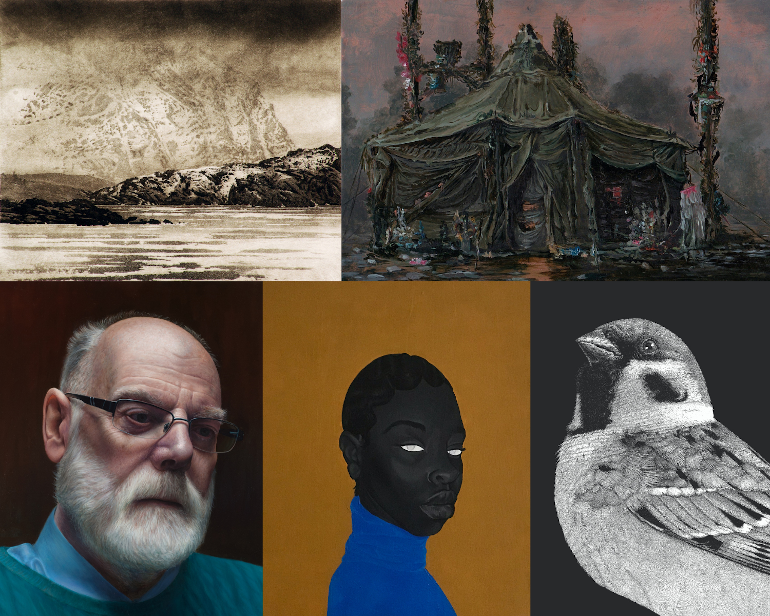 Got northern soul? Now's the perfect time to show it off as the New Light Art Prize is open for entries until 30th April 2023.
To be eligible for the biennial open prize exhibition, you need to be an artist who was born in, lives in or has studied in one of the historic counties of the North of England – Cumbria, Durham, Lancashire, Northumberland, Yorkshire and – for the first time – Cheshire.
If that fits, you can submit your work online via www.newlight-art.org. Entry into the competition costs £20 for the first two pieces of artwork and £10 for any subsequent entries.
Awards up for grabs include:
The £10,000 New Light Valeria Sykes Award – open to all artists over 18 with a connection to the North of England, whether through birth, degree level study or residence
The £2,500 New Light Patron's Choice Award – presented on the night of the private view where all exhibited works are considered
The New Light Emerging Artists Prize sponsored by The Saul Hay Gallery – offering mentoring, professional advice and exhibition opportunities including a solo show
The New Light Printmakers' Prize sponsored by Zillah Bell Gallery – all forms of original printmaking are eligible; the winner will be offered a solo exhibition at the Zillah Bell gallery in North Yorkshire, host to some of the UK's very best printmakers' shows
The New Light Visitors' Choice Award – visitors are asked to vote for their favourite work at each venue
New Light Purchase Prize – the winner's work is purchased by the charity to add to its Collection
Some of the UK's most renowned art experts will select the shortlisted entries, with judges including Curator of The Whitworth Gallery Olivia Heron, Director of Panter and Hall, London, Matthew Hall, renowned figurative artist Mark Demsteader and Development Director of New Light Art Rebekah Tadd.
Prize winners will be announced at an awards ceremony in September 2023 at The Williamson Art Gallery and Museum in Birkenhead, where the winning artwork will feature in a prestigious launch exhibition before embarking on the Prize's biggest ever tour to Bankside Gallery, London, Rheged Arts Centre, Penrith, The Biscuit Factory, Newcastle, Northumberland and finishing at The Mercer Gallery in Harrogate on 31st December 2024.
Rebekah Tadd, Development Director at New Light says: "This is a wonderful opportunity for new and established artists to get their work seen by thousands of people in some of the finest galleries in the UK. Those shortlisted will exhibit their work across the UK, from Cheshire to Yorkshire, Northumberland, Cumbria and London."
She adds: "At this time of financial uncertainty, it's more important than ever to support artists by providing opportunities to exhibit their work. We are delighted to be working with The Williamson Art Gallery and Museum to create a fabulous launch and awards ceremony and the following tour is our biggest yet, spanning 14 months."
Past New Light shortlisted artists who've had success with exhibitions across the UK and further afield include Norman Ackroyd CBE RA, Anne Desmet RA, Maxwell Doig, Mark Demsteader, Christopher Cook, Mandy Payne, James Naughton and Jo Taylor.
Sheffield-based artist Joanna Whittle, who won the Valeria Sykes Award in 2020 for her oil-on-copper painting 'Sorrowing Cloth', says: "It has been fantastic to be involved with the New Light Prize Exhibition and the support has been amazing. Winning the Valeria Sykes Award allowed me time and space to reflect on and develop my practice which has been invaluable and allowed me to take new and enriching steps in my work."
For more info, visit www.newlight-art.org.uk
Image captions clockwise from left: Across Borge Bay by Ian Brooks (Winner Printmakers' Prize), Sorrowing Cloth by Joanna Whittle (Winner Valeria Sykes Prize 2020), Forlorn by Vic Harris (Winner Patron's Choice Award), Seen by Linnet Panashe Rubaya (Winner Emerging Artist Prize), Tree Sparrow by Christian Alexander Baily (Winner New Light Purchase Prize).
Got an event, challenge, competition or call for submissions you'd like to draw my attention to? Send me an email at JudyDarley (@) iCloud (dot) com.