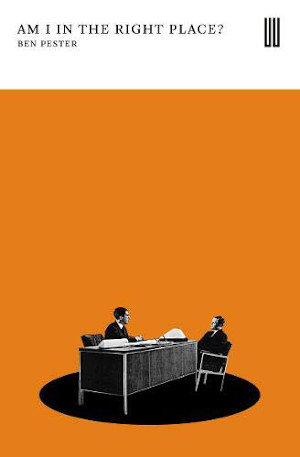 If your preferred reading place and time is in bed before sleep, you may need to develop new habits for Ben Pester's debut collection Am I in the Right Place? Seemingly ordinary settings (a café; an office) twitch with unreliable edges that threaten to upend into the unknown. Cupboards open into other worlds, and roads lead to versions of memories that encroach on the present in unexpected ways.
We open with a character waiting to meet his ageing father, and then spooling into a journey where anxiety lingers with such a palpable presence it almost takes on human form.
Later in the collection, in 'Low Energy Meeting' a line manager introduces us to the embodiment of his love, a sorrowful figure in a dingy dressing gown.
Emotions here have powers to shift our surroundings, making every step uncertain. What was floor moments ago could now be a hole with an insatiable appetite.
Some pages, dyed black from corner to corner, abandon us to our rattled thoughts only quieted by the rustle of us scrabbling to get to the next printed words.