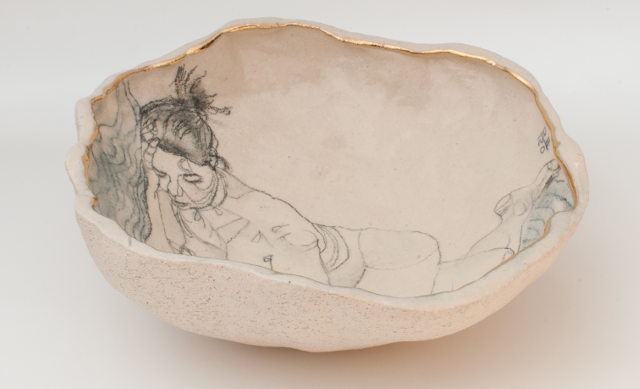 Who says drawings need to be done on paper or canvas? Korean artist Yurim Gough has found clay to be the perfect medium, much to her own surprise.
"It was always my dream to be an artist, but in my own country I never even touched clay," says the former fashion designer, who moved to Bristol eight years ago in search of a new creative direction.
In fashion design Yurim experimented with a multitude of materials, but says it took five years of exploring "new mediums for my art, such as wood-carving, before I found that the feeling of clay told me that it was my thing to use. In fashion design I took great satisfaction from realising my imagination, and the attraction of clay is in being able to achieve that same satisfaction."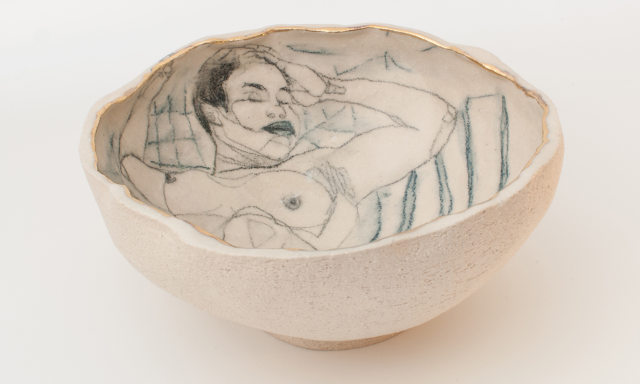 Since early childhood, Yurim has "always been drawing. I was looking for a long time for what I could do that would make me the most happy, and since the drawing had always done this, and now the clay did too, it just happened that I brought these two things together."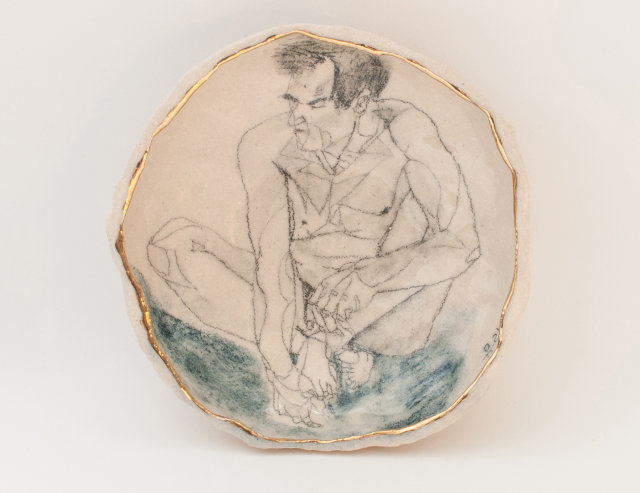 It was a visit to "a reclusive local pebble beach" that helped realisation dawn. "I was playing with the stones, drawing on them with a pencil for fun and making up stories."
Yurim is entirely self-taught, developing her skills through "concentration and repetition. I went to lots of life drawing sessions on and off for a period of almost 20 years."
To create the ceramic bowls and other objects that she likes to draw on, she explains, "I hand-mold the pieces, then they are bisque fired, then I draw in front of a live model with ceramic pencil."
Following this, the artwork is glazed then fired. "I then apply gold lustre and fire again."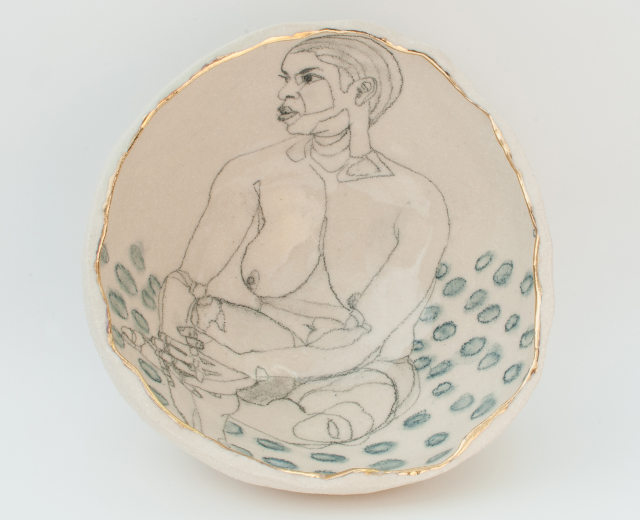 Through combining her ceramics with her beloved drawing, Yurim says she had something of a breakthrough. "I have never rubbed anything out when life drawing, because there is not enough time," she says. "One day I was drawing and made a mistake and in frustration, I crossed strong lines through the attempt. It made me feel so free, I suddenly realised that this was me, and carried on. I also found that drawing like this, I could focus in a way I had not been able to before."
The result is a sketchy, vibrant style crammed with vitality. Her figures are gorgeous but imperfect, just as we are – in fact, their stunning beauty lies in their imperfections.
Being in front of a living, breathing model has an impact too.
"I love the human energy giving me craziness, sadness, happiness and other feelings – it is different every time."
They fizz within their stillness, seemingly holding in emotions evident in their posture, and where their tensions lie, with Yurim's lines emphasising this with powerful understatement.
The restrictions imposed by a life class drives her productivity, that, "and wanting see what the result will be. Living in my country, and working in fashion, I never had any time. Coming to Bristol things slowed down and I realised what I could do with limited time. In life drawing, you have a fixed time limit for the pose but you have to slow down and see what comes out."
Find more of Yurim's work at yurimgough.com and shop.theotherartfair.com/artists/yurim-gough.
Are you an artist or do you know an artist who would like to be showcased on SkyLightRain.com? Get in touch at judydarley (at) iCloud.com. I'm also happy to receive reviews of books, exhibitions, theatre and film. To submit or suggest a review, please send an email to judydarley (at) iCloud.com.