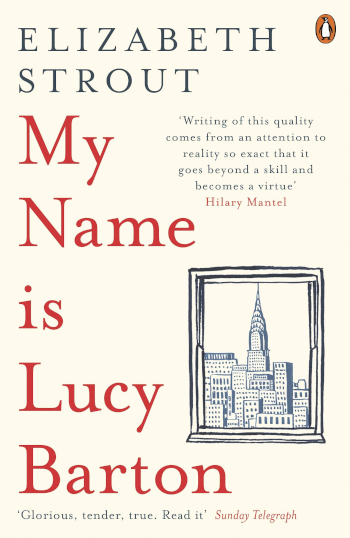 I have a stubborn streak that makes me shy from the books that hit mainstream esteem. Part of me wants to seek out the underdogs that will really benefit from the boost of a review. However, My Name Is Lucy Barton is the story of a woman whose childhood placed her squarely in the camp of underdog, with a level of poverty that Elizabeth Strout paints with visceral skill, rendering it utterly relatable without oiling the hinges with sentimentality.
Throughout the novel we are entirely within Lucy's head, seeing her experiences through her own eyes. At times her memory is uncertain, in the way that all childhood memories are to a degree, but because she doesn't view her early years as pitiful, neither do we.
We join Lucy during an extended stay in a New York hospital following an operation to have her appendix removed. Lucy's long-estranged mother arrives to keep her company, and the pair drift through anecdotes from the past, while Lucy observes her mother with a fond yet wary eyes. It's an interesting set up, made more complex as Strout parkours into Lucy's future, where she is taking a writing class and the novel, or rather Lucy's memoir, is taking shaping. The opening line forewarns of this chronological fluidity: "There was a time, and it was many years ago now, when I had to stay in a hospital for almost nine weeks."
Strout is an agile and fearless writer, freerunning between past, present and future in a way that sharpens our understanding of Lucy's nature, as well as the backdrop of her life in Amgash, Illinois and New York at the start of the Aids epidemic, when yellow stickers were placed on the hospital doors of patients suffering from the virus, and outside "gaunt and bony men continued to walk by."
We learn that Lucy is the youngest of three children in a family once so poor that for a time they lived in a garage, that she was aware from an early age of her differences compared to the other children ("We were outcasts") and minds this less than her older sister does, and that as soon as she can read she takes refuge in fiction.
We know that her parents punish their children for crimes such as lying or wasting food, but that they, particularly the mother, also on occasion hit out "impulsively and vigorously, as I think some people may have suspected by our blotchy skin and sullen dispositions."
Yet she feels a great fondness for that childhood and her family. "I missed my mother, I missed my father, I suddenly missed the stark tree n the cornfield of my youth, I missed this all so deeply and terribly."
Lucy, like any of us, is complex, contrary and swirled through with emotions built on experiences, deprivations and desires. She sees her good fortune in having moved on from the meanness of her beginnings, but argues, if only in her head, with those who believe she came from nothing: "No one in this world comes from nothing."
This is a novel that will deepen your empathy for others, while impressing on you the value of compassion and forgiveness, as demonstrated by Lucy. It's a story that is relatable at the most innate levels, and one that will give you hope that however dire things seems, a bit of courage and obstinacy might just carry you through to something brighter.
My Name is Lucy Barton by Elizabeth Strout is published by Penguin Books and is available to buy here.
Seen or read anything interesting recently? I'd love to know. I'm always happy to receive reviews of books, art, theatre and film. To submit or suggest a review, please send an email to judydarley(at)iCloud.com. Likewise, if you've published or produced something you'd like me to review, get in touch.