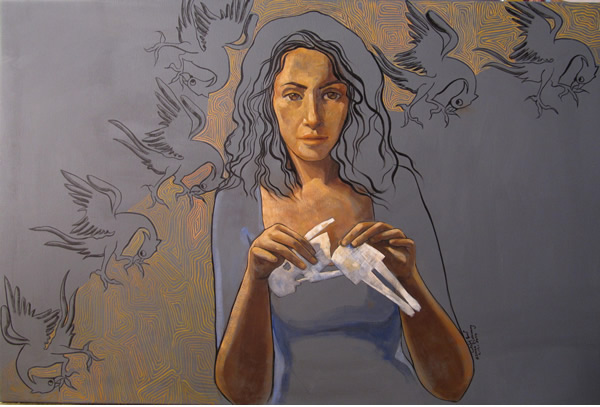 Delicate paper dolls strung across a scene instantly bring childhood to mind – such a simple act of folding and oh-so carefully cutting to create countless people!
In the hands of artist Asmaa Elnawawy, however, a more sinister impression forms, as she draws on the fragility of paper dolls to explore concepts of feminism. These figures are easily torn, and once they lose their pristine beauty they'll be cast away.
"For me, the paper dolls in my paintings represent the concept of feminism," Asmaa says. "They form a connected string of figures, which refers to the continuity of life."
Asmaa is from Egypt, where the paper doll is used in traditional ceremonies to ward off the evil eye "We puncture the paper doll with a needle to prevent negative forces taking hold." So an apparent act of violence against these paper women is actually intended to be protective. It's a disturbing thought, given how much domestic violence is dealt out to 'helpfully' curb a woman's behaviour.
Throughout her work, Asmaa explores "the stories of women in my society – what they're suffering and what they hope for. I enjoy the art of Frida Kahlo, Swiss artist Ferdinand Hodler, Gustav Klimt and the Pre-Raphaelites."
Asmaa's influences are evident in the richness of her works, painted in acrylic and oil on canvasses with intricately rendered backgrounds. In fact, the patterns on these ornate wallpapers each represent something significant for the viewer to puzzle out. Continue reading →