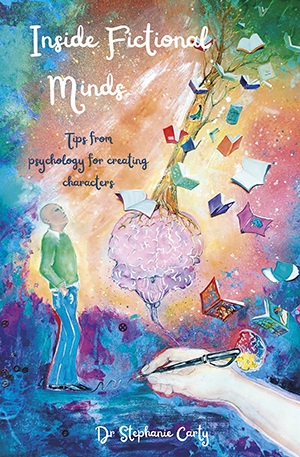 I don't know about you, but I often find 'how to' books a little hard to digest. Rules can be particularly off-putting when it comes to creative acts such as writing fiction.
With Inside Fictional Minds, Dr Stephanie Carty overcomes those barriers with ease. A light, hearty tone delivers psychological insights that will help you to regard your protagonist, and, let's face it, yourself, afresh.
The book falls into three sections: The Basics, The Specifics and Putting It All Together. As Carty writes in the introduction: "The first section will cover a wide range of topics about how characters (well, humans… but let's keep saying characters) feel, think and interact."
Through exploring the fundamental beliefs, relationships and perceptions that inform  behaviour, alongside exercises that place your characters in settings beyond the story world you've created for them, Carty equips us to view our created people with dazzling clarity and to unpick the complex myriad of experiences that have shaped them. Even if these moments happen off-page and aren't mentioned within the story itself, through identifying these influences and their impacts, Carty furnishes us to build three-dimensional characters whose responses to the plot will be as richly nuanced as any real person's.