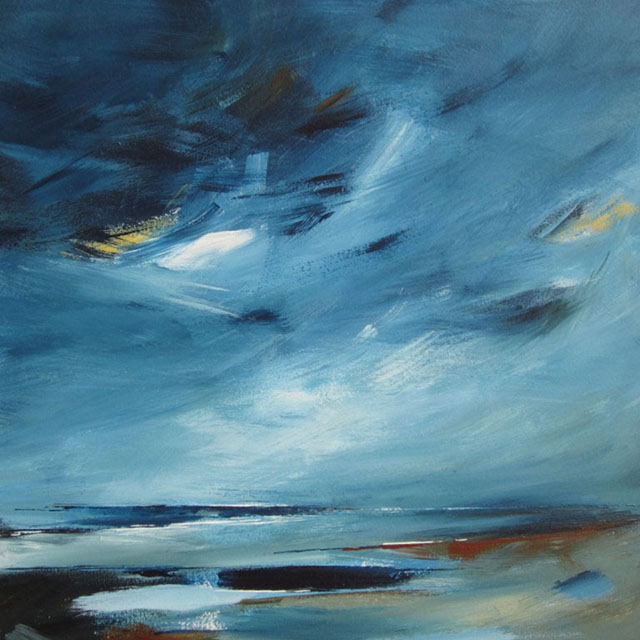 Autumn's rain and wind are definitely enhanced by a coastal backdrop. That raw, reckless energy smashing itself against the rocks – extraordinary.
Karen George manages to capture the feel of this in her seascapes. Far from tranquil, these beach and headland scenes are moody and wild – and I love them.
Unexpectedly, Karen's interest in art began in far more academic and scientific grounding, as she studied architecture before moving onto product design.
"At school I enjoyed Biology and Art in equal measure," she explains, "When I was looking at courses to study I found a 'Landscape Design and Plant Science' course at Sheffield University, which then led me to an MA in Landscape Architecture."
The leap into product design came about from a practical prompt when she had her second daughter, and began taking her baby with her to the allotment. "I was inspired by necessity to create a sunshade that met my needs," she recalls. "I was always making things at home so it seemed a natural thing to do. It was only when people stopped me in the street to ask where they could buy one that I decided to launch the BuggySail – so the move into product design was accidental."
With the product an instant success, Karen embraced product design for a time, before realising she relished "the creating' more than the marketing. After attending an 'Experimental painting' workshop I spent more and more time painting."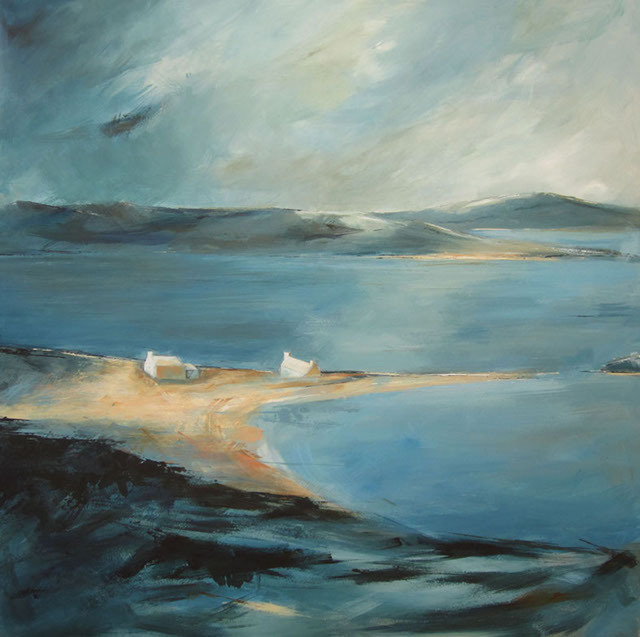 These two elements of Karen's experience feed into her fine art in subtle but far-reaching ways.
"It's not something I've really thought about before, but with Landscape Architecture you have to be able to imagine the end design and transpose that onto paper," she says. "This really helped with the product design – creating a mock up of the product to create a pattern. How my painting has been influenced is a little more ambiguous. I enjoy leading the eye through a painting with the use of light and capturing an energy into a painting – both aspects of which are important in design."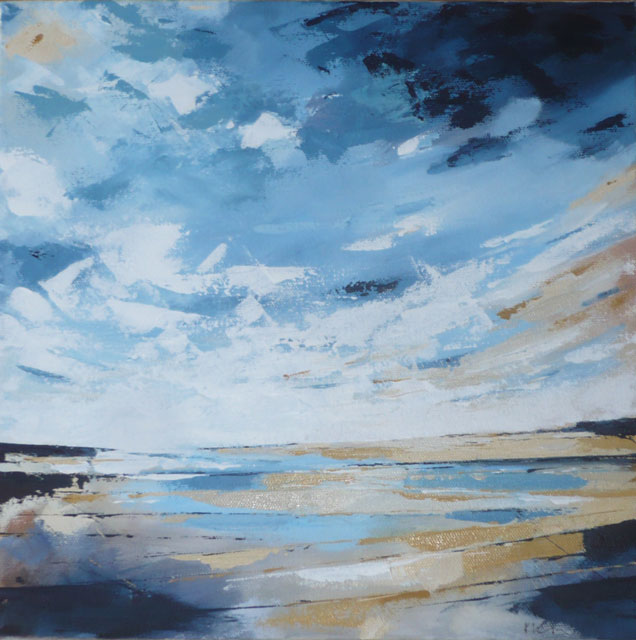 I think that may be why and how Karen's paintings offer up an almost visceral sense of being close to the power of waves and tides. "In any environment it's good to give a space a sense of belonging – being a place you enjoy being in and travelling through," she says. "I hope people enjoy my paintings much the same way."
For Karen, however, the perfect day at the beach is a lot more serene than you might think from gazing at her paintings. "Not many people.  Not too windy.  Not too hot.  A bit of rock pooling and a good book with the sound of the waves in the background."
Karen will be exhibiting her artwork at in the Jarman Hall of Totterdown Baptist Church as part of Totterdown Front Room Art Trail 2014.
Find more of Karen's art at www.trenjorydesigns.co.uk.
Are you an artist or do you know an artist who would like to be showcased on SkyLightRain.com? Get in touch at judydarley (at) iCloud.com. I'm also happy to receive reviews of books, exhibitions, theatre and film. To submit or suggest a review, please send an email to judydarley (at) iCloud.com.